From River Falls, Wisconsin

He signed. He smiled. He posed for pictures. He signed. He laughed. He signed. He chatted. He signed. He smiled.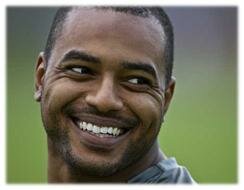 For nearly 30 minutes after the Chiefs morning practice session here in the northwoods, Larry Johnson entertained the fans who showed up at the UW-River Falls practice fields. The angry superstar RB went one-on-one with excited followers of the red and gold.
It's just that L.J. isn't angry anymore. His smile as captured by photographer David Eulitt of the Kansas City Star (left) was visible early and often. While sometimes invisible to his coaches and teammates, that smile has always been there for the fans.
All through his travails during his time with the Chiefs, Johnson has connected with the public. When the team had open mini-camp practices inside Arrowhead Stadium, it was Johnson who stayed and filled every last request for a signature or a picture. There were times when some of his teammates were already at home watching television before he stopped signing footballs and pictures and shirts and magazines and cards.
All of those items were put in front of him Saturday morning and L.J. signed. And, it wasn't just head down, not looking up, grimly throwing his John Hancock around. He engaged fans in conversations. He posed for pictures. He smiled.
"I've always done that," Johnson said after he signed one last time and headed for the locker room and a shower.
Why has he always done it? Here's the story.
When L.J. was a kid, his father Larry Sr. took he and his brother to the Washington Redskins training camp in Carlisle, PA. This was the Super Bowl Skins of Joe Gibbs with the "Fun Bunch" receivers of Gary Clark, Art Monk and Charlie Brown.
"My brother was a little more outgoing than me and he would walk up and ask anybody for an autograph," Johnson said. "I kind of hung in the background. Well he gets (Hall of Fame linebacker) Sam Huff to sign and Huff didn't sign for anybody.
"Then he went over and Gary Clark was coming off the field and he tried to get him to stop and sign something and Clark just blew right past him.
"I've always remembered that happening and that's why I try to sign for everybody, no matter how long it takes. I don't want some kid to be standing there feeling like me and my brother did that day."
Such is the other side of L.J. that frequently is forgotten with his antics off the field, his angry comments or his frowning demeanor.
None of that has been visible here in River Falls. The K.C. fish wrap called him a "Happy Camper" and that's certainly not wrong. One of his teammates said he's even become a player that others are ready to follow.
"I think a lot of guys on this team look up to him because he's been through a lot," said WR Dwayne Bowe. "He's been through a lot and it hasn't broken him. I think he's becoming a leader on this team."
For multiple reasons, Johnson is enjoying himself and the place he's in.
"I wanted to be gone and said so, but that was because of where the situation was at that time," Johnson said. "The situation changed and I'm very comfortable with where I am right now, the team, the front office, the town.
"I'm looking forward to this team winning some games and having a big year."
A lot has happened with Johnson over the last 10 months. The events pretty much backed him into a corner and forced some changes in his attitudes and behavior. There was the counseling he went through last year when he was suspended three games by the Chiefs and one game by the NFL. There are the conditions of his probation after a plea bargain on a pair of assault charges. And there's the situation with his multi-million dollar contract. If Johnson wants to make the kind of money he's become used to making, there's only one place that will happen and that's with the Chiefs and his current deal.
"When you have your back to the wall and things don't always go your way, you have to reorganize your priorities and put your head down and go to work," Johnson said. "That's what I have been doing since I came back to the off-season program."
It appears that Johnson has bonded with Todd Haley, because the running back goes out of his way to compliment his coach whenever he's given the opportunity.
"He is somebody you can really be impressed with," Johnson said. "He knows what he is doing and he has been around a lot of great players. For some odd reason I feel closer to him. I can go up to him and talk to him about whatever and it's the same thing with Pioli. Those guys are asking me to come in and try and make a difference with this organization."
There was a word that Johnson used several times during his conversation on Saturday: comfortable. He appears more comfortable with his team, his coach, his teammates and maybe, just maybe he's even more comfortable these days in his own skin.
One thing that hasn't changed is his comfort level with the fans.
"No matter what's been going on in my life, I could always talk with the fans and they always treated me with respect," said Johnson. "That's why I'll sign every last thing."
He did on Saturday.
JACKSON REMAINS OUT OF CAMP

Make that one conditioning test and two practices that No. 1 draft choice Tyson Jackson has missed because of his absence in River Falls.
The Chiefs do not currently comment on contract negotiations and Pioli and Haley want only to talk about the players who are practicing. On Saturday, Haley did not even want to talk about injured players who were rehabbing, only the guys actually working in the practice.
As of late Saturday evening, there remained 13 first-round draft choices without contracts and 17 draft choices overall who have not yet signed.
Jackson is the highest drafted player still out. Also unsigned in the top 10 are fourth-pick LB Aaron Curry in Seattle, sixth-pick OT Andre Smith in Cincinnati, eighth-choice OT Eugene Monroe in Jacksonville, ninth-selection DT B.J. Raji in Green Bay and the 10th-player drafted WR Michael Crabtree by San Francisco.
CAMP NOTES FOR SUNDAY, AUGUST 2

The Chiefs will have just one practice on Sunday. They will have meetings in the morning and the evening and practice should be around 1:45 p.m.
If Haley sticks to his plans, the team will be in full pads for the Sunday workout. The head coach said that while his team would have three practices over every two days, they would be in pads at least once every day.
SIGNINGS, INJURIES & MOVEMENT AROUND THE LEAGUE

BILLS – signed DL Corey Mace and CB Antwain Spann.
CARDINALS – signed first-round draft choice RB Beanie Wells.
COLTS – signed second-round draft choice DT Fili Moala and fourth-round WR Austin Collie.
DOLPHINS – signed second-round draft choice Pat White.
EAGLES – signed DT Willie Williams (Rams).
GIANTS – signed first-round draft choice WR Hakeem Nicks.
JAGUARS - signed second-round draft choice OT Eben Britton.
LIONS – placed DT Grady Jackson and WR Bryant Johnson on NFI Lists.
PATRIOTS – released P Tom Malone.
RAVENS – WR Derrick Mason returned to the team, ending his brief retirement; activated S Ed Reed and OL Marshal Yanda from the PUP List.
TEXANS – signed first-round draft choice LB Brian Cushing; signed DT Jeff Zgonina.
TITANS – signed first-round draft choice WR Kenny Britt.
VIKINGS – QB Tarvaris Jackson suffered sprained left knee (MCL) during Saturday morning practice. He's considered day-to-day for his recovery.
SAY HAPPY BIRTHDAY …

Born on August 2, 1937 in Philadelphia, Mississippi was RB/TE Billy Cannon. He played 11 seasons of pro football after coming out of LSU as the 1959 Heisman Trophy winner. Cannon joined the Chiefs for the last of those seasons in 1970, when he played in six games after spending four seasons with Houston and six years with Oakland. With the Chiefs, Cannon caught seven passes for 125 yards and a pair of TDs. He also carried the ball one time for six yards. He goes down as one of four Heisman Trophy winners to play for the Chiefs, joining QB John Huarte, RB Mike Garrett and RB Marcus Allen.