The veterans are out and about, enjoying a six-week vacation from the Chiefs facilities. The rookies are hanging around for another week, before they must head off to the NFL Rookie Symposium and then get their vacation.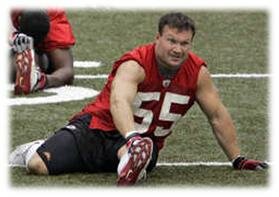 Scott Pioli spent six months working on the roster. Todd Haley and his staff spent five months trying to mold the players into three units that will be prepared to perform come September. And some 85 players spent the last three months sweating, toiling and working to understand the new coach and his assistants.
OK, make that 83, leaving Brian Waters and Mike Vrabel out of the equation.
So just what did the Chiefs get accomplished over the last few months? Here are five things that they got done. On Friday, we'll look at five things that did not get done.
THE PLAYERS GOT INTO CONDITION

Haley made it obvious to the players from the first day of their off-season program that there was going to be a new emphasis on strength and conditioning. This is something Haley brought with him from his previous coaching experiences and it's also something designed to overcome one of the Chiefs biggest problems in recent years: the fourth quarter.
A lot of NFL games are won in the fourth quarter and it's something the Chiefs have not done a good job of over the last two years. It's a major reason they won only six of 32 games. They were 4-10 in games where at the start of the fourth quarter they were tied or trailed by seven points or less. In five other games, they started the final period with a lead and went 2-3 in those games. That's 13 of those 26 defeats that were decided in the last 15 minutes of the game or overtime.
There was more to the program than just losing weight and getting in shape, which a large part of the Chiefs roster got done. The sessions were made competitive and designed so players had to work together. When a group started the session, it finished the session together. Nobody was off doing his own thing; everything was being done in the context of team.
As they left for vacation, the team passed the eye test and they also for the most part passed Haley's conditioning test. Only a few of the big guys who have been rehabbing injuries couldn't meet their required time in the test. They now have six weeks to catch up.
THE PLAYERS LEARNED HOW TO PRACTICE

There's nothing about the way that Haley and his staff run a practice that's never been done before by a Chiefs coach. Both Gunther Cunningham and Herm Edwards stressed quick, up-tempo practices that went at a fast pace. Sometimes Cunningham's practices may have been too fast.
But every coach has his way of doing things and this group made the transition to Haley's way fairly quickly. One of the terms you always hear on the practice field with the Chiefs these days is "on the hop." That's football slang for running from one drill to another, or one field to another, or one segment of the work to another. By the time they got done this week, there were very few players who had to be reminded they were "on the hop." Maybe a few rookies sometimes forgot, but they will learn.
This is important because it means the team and staff will go to training camp on the same page. There will be no transition period in River Falls. Now, the camp practices will be different. There will be days with two practices, there will be full pads worn in some of the sessions and the practices will be longer and more intense.
But making the transition in the off-season to the Haley Way should make the transition in August that much easier and faster.
INTRODUCED THE NEW DEFENSIVE SCHEME

No coach and his staff walk into a new situation and overhaul one facet of the game in five months. Make no mistake of this fact: there are miles and miles to go for the Chiefs defense to become something the team can count on.
But what they've gotten done so far is pretty remarkable. There's no question as the OTAs ended that the defense was ahead of the offense and Haley indicated that most of the defense had been installed, including blitz packages. Given that the defense is switching from a base 4-3 to a base 3-4 and with a new coordinator and three other new assistant coaches, what got done as the players ran around in helmets and underwear was unexpected.
They ran around the practice field like they knew what they were doing. Now there were the occasional obvious mental mistakes and probably a bunch more that weren't so obvious. But when they were making mistakes, the Chiefs were going full speed and coaches love that.
One of the keys to that was LB Zach Thomas. He was there for every practice and he took charge immediately of the defensive huddle. In comparison to Vrabel who took part in just five practices, Thomas was there for all 16 workouts.
If Thomas can stay healthy for 16 games, his presence alone will improve the Chiefs defense.
THE REHABILITATION OF LARRY JOHNSON

Just consider where the situation was with L.J. at the start of the year. He wanted out of town. He was facing a pair of assault charges. The NFL Players Association had a grievance filed against the Chiefs over guaranteed payouts from Johnson's contract.
With Carl Peterson gone, Johnson did not have a friend in the organization. He'd even turned off the GM by the end of last season with his behavior. There was a new sheriff in town, and everyone, and I mean everyone figured L.J. was as good as gone.
But as the Chiefs headed off to vacation, Johnson is still part of the Chiefs. In fact, he's likely going to be a very big part of the team's offense in the coming season. I say likely because with L.J. things can never be said and then written into concrete. His history means anything is possible.
But it didn't take Haley and his staff long to realize what they had when they saw a motivated and in shape Johnson run the ball during practices. Now, whether L.J. is ready to be a complete back (catching the ball and blocking as well) remains to be seen. During the OTAs, he ran some nice pass routes, getting away from coverage with his moves rather than his power.
We've talked about this before: Johnson knows the only place he's going to make big money in the NFL is right here with the Chiefs. The team's salary cap situation is such that they do not need to try and bring down his cap number this season.
L.J. is motivated, in shape and the next six weeks are critical. If he stays out of trouble, continues working to maintain his conditioning and gets through to the start of the regular season without injury, he's headed for a big year.
THE ADDITION OF MATT CASSEL

There's no question the Chiefs passing game ended the off-season with more work to do. There were too many drops, too many overthrown and underthrown passes and too many missed connections. Some of that was to be expected, given a new quarterback working with unfamiliar receivers.
But even with less than stellar performances, the tools that Cassel brings to the game were visible. That could be seen on the field and it could be heard in the locker room. "He's a good football player," said Brodie Croyle. "My job is to back him up."
Cassel has become a leader on this team very quickly. Part of that is his personality. Part of that is the void in leadership that has occurred in the locker room with so many young faces and leadership type veterans who haven't been leading (again Waters and Vrabel.)
There is much left for Cassel to prove about himself and his ability to lead this football team to victories. He doesn't have Randy Moss and Wes Welker. He doesn't have Bill Belichick. Last year he had some success keeping a seat warm for Tom Brady. With the Chiefs, much more is expected of him.
Through the middle of June, Cassel was getting the job done.
COMING ON FRIDAY: Five things the Chiefs did not get done in the off-season.
SIGNINGS & MOVEMENT AROUND THE LEAGUE

BRONCOS – released LB Boss Bailey and LB Louis Green; signed C Casey Wiegmann to a new two-year contract for $4.7 million.
BROWNS – claimed LB Blake Costanzo off waivers (Bills).
FALCONS – released C Alex Stepanovich.
JAGUARS – released QB Chet Lemon and WR Jason English; signed QB Todd Boeckman and WR Andy Strickland
PATRIOTS – released LB Antonio Appleby.
TEXANS – signed K Kris Brown to a four-year contract extension; signed fourth-round draft choice TE Anthony Hill.
TITANS – released DL Charles Bennett, DL Ulrich Winkler and G Pete Clifford.
SAY HAPPY BIRTHDAY …

Born on June 18, 1953 in McKees Rocks, Pennsylvania was QB Tom Clements (left with Brett Favre.) After playing in the Canadian Football League, Clements signed with the Chiefs for the 1980 season. He appeared in one game for the team, completing seven of 12 passes for 77 yards. Clements went back to the CFL for the 1981 season. He returned to the Chiefs in 2000 as quarterbacks coach for one season.
Born on June 18, 1955 in Sandusky, Ohio was NT Stan Johnson. He signed with the Chiefs out of Tennessee State and played during the 1978 season with the team, appearing in 10 games.