From River Falls, Wisconsin

So why did the Chiefs go out and sign a 34-year old wide receiver when they already have a 36-year old receiver on the roster?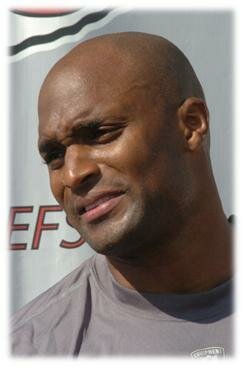 Why has Amani Toomer (right) been added to the Chiefs list of grizzled veterans that have been added to the club's roster by Scott Pioli and Todd Haley? Toomer joins the 36-year old Bobby Engram, the soon to be 36-year old Zach Thomas, the soon to be 34-year old Mike Vrabel and a mere youngster in this group, 31-year old safety Mike Brown.
If Pioli/Haley keep signing these kinds of veterans, the Chiefs roster may go from the youngest in the league in 2008 to the oldest in the league in 2009.
Is this any way to rebuild? Some would say no, but the Chiefs duo in charge obviously disagrees. What appears to be at work here are two factors: the 2000 New England Patriots and the desire to win as many games as possible in the 2009 season.
When Bill Belichick was hired to take over the New England Patriots for the 2000 season, he and Pioli assessed the roster they inherited and then went out and signed a bus load of veteran free agents. They did not commit big dollars or lengthy contracts to those guys, but they raised the level of competition and also the chance to win games.
That didn't happen with the 2000 Patriots, as they went 5-11 after finishing 8-8 the season before.
But the 2001 Patriots won the Super Bowl.
What's interesting about those free agents the Patriots signed that year, only two were the age of Toomer/Engram/Thomas/Vrabel. CB Otis Smith was a 35-year old playing in his 10th season in the league and WR Chris Calloway was 32 and in his 11th season. Smith started 12 games that year, but Calloway was barely a contributor, catching five passes for 95 yards.
Of course, in early August we don't know what kind of contributions that Toomer et al. al will make to the '09 Chiefs. There's no guarantee they all make the final roster, although right now with the state of the names on that roster, it would be a surprise if all five of those veterans are not part of the final 53-man group that gets ready to play Baltimore in the regular-season opener.
If these guys play, they will take away snaps from younger players. But what younger players have shown any promise? At wide receiver right now the young guy drawing the most attention is Arena League refugee Rodney Wright. But he'll be 30 years old in November. The only youngsters are rookies Taurus Johnson and Quinten Lawrence; neither has jumped forward in the first days of practice.
If Toomer has "gas left in his tank" as Haley indicated on Tuesday, he's becomes the second best receiver on the team, which tells plenty about the talent level at the position. His signing is a pretty good indication that the coaching staff doesn't figure Lawrence is ready to make a big contribution.
At linebacker there are three rookies on the roster, all undrafted players. Wes Dacus and Andy Studebaker are second-year players. Everybody else is in the third year or more.
If Brown makes the team he could take away snaps from second-year safety DaJuan Morgan, that's if the second-year man should happen to also make the squad.
And then there's reason No. 2 for going with some older veterans: winning. The Chiefs are 6-26 in the last two seasons. As we mentioned the other day with the roster turnover that has gone on, there are only three players on this roster who were part of the 13-3 team of the 2003 Chiefs that was such a disappointment with the loss in the playoffs to Indianapolis: Larry Johnson, Brian Waters and Monty Beisel.
Winning is a habit. So is losing, and that's become a nasty habit around the Chiefs in the last few years. Herm Edwards thought he had time to rebuild with a young roster and learned otherwise. Haley doesn't want to go down that road; he wants to rebuild and find a way to win as many games as possible along the way.
If these older veterans can stay on the field and deliver a winning performance, it could jump start the won-lost record for the '09 season. That could jump start the entire rebuild process.
Now, Amani Toomer, Bobby Engram, Zach Thomas, Mike Vrabel and Mike Brown just have to make the roster.
JACKSON & CHIEFS STILL HAGGLING

Chiefs No. 1 draft choice Tyson Jackson has now missed six practices and unless something miraculous happened overnight, that total is likely to reach eight as the team has a pair of workouts set for Wednesday.
Jackson is one of nine first-round picks that remain unsigned. Joining him are the picks at No. 4, 6, 8, 9, 10, 11, 12 and 14.
The Chiefs don't comment on negotiations, while Jackson's agent Eugene Parker has chosen to handle his end of this situation under the radar.

SIGNINGS, MOVEMENT & INJURIES AROUND THE LEAGUE

BRONCOS – DE Jarvis Moss returned to practice. He had left the team for several days.
EAGLES – signed LB Matt Wilhelm (Chargers).
JETS – claimed TE Kevin Brock on waivers (Panthers) and released TE Richard Owens.
RAVENS – have lost OT Adam Terry for the season (knee).
TEXANS – placed RB Clifton Dawson on the injured reserve list; CB Jacques Reeves suffered a broken leg during practice on Tuesday
VIKINGS – released WR Aundrae Allison.
FROM THE PAGES OF CHIEFS HISTORY
On August 5, 1972 the Chiefs beat the Chicago Bears 24-10 in a Saturday afternoon pre-season game at Notre Dame Stadium in South Bend, Indiana. A crowd of 32,391 watched the game where RB Ed Podolak had a 10-yard touchdown run, RB Mike Adamle scored on a two-yard run and RB Wendell Hayes caught a four-yard TD pass from QB Len Dawson. Hayes ran 11 times for 64 yards and caught four passes for 21 yards in the game. Bears QB Bobby Douglass was just four 11 for 26 yards and he ran five times for 26 yards.
SAY HAPPY BIRTHDAY …

Born on August 5, 1950 in Dallas was RB Wendell Hayes. He joined the Chiefs via a trade in 1968 after playing several seasons for the Denver Broncos. Hayes and DB Goldie Sellers came to the Chiefs in exchange for a third and fourth-round draft choices. The deal was a very good one for the Chiefs, as Hayes played seven seasons (1968-74), appearing in 93 games with 56 starts. He carried the ball 668 times for 2,560 yards and 18 TDs, caught 115 passes for 998 yards and 5 TDs and returned six kicks for a 26-yard average.
Born on August 5, 1963 in Marion, South Carolina was LB Louis Cooper. He joined the Chiefs in 1985 and played six seasons (1985-90), appearing in 79 games with 12 starts. He had 7.5 sacks and one interception with the team.