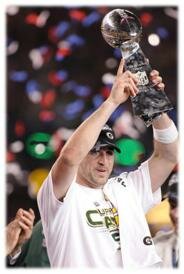 From Arlington, Texas

It was an exciting night and that always provides plenty to speak about, especially when the excitement comes within the confines of a Super Bowl.
Such is the case coming out of Cowboys Stadium Sunday night after the Green Bay Packers victory over the Pittsburgh Steelers in Super Bowl 45. Here are some of the best comments that we've been able to kull from millions of words.
PACKERS QB AARON RODGERS (left) on being named MVP: "It's a special honor to be one of the leaders of this football team. I've said it once and I'll say it again: no one person has ever won a game by themselves. This is a team effort and a great group of men and I'm just blessed to be one of the leaders on this team. Individually, it's the top of the mountain in my sport my profession. It's what you dream about as a kid and think about in high school, junior college, D-I: getting this opportunity and what would you do? I'm fortunate and blessed to play for a team that believes in us."
STEELERS S RYAN CLARK on Pittsburgh defense: "We didn't make many mental errors defensively. They just made some plays. You think about the third and 10 in the fourth quarter, another pass to Jennings down the middle. I think he did a good job of reading us and just going out and doing what he had to do. It wasn't about mistakes, it wasn't about rust. They played better than we did. I think both offenses moved the ball very effectively, especially Green Bay. Aaron Rodgers threw some passes tonight that I think other quarterbacks don't make."   …Read More!