R.I.P. George Blanda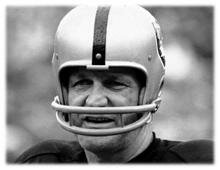 If you are of a certain age where you grew up watching football in the late 1960s and early 1970s, there were certain players that will forever live in your memory banks no matter what zip code your television was in.
There was Joe Namath and those white shoes. There was the little receiver they called Bambi, as Lance Alworth caught passes in those baby blues of the Chargers. There was Butkus and Nitschke who patrolled the middle of the defenses and were always picking turf out of their facemasks.
George Blanda was one of those memorable guys. Wearing the silver and black of the Raiders, pulling that helmet down as he trotted on the field, it was always an amazing sight to see this guy who seemed so old, on the field deciding games with his arm and-or his foot. He didn't so much run as he waddled out to the huddle. He would take those short choppy steps when he dropped back to throw, and there was never any question that he would take off running (in his last nine years he ran three times.) He was a statue, staring down the pass rush of men half his age.
George Blanda passed away on Tuesday. He had just turned 83 years old, celebrating his birthday some 10 days before he died. Details of his death have not been released by the Raiders or the family. Considering how many games he played (340) and how many years he was in pro football (from 1949 through 1975, missing only 1959), the fact he lived as long as he did was testimony to the constitution of a coal miner's son from western Pennsylvania.   …Read More!