Accessing the Chiefs & 3-4 Defense
Like water trying to find a crack in the basement wall, news leaks out of the Chiefs in drips and drabs these days.
But it does leak out. The NFL Network's Adam Schefter reported Wednesday that the Chiefs are switching to the 3-4 as their base defense. Schefter does not have a perfect batting record, but among all the network information men, he's probably got the best average of correct hits. And he should, since he works for the home team, so to speak.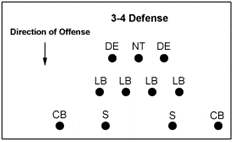 A switch by the Chiefs to a 3-4 defense wouldn't come as a surprise. That's what Scott Pioli knows, as that's what the Patriots have run for years under Bill Belichick.
There's nothing about the 3-4 that makes it any more effective than the 4-3. What makes both schemes work are the people playing on the field and the coaches who help train them. It's the people, not the scheme.
But the 3-4 has gotten a lot of attention lately. One reason is the Super Bowl victory of the Pittsburgh Steelers, who have won two championships in four years playing the 3-4. Of course both Indianapolis and the New York Giants won titles with the 4-3 defense.
Last year, there were eight teams that used the 3-4 as their primary defensive alignment: Pittsburgh, Cleveland, Dallas, Baltimore, New England, San Diego, Miami and the New York Jets. Other teams have been experimenting with the 3-4, like Denver, San Francisco and Arizona, mixing it in with the 4-3 as the defense presented evolving looks. Green Bay has hired Dom Capers as its new defensive coordinator, and they are making the switch to the 3-4.
The Chiefs biggest problem on defense last year was poor play at linebacker. So on paper it doesn't make much sense to change the scheme from three linebackers to four, when the team couldn't find three linebackers last year.
When rebuilding a franchise however, going with the 3-4 makes sense for personnel reasons. The pool of athletes to play outside linebacker in the 3-4 are easier to find and in greater numbers than the classic defensive end in the 4-3 defense. Those guys are difficult to acquire and when a team does, it generally is going to cost them a lot of money to retain them. As evidence see a guy named Jared Allen. …Read More!