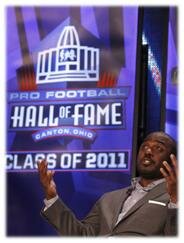 From Dallas, Texas

It was seven hours in a hotel meeting room where the temperature was too hot and the proceedings were continually interrupted by the hotel fire alarm.
This meeting of the Pro Football Hall of Fame Board of Selectors had its fits and starts and there was enough disagreement and debate that it helped push the thermostat up a few degrees higher than its already hot setting.
The job that was presented to the group of 42 men and two women was simple to describe, not so easy in follow through – discuss the qualities of 17 different football players and decide who were the best and deserved entrance to the hall. As many as seven nominees could be inducted, and at least four had to be elected.
And for seven hours-plus that's what went down. I've been part of the board of selectors since the voting session for the Class of 1996 and the duty does not get any easier each year. Let me assure you that every person chosen to vote understands the importance of their duties.
When I first joined the group, there were several veteran voters who would arrive Saturday morning barely awake and dealing with a raging hangover from the Friday night party. That's not the case anymore. The group arrives with their wits about them and their research done.
This year's meeting went long for three reasons – Ed Sabol, Deion Sanders and in the modern game, what constitutes a Hall of Fame receiver. …Read More!