East-West Shrine Game On Saturday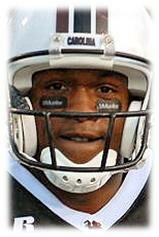 The post-season all-star season for college seniors begins this week with the East-West Shrine Game in Orlando Florida. Next week comes the Senior Bowl in Mobile, Alabama.
The East-West game is set for this Saturday at 3 p.m. CST, and will be broadcast by the NFL Network. Coaching the squads will be former NFL head coaches Dan Reeves and Wade Phillips.
There are no major college prospects from Missouri-Kansas-Kansas State in the East-West Game, but there's a pair of small colleges performers in Missouri State OL David Arkin and Fort Hays State WR O.J. Murdock (left).
Arkin came out of Wichita's Kapaun Mt. Carmel High School and after a redshirt season in '06, he started 30 games at right guard in '07-'09, before moving to left tackle in the final two games of the '09 season and stating 14 games. The 6-5, 302-pounder was named the Missouri State Co-Player of the Year and the program's co-offensive player of the year. Arkin was named to the first-team All-Missouri Valley Conference, and the AFCA Coaches All-America team and the Walter Camp Foundation All-America team. He's also won repeated All-Academic honors during his career in Springfield.
The 5-10 ½, 195 pounds Murdock started his college career at South Carolina. The Florida native started with a redshirt season in '05, played four games in '06 for the Gamecocks before being suspended for shoplifting. He spent the '07 season at Pear River Community College in Mississippi, but played only two games because of a broken collarbone. He signed to play at Marshall in '08 but washed out of there because of problems with his credit hours and did not play anywhere that season. He ended up at Fort Hays in '09. In two seasons, Murdock played 21 games at Fort Hays, catching 95 passes for 1,987 yards and 20 touchdowns.
Here's a breakdown of the rosters that have been put together for the game and comments on each group.
EAST TEAM

WEST TEAM