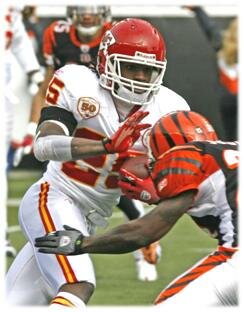 The NFL will announce the rosters for the Pro Bowl on Tuesday evening.
It figures to be a quiet evening for the Chiefs. Unlike baseball, where every team is guaranteed at least one player on the All-Star Game roster, in the NFL there is no regulation that requires all 32 teams have a Pro Bowler.
The Chiefs have had at least one player on the AFC team every year since after the 1978 season. They were without representation in 1977-78. The odds would indicate the Chiefs will have at least one player in the game.
In fact, the Chiefs have the second longest streak of consecutive Pro Bowls with a representative at 30 years. Only the San Diego Chargers have sent more guys to the all-star game in consecutive seasons, at 35 years. (Check the chart at the bottom of the story.)
Not that Todd Haley cares much about that streak or what comes down with Tuesday's announcement.
"The Pro Bowl thing is for the players and I'm about trying to win games," said the Chiefs head coach. "Right now we have three (victories) and we're going on the road against Denver and have a chance to knock them out of the playoffs and that's what I'd like to really get.
"That would be Pro Bowl material for me."
When a team is 3-12, after a season when they were 2-14, there is concrete evidence of a dearth of all-star talents. Based on what the Chiefs have gotten done this year, there are only three players who may have gotten any type of votes from the players and coaches who make up 67 percent of the voting pool. The other 33 percent comes from the fans that ignored the Chiefs in their voting.
But RB Jamaal Charles, OLB Tamba Hali and CB Brandon Flowers deserve consideration. Whether they get it, is another question.
During those 30 consecutive seasons of Pro Bowl representation, there were Chiefs teams with bad records. That includes last season, when despite a 2-14 mark, TE Tony Gonzalez and G Brian Waters were named to the AFC team.
In 1982, the Chiefs were 3-6 in a strike-shortened season, but they had three Pro Bowlers: S Gary Barbaro, DE Art Still and CB Gary Green. The 1985 club finished with a 6-10 mark and sent only S Deron Cherry to the game. Despite a 4-11 record in 1987, Cherry, WR Carlos Carson, CB Albert Lewis and DT Bill Maas all went to Hawaii. The next season they were 4-11-1 and Cherry, Lewis and LB Dino Hackett made the all-star game.
Considering that in those 30 seasons of Pro Bowlers, the Chiefs had no Super Bowl victories, no AFC titles and only four division crowns. Obviously the Chiefs have enjoyed talented players over the years, just not enough of them together at one time.
Charles is ninth in the AFC with 861 rushing yards and 17th in yards from scrimmage, 10th among running backs. Tennessee's Chris Johnson and Baltimore's Ray Rice figure to be locks for the AFC backfield. Thomas Jones of the Jets and Maurice Jones-Drew of Jacksonville will get plenty of consideration as well.
Hali ranks 11th in the AFC with 7.5 sacks, but outside linebackers like Denver's Elvis Dumervil (17 sacks), Pittsburgh's Lamar Woodley (11.5) and James Harrison (10) and New England's Tully Banta-Cain (9.5) area all ahead of him.
With four interceptions Flowers is eighth in the AFC. Rookie Jairus Byrd of Buffalo has led the conference all season in interceptions, but he's gone to the injured-reserve list. Other cornerbacks ahead of Flowers are Darrelle Revis of the Jets (6), Cincinnati's Johnathan Joseph and Leon Hall (6 each), and Leigh Bodden of the Patriots (5). All of those corners are either headed to the playoffs or still have a chance to make the post-season.
There's no question that the Chargers will continue their streak and push it to 36 years. If the Chiefs move their streak to 31 years, it will be quite an upset and one of the few rays of light in the cloud covered 2009 season.
 Rank
 Team

Consecutive Seasons


With a Pro Bowler

Last Season


Without A Pro Bowler

1.
San Diego

35

1973

2.
Chiefs

30

1978

3.
Denver

28

1980

4.
Minnesota

25

1983

5.
Buffalo

22

1986

6.
Dallas

19

1989

7.
Washington

15

1993

8.
Tampa Bay

13

1995

 
Baltimore

13

na*

10.
New York Giants

12

1996

11.
Indianapolis

11

1997

 
Miami

11

1997

13.
Philadelphia

10

1998

14.
Chicago

9

1999

15.
Pittsburgh

8

2000

 
New England

8

2000

 
Seattle

8

2000

18.
Arizona

6

2002

19.
Houston

5

2003

 
Oakland

5

2003

21.
Tennessee

4

2004

22.
Green Bay

3

2005

 
San Francisco

3

2005

24.
Cleveland

2

2006

25.
Atlanta

1

2007

 
Carolina

1

2007

 
New York Jets

1

2007

 
New Orleans

1

2007

29.
Cincinnati

0

2008

 
Detroit

0

2008

 
Jacksonville

0

2008

 
St. Louis

0

2008
CHIEFS OPPONENTS SET FOR THE 2010 SEASON

With their loss to the Bengals, the Chiefs are guaranteed to finish in fourth place in the AFC West.
Thus, we know the team's opponents for the 2010 season.
HOME – San Diego, Denver, Oakland, Jacksonville, Tennessee, Arizona, San Francisco and Buffalo.
AWAY – San Diego, Denver, Oakland, Houston, Indianapolis, St. Louis, Seattle and Cleveland.
It will be the Chiefs first visit to Lucas Oil Stadium to face the Colts. Their last visit to Indy was the loss in the 2006 playoffs. It will be their first trip to Seattle since 2002. Their last trip to Houston was in 2007, and to Cleveland and St. Louis their visit came in 2006.
It's the first visit to Arrowhead for the Cardinals since 2002. The 49ers were last in K.C. in the 2006 season, Jacksonville visited in 2007, Tennessee in 2008 and Buffalo this year.
SIGNINGS, INJURIES & MOVEMENT AROUND THE LEAGUE

BEARS – placed DE Adewale Ogunleye on the injured-reserve list (leg); signed P Richmond McGee.
BRONCOS – placed WR Kenny McKinley (knee) and G Russ Hochstein (knee) on the injured-reserve list.
BUCCANEERS – placed DE Jimmy Wilkerson (knee) and RB Earnest Graham (toe) on the injured-reserve list; activated TE Ryan Purvis from the practice squad.
EAGLES – have lost C Jamaal Jackson for the rest of the season because of a knee injury.
RAMS – have lost G Mark Setterstrom for the rest of the season with a torn triceps muscle.
FROM THE PAGES OF CHIEFS HISTORY

On December 29, 1990, the Chiefs beat the Chicago Bears 21-10 on a Saturday afternoon game at Soldier Field. It was one of the coldest afternoons in franchise history as the Chiefs played the Bears in front of an announced crowd of 60,262 fans. Despite frozen field conditions and a strong wind, the Chiefs were able to move the ball through the air, as QB Steve DeBerg threw for 276 yards, or 100 yards more than the Bears had for their entire offensive output on the afternoon. Only problem was the offense had trouble pushing the ball into the end zone, scoring just one touchdown as RB Christian Okoye scored on a three-yard run. K Nick Lowery had five field goals. DeBerg completed 25 of 32 throws, with RB Todd McNair catching nine passes for 69 yards. RB Barry Word ran 18 times for 73 yards. The KC defense allowed 176 yards in total offense and six first downs. Chicago QB Mike Tomczak hit only five of 23 passes for 85 yards. LB Derrick Thomas and DT Dan Saleaumua each had a sack.
SAY HAPPY BIRTHDAY …

Born on December 29, 1958 in New York was DT Dino Mangiero. He joined the Chiefs as a rookie free agent out of Rutgers University in 1980. Mangiero played four seasons (1980-83) with the Chiefs, appearing in 47 games, with 12 starts. He had six sacks and one interception. Mangiero finished his NFL career with a season in Seattle and then two games with the Patriots in 1987.
Born on December 29, 1983 in Huntsville, Texas was RB Derrick Ross. He joined the Chiefs as a rookie free agent in 2006 out of Tarleton State University. He played that season with the Chiefs, appearing in seven games and running the ball three times for eight yards.