Scott Pioli made it plain at the end of the 2009 Draft that the Chiefs were not done adding talent to the team's roster.
There is going to be a lot of things that happen with other teams and with other people," Pioli said. "There are going to be a lot of other opportunities. There are some people out there who are going to be free agents. It gets to about two weeks before the draft and some of the veteran free agents want to stop and settle down and see what teams are going to draft and see where they think their opportunities are the best."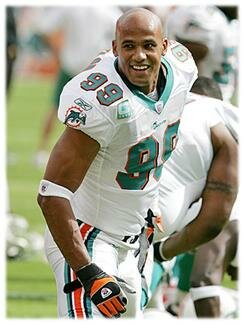 So who will Pioli be pursuing? Could it be a guy like Jason Taylor (right), who is a free agent after one season with Washington? How about former Bengals tackle Levi Jones, about to be released by Cincinnati? Maybe it's DE Travis LaBoy, who is well known to head coach Todd Haley and defensive coordinator Clancy Pendergast from their time in Arizona. LaBoy was released this week by the Cardinals.
Maybe it's someone much less visible. Like the move the team announced on Thursday when it signed Eric Ghiaciuc, an unrestricted free agent from the Bengals who has been Cincinnati's starting center for the past three seasons.
Figuring out the next move is like trying to figure out who the Chiefs were going to select in the '09 Draft. There are some parts of the profile that can be predicted from the moves of the Patriots in the past. But this situation is so different and we have no idea four months in how Pioli/Haley really think about parts of their team.
But there are obvious holes on their roster as it stands right now. Signing Ghiaciuc helps address one of those openings by adding an experienced blocker.
Here are the top three areas where they need roster help.
PASS RUSHER

We all know the Chiefs were the worst defense in the history of the NFL at sacking the quarterback, bringing the passer down just 10 times in 16 games during the 2008 season.
From that measly total, 2.5 sacks are gone: two by free agent DE Jason Babin and a ½ sack by LB Pat Thomas.
Right now there are 14 players on the Chiefs roster with at least one NFL sack. There are only three that have more than 15 sacks over their career. Here are the top six sackers currently wearing a Chiefs uniform:
| | | | |
| --- | --- | --- | --- |
| Player | Pos. | Games | Sacks |
| Mike Vrabel | OLB | 176 | 55 |
| Zach Thomas | ILB | 184 | 20.5 |
| Tamba Hali | DE | 47 | 18.5 |
| Ron Edwards | DT | 96 | 13.5 |
| Alfonso Boone | DL | 113 | 12.5 |
| Derrick Johnson | LB | 59 | 12 |
In total, those 14 players have 150.5 sacks, with 146 sacks coming from the front seven, 47.5 sacks on the defensive line and 98.5 sacks at linebacker.
The top three active sackers are all available right now as free agents: Jason Taylor with 120.5, Kevin Carter with 104.5 and Willie McGinest with 86 sacks. Also on that list is La'Roi Glover, who has 83.5 sacks and remains available as a free agent. Obviously there's no interest in a long-term answer with those players given their age and what they produced last year:
| | | | | |
| --- | --- | --- | --- | --- |
| Player | Team | GP/GS | Tkls. | Sacks |
| Kevin Carter | Tampa Bay | 16/16 | 64 | 4 |
| Jason Taylor | Washington | 12/8 | 35 | 3.5 |
| Willie McGinest | Cleveland | 14/14 | 73 | 1.0 |
| La'Roi Glover | St. Louis | 15/10 | 48 | .5 |
There's a connection there with McGinest, who was already at the Patriots when Pioli arrived in 2000 with Bill Belichick. He will also be 37 years old and in his 16th season if he plays in '09. There is also a connection with Taylor, who is the brother-in-law of Zach Thomas. Reportedly, the Patriots are interested in Taylor and obviously that's a destination that would play to Taylor's hopes of a championship more than Kansas City. Apparently Taylor has said he would like to return to the Dolphins, but they don't appear to be that interested.
"We haven't talked about it too much, to be honest with you," Dolphins GM Jeff Ireland said. "That's one of our acorns sitting on the ground. We haven't made a decision."
Carter was in Detroit this week visiting with the Lions. Only McGinest has played previously in the 3-4 scheme. LaBoy is familiar with the scheme that Pendergast plans to use with the Chiefs this year. He had four sacks in 13 games last year and 23.5 in his career.
RECEIVERS

There are only two wide receivers or tight ends on the roster with starting experience in the NFL: Bobby Engram and Dwayne Bowe. Engram has played in 171 games and started 113 times over his career. Bowe has played in 32 games with 31 starts over two seasons.
From there the drop in experience is steep. Behind them are seven wide receivers that have a combined total of 30 starts and four tight ends with a combined total of 20 starts.
That's 50 starts after Engram/Bowe: WR Mark Bradley (12), WR Devard Darling (10), TE Brad Cottam (7), TE Sean Ryan (7), TE Tony Curtis (6), WR Terrance Copper (5) and WR Jeff Webb (3).
Right now, the list of available wide receivers as free agents doesn't provide much of an upgrade for the Chiefs in talent or experience. Here are the available free agent receivers with the most yards receiving last year:
| | | | | |
| --- | --- | --- | --- | --- |
| Player | Club | Exp. | Catches | Yards |
| Matt Jones | Jacksonville | 4 | 65 | 761 |
| Marvin Harrison | Indianapolis | 13 | 60 | 636 |
| Amani Toomer | N.Y. Giants | 13 | 48 | 580 |
| Brandon Lloyd | Chicago | 6 | 26 | 364 |
| Reggie Williams | Jacksonville | 5 | 37 | 364 |
| Shaun McDonald | Detroit | 6 | 35 | 332 |
| Dane Looker | St. Louis | 8 | 23 | 271 |
| Marty Booker | Chicago | 10 | 14 | 211 |
That sample does not include Plaxico Burress, who faces legal problems in New York after 35 catches for 454 yards in the '08 season. Matt Jones has similar problems with a probation violation. Earlier this week the Bengals released Chris Perry, the talented but often troubled wideout.
Booker worked out for the Chiefs at the end of their mini-camp several weekends ago. No one is sure what Harrison views as his future.
OFFENSIVE LINE

The Chiefs have very little experienced depth on the offensive line.
The starting five on the offensive front has a great deal of NFL experience. LT Branden Albert is the baby with 15 games and starts and LG Brian Waters has played 132 games and 118 starts. At center Rudy Niswanger has 30 games and 15 starts. At RG is Mike Goff is the most experienced lineman on the team with 163 games and 147 starts. Damion McIntosh is at RT with 115 games and 111 starts. That's a front five with an average of 91 games and 81 starts.
Right now, the sixth man on the O-Line is C/G Wade Smith, who has played 60 games and made 25 starts over his six seasons. Ghiaciuc (left) has 48 games of experience with 42 starts.
After that, the roster holds no experience. Without counting the rookies added through the draft and college free agents, there are five blockers on the roster after the first six. Combined, Brian De La Puente, Edwin Harrison, Barry Richardson, Herb Taylor and Tavares Washington have played in 26 NFL games with one start; that came when Taylor filled in for an injured Albert at LT early in the '08 season. Breaking it down further, among those 26 games played, only nine were on offense; the rest was special teams work.
The Bengals have told starting left tackle Levi Jones that they plan to release him after selecting OT Andre Smith in the first round of the Draft. Jones has played seven years, with 94 games played and 89 starts. After missing just one game during his first four seasons, Jones has missed 17 games during the past three years. He missed the last six games of last season when he suffered a leg injury.
SAINTS STAYING IN NEW ORLEANS

While the deal must still be approved by the Louisiana legislature – a body that could screw up a one-car funeral – it looks like the Saints will be staying in New Orleans through the year 2025.
That's the result of a deal worked out between the team and Louisiana Governor Bobby Jindal that was announced on Thursday.
The structure of the deal is very good for both sides. The state must pay at least $85 million in improvements to the Superdome, but their current financial obligation to the team that this year is $23.5 million, will drop to no more than $6m million. And that figure could shrink even more.
The improvements will bring additional seating and suites that will provide expected revenue streams f or the team.
On top of that, Saints owner will buy the New Orleans Centre shopping mall and the Dominion Tower office building which are next to the Dome. He'll then lease back to the Louisiana space for state agencies.
The attractive part of the equation for the Saints is that the team will assume its own financial risk.
"The bottom line is, we don't like getting a check," Dennis Lauscha, the Saints' senior vice president/chief financial officer told the New Orleans Times-Picayune. "We don't like getting a check. We're not immune to the criticism. We hear it; we don't like it. We want to generate and earn what we can. The thing that put us over the top is having the improvements."
SIGNINGS & MOVEMENT AROUND THE NFL

BENGALS – signed franchise player K Shayne Graham.

BRONCOS – released RB Selvin Young.
BROWNS – claimed LB Bo Ruud on waivers from New England; released RB Allen Patrick.

BUCCANEERS – traded TE Alex Smith to the Patriots for undisclosed 2010 draft choice.
COLTS – re-signed LB Freddy Keiaho.

FALCONS – signed RB Vernon Haynes.
JAGUARS – released OT Charles Spencer and FB Anthony Catrone.

LIONS – released CB Travis Fisher.
SEAHAWKS – signed
franchise player LB Leroy Hill, 6-year, $38 million deal, $15.5 million guaranteed.

STEELERS – released LS Jared Retkofsky.

SAY HAPPY BIRTHDAY …

Born on May 1, 1967 in Los Angeles was LB Marvcus Patton (right). He came to the Chiefs in the 1999 season from the Washington Redskins and spent four seasons with the club, appearing in 64 games with 61 starts. Patton had 13 sacks and seven interceptions during his time with the red and gold. He ended up playing 13 seasons in the league, appearing in 208 games.