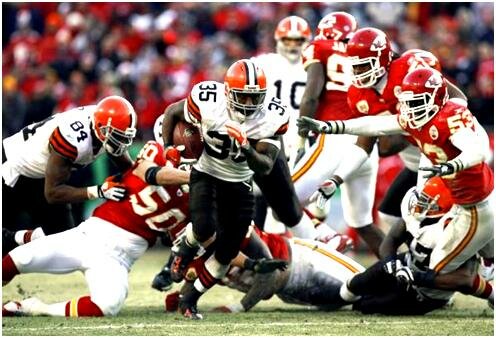 One thing never changes about football, no matter the era. A team that wants to win must be able to defense the running game.
Against Cleveland last Sunday, the Chiefs dropped passes and allowed a pair of kickoff returns for touchdowns. But more importantly, they were gashed for 351 rushing yards, more than any opponent has managed in a single game against the franchise through 50 seasons.
What we know about football and the history of the game is this: the Chiefs could have dropped balls and failed to stop Joshua Cribbs and still won the game had they found a way to bottle up Jerome Harrison (above) and the rest of the Browns running game.
They didn't get that done. They lost. That's going to happen a lot when the running game consistently rolls over a defense. Past and present defensive numbers drive that point home for us every time.
Consider the current standings for defense and the ability to stop the run in this 2009 season. Here are the bottom 10 teams against the run and their record for the season:
   Pos.
 Team

Avg. Rush


Yds. Allowed

   Record
 
   Pos.
 Team

Avg. Rush


Yds. Allowed

   Record

32

Buffalo

165.6

5-9

 

27

St. Louis

140.4

1-13

31

CHIEFS

162.6

3-11

 

26

Carolina

130.4

6-8

30

Tampa Bay

158.9

2-12

 

25

Chicago

128.5

5-9

29

Cleveland

149.6

3-11

 

24

Detroit

127.6

2-12

28

Oakland

148.9

5-9

 

23

Washington

117.5

4-10
There are a dozen teams in the league right now with losing records and 10 of those 12 are the bottom teams in run defense. In comparison, among the 10 worst pass defenses this week, six of those teams have a .500 record or better, including the 13-1 New Orleans Saints who are No. 25.
Chiefs history has plenty of evidence of what happened when they could not stop the run. In 14 of 50 seasons they gave up 2,000 rushing yards or more. Only one of those teams finished the season with a winning record: the 2003 Chiefs who went 13-3 while giving up 2,344 rushing yards. Of course, we all know that the reason that '03 team did not enjoy success in the playoffs was a poor defense and the inability to stop Indianapolis.
On average in those 14 seasons where they gave up more than 2,000 rushing yards, the Chiefs won 4.8 games. Here's the list:
 Season

Rush Yds.


Allowed

 Record
 
 Season

Rush Yds.


Allowed

 Record

1975

2,712

5-9

 

1988

2,592

4-11-1

1976

2,861

5-9

 

2001

2,140

6-10

1977

2,971

2-12

 

2002

2,067

8-8

1978

2,389

4-12

 

2003

2,344

13-3

1983

2,275

6-10

 

2007

2,089

4-12

1985

2,169

6-10

 

2008

2,543

2-14

1987

2,333

4-11

 

2009

2,276*

3-11
                                         *-two games remaining in season.
Two of the worst run defense performances in this decade were turned in by the Chiefs. There was the performance against the Browns, and then last year they gave up 332 yards to the Tennessee Titans. Here are the least effective defenses against the run in a single game during the 2000s:
| | | | | |
| --- | --- | --- | --- | --- |
|   Season | Defense | Offense |    Runs/Yds./Avg. | Winner/Score |
| 2000 | Denver | Cincinnati | 37/407/11.0 | Cincinnati/31-21 |
| 2007 | San Diego | Minnesota | 43/378/8.8 | Minnesota/35-17 |
| 2006 | Indianapolis | Jacksonville | 42/375/8.9 | Jacksonville/44-17 |
| 2009 | CHIEFS | Cleveland | 49/351/7.2 | Cleveland/41-34 |
| 2003 | Cleveland | Baltimore | 41/343/8.4 | Baltimore/33-13 |
| 2001 | Carolina | St. Louis | 41/337/8.2 | St. Louis/38-32 |
| 2008 | CHIEFS | Tennessee | 40/332/8.3 | Tennessee/34-10 |
| 2005 | Houston | Seattle | 42/320/7.6 | Seattle/42-10 |
| 2001 | Oakland | Seattle | 42/319/7.6 | Seattle/34-27 |
| 2008 | Detroit | Atlanta | 42/318/7.6 | Atlanta/34-21 |
There are other factors that hit a team after they've turned in a defensive performance against the run like the Chiefs did against Cleveland. The biggest is the embarrassment of getting their butts kicked for 60 minutes on the line of scrimmage. What the Browns offensive line was able to do was move the action a good two or three yards on the Chiefs side of the line of scrimmage.
Football never changes – the worst thing that can happen to a player is to be physically dominated. The coaches cannot be absolved of blame when their defense gets smashed and is unable to stop the run. But at this point in the timeline, there isn't much the Chiefs coaches can do about their run defense.
Improvement must come from the same group of players that were embarrassed by the Browns. If they cannot improve their level of performance this week just based on bruised pride, then there's no hope for this defense over the last two games.
The Chiefs team record for most rushing yards allowed in a season is 2,971 yards by the 1977 squad that played only 14 games. The Chiefs are on a pace right now to finish up allowing 2,602 yards. That would be the most rushing yards allowed in 34 seasons.
Only one thing stands between those numbers and reality, and that's the pride of the Chiefs defense, should it still exist.
SIGNINGS, HONORS, INJURIES & MOVEMENT AROUND THE LEAGUE

BILLS – placed QB Trent Edwards (ankle) and CB Terrence McGee (shoulder) on the injured-reserve list; promoted QB Gibran Hamdan from the practice squad.
BROWNS – placed QB Brady Quinn on the injured-reserve list (foot).
BUCCANEERS – released WR Yamon Figurs; signed WR Micheal Spurlock.
CARDINALS – signed S Hamza Abdullah.
CHARGERS – placed OL Scott Mruczkowski on the injured-reserve list (ankle); signed OL Eric Ghiaciuc.
FALCONS – promoted S Eric Brock from the practice squad.
49ERS – released DE Baraka Atkins.
GIANTS – signed TE Scott Chandler off the Cowboys practice squad.
RAVENS – placed CB Lardarius Webb on the injured-reserve list (knee); released DB Marcus Paschal; signed CB Corey Ivy; signed S Kevin Fitzhugh off the Jets practice squad.
SAINTS – released CB Marcus McCauley and K John Carney; signed S Herana-Daze Jones
SEAHAWKS – re-signed TE Jeff Robinson.
STEELERS – signed WR Joey Galloway.
TEXANS – signed OT Ephraim Salaam.
FROM THE PAGES OF CHIEFS HISTORY

On December 23, 1962, the Dallas Texans won the American Football League championship by beating the Houston Oilers 20-17 in double-overtime at Jeppesen Stadium in Houston. The longest game in pro football history at the time, the teams played for 77 minutes, 54 seconds before Tommy Brooker's 25-yard field in the second extra period provided the Texans with the victory. The Texans grabbed a 17-0 lead at half-time thanks to a pair of TDs from Abner Haynes. He ran for two yards and then caught a 28-yard scoring pass from Len Dawson on the other. The Oilers scored all 17 points in the second half, thanks to a 15-yard pass from George Blanda to tight end Willard Dewveall and Charley Toler ran in from the one-yard line. The Texans allowed a lot of yardage to the Houston offense, but the defense did pick o ff five Houston passes, with Johnny Robinson grabbing two Blanda throws.
On December 23, 1990, the Chiefs beat the San Diego Chargers 24-21 at Jack Murphy Stadium. The Chiefs got a Nick Lowery 32-yard FG in the fourth quarter to beat the Chargers with a crowd of 45,135 watching. Led by QB Steve DeBerg and RB Barry Word, the Chiefs jumped to a 21-7 lead at half-time. DeBerg threw TD passes to WR Stephone Paige for eight yards and RB Todd McNair for 40 yards. San Diego came back with a pair of second half TDs, with a three-yard run by Rod Bernstine and a 55-yard punt return TD by WR Kitrick Taylor. Word finished the game with 106 yards on 28 carries, while DeBerg completed 19 of 27 for 251 yards and two TD passes. The KC defense had two interceptions and two sacks. FS Deron Cherry (right) had the interceptions and LB Derrick Thomas had a sack. The victory assured the Chiefs of a spot in the AFC playoffs.
On December 23, 2001, the Chiefs beat the San Diego Chargers 20-17 at Arrowhead Stadium. Tony Richardson's one-yard TD run with 48 seconds to play gave the Chiefs their second straight victory in front of 76,131 fans. The Chiefs scored on their opening possession going 80 yards on 16 plays before QB Trent Green found TE Jason Dunn (left) for a three-yard TD pass. K Todd Peterson helped out with two field goals. RB Priest Holmes had 80 rushing yards in 23 carries. WR Snoop Minnis caught six passes for 80 yards. San Diego QB Doug Flutie threw a pair of touchdown passes, one to WR Curtis Conway for four yards and another to TE Freddie Jones for three yards.
On December 23, 2006, the Chiefs beat the Raiders 20-9 in a Saturday night game at McAfee Coliseum in Oakland. The KC defense controlled this game from the very start, as they forced five Raiders turnovers, sacked Oakland QB Andrew Walter four times and allowed just three field goals. The Chiefs held a 17-6 lead at half-time, thanks to a six-yard TD pass from QB Trent Green to WR Eddie Kennison. RB Larry Johnson had a one-yard TD score along with 30 carries for 135 yards. FS Jarrad Page had two interceptions and a sack. The other sacks were by DE Jared Allen, DE Tamba Hali and SS Sammy Knight.
SAY HAPPY BIRTHDAY …

Born on December 23, 1984 in Fort Wayne, Indiana was SS Bernard Pollard (right). He was selected in the second round of the 2006 NFL Draft out of Purdue University. Pollard played three seasons (2006-08) with the Chiefs, appearing in 48 games with 31 starts. He had 189 total tackles, one sack, three interceptions, three forced fumbles and three fumble recoveries. Pollard also blocked three punts, including one that he recovered for a touchdown against Jacksonville at the end of the 2006 season. He was released before the start of the '09 regular season and has since signed with the Houston Texans.
Born on December 23, 1980 in Ordaell, New Jersey was LB Rich Scanlon. He signed with the Chiefs as an undrafted college free agent out of Syracuse University in 2004. Scanlon played three seasons (2004-06) with the team, appearing in 31 games, most of those working on special teams. He played one season in Tennessee in 2007.