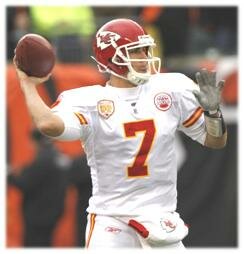 Matt Cassel parses his words very carefully when speaking to the media each week.
There's nothing unusual about that; most NFL starting quarterbacks handle their public chores with the media horde in much the same way. It's all part of the quarterback's handbook, especially in the early years of a QB's career. Be pleasant, answer the questions, but reveal nothing, most especially what might be going on within the team, the locker room, or the offense.
But on Thursday, Cassel got a question he couldn't answer, or more accurately he wouldn't answer.
It started with this question: do you think winning is a habit?
"I definitely think it's a habit and I definitely think it's a culture, there's a culture to winning," Cassel said. "I've been around a lot of successful teams and I think once you have people buy in and you start to win some ballgames it becomes contagious."
This led to a second question: is losing a habit?
"I don't know that," said Cassel. "I can't answer that question, honestly."
The last word said it all – "honestly." Cassel decided not to try to create some sort of answer that wouldn't really be an answer. That's because he knows that if winning is a habit, then losing can become a habit as well.
That losing habit and the fact that it seems to have infected the Chiefs franchise for the last three years – a 9-38 record – has been tougher for Cassel to deal with than any pass rush, or dropped passes by his own receivers or his own mistakes. He won't come out and say it – again that would be bad quarterback form – but the facts say a lot as do the few words that Cassel will give to the subject.
"It's been tough," Cassel allowed. "Obviously, you want to come in here and have a lot of success and the fact that we haven't been able to do that is disappointing."
New is what losing has been for Cassel. Yes, he's started only 29 games over the last 10 years, but he's not been part of a football program with the type of losing that he's experienced with the Chiefs. Consider that in 1998 he led his Chatsworth High School team to a Los Angeles City 3-A title. And, then the next spring, he was part of the Chatsworth baseball team that won the L.A. City baseball championship.
Then he went off to Southern Cal and eventually was selected in the seventh-round of the 2005 NFL Draft by the Patriots. Here are the results of the teams he's played with:
| | | | |
| --- | --- | --- | --- |
| Year | Team |                                                   Record | Notes |
| 2000 | Southern Cal | 5-7 | Red-shirt season |
| 2001 | Southern Cal | 6-6 | Trojans lose Las Vegas Bowl |
| 2002 | Southern Cal | 11-2 | Trojans win Orange Bowl |
| 2003 | Southern Cal | 12-1 | Trojans win Rose Bowl and national championship |
| 2004 | Southern Cal | 13-0 | Trojans win Orange Bowl and national championship |
| 2005 | New England | 10-6 | Patriots win AFC East; go 1-1 in post-season |
| 2006 | New England | 12-4 | Patriots win AFC East; go 2 -1 in post-season |
| 2007 | New England | 16-0 | Patriots win AFC East and AFC; go 2-1 in post-season |
| 2008 | New England | 11-5 | Patriots fail to make the playoffs; Cassel starts 15 games |
| 2009 | CHIEFS | 3-12 | Cassel starts 14 games. |
"You know, it's just an ongoing process and there has been a lot of change," Cassel said of what's happened around the Chiefs in 2009. "I take a lot from this season, there's been a lot of different adversity that's come my way but I battled through it and I think as I move forward as the quarterback of this team, I've learned a lot about myself and I've grown a lot as a player because of that."
What has Cassel learned about himself through this difficult season?
"Just to fight through adversity," he said. "A lot of things are going to be thrown your way and there are going to be a lot of changes that are made around you but you have to keep fighting forward and you've got to keep pressing and you'll come out on top most of the time.
"You just keep going from one weekend to the next and you just try to keep getting better."
Right now, Cassel would like to find a way to help the Chiefs break the losing habit, and create the winning culture that he was part of for most of the decade.

"We're going to try to move forward," Cassel said. "This is the start of a new year and Denver's our first opponent of the new year."
And time to create new habits.
SIGNINGS, INJURIES & MOVEMENT AROUND THE LEAGUE

BILLS – named Buddy Nix as general manager.
GIANTS – placed RB Brandon Jacobs (knee) and CB Aaron Ross (hamstring) on the injured-reserve list; promoted QB Rhett Bomar and S Sha'reff Rashad from the practice squad.
PATRIOTS – promoted OL Ryan Wendell from the practice squad; released DL Titus Adams.
FROM THE PAGES OF CHIEFS HISTORY

On January 1, 1967, the Chiefs beat the Buffalo Bills 31-7 in the 1966 AFL Championship Game at War Memorial Stadium in Buffalo. A crowd of 42,080 fought frigid conditions and a snow shower the day before to see Hank Stram's team grab an early lead and then rolled to the victory that sent them to what would become known as the first Super Bowl. QB Len Dawson and TE Fred Arbanas connected on the game's first score, a 20-yard touchdown pass in the first quarter. Buffalo tied the score later in the period when WR Elbert Dubenion caught a 69-yard TD pass from QB Jack Kemp. But after that it was all Chiefs, as Dawson hooked up on a 29-yard TD pass to WR Otis Taylor, Mike Mercer kicked a 32-yard FG and then RB Mike Garrett scored on touchdown runs of one and 18 yards. Garrett ran 13 times for 39 yards and those two scores. Dawson was 16 of 24 for 227 yards and two TD throws. Taylor caught five passes for 78 yards, while WR Chris Burford had four caches for 76 yards. The KC defense had a pair of interceptions, from FS Johnny Robinson and CB Emmitt Thomas. Robinson returned his pick 72 yards.
SAY HAPPY BIRTHDAY …

Born on January 1, 1967 in Miami, Florida was LB Derrick Vincent Thomas. He was selected in the first round – fourth choice – of the 1989 NFL Draft out of the University of Alabama. Thomas played 11 seasons (1989-99) with the Chiefs, appearing in 179 regular and post-season games as well as starting 168 games. Over his career in regular and post-season play he had 765 total tackles and 134 sacks, one interception, 48 fumbles forced and 19 fumbles recovered. Thomas had four career touchdowns and three safeties. He was a member of the AFC Pro Bowl teams for nine consecutive years and was on the Team of the Decade for the 1990s. D.T. was added to the Chiefs Hall of Fame in 2001 and the Pro Football Hall of Fame in 2009. He died on February 8, 2000 in Miami from complications from an auto accident in Kansas City on January 23rd.
Born on January 1, 1961 in Birmingham, Alabama was OT Irving Humphrey Eatman. He joined the Chiefs in 1986 after playing for three seasons in the United States Football League with the Philadelphia-Baltimore Stars where he was on two championship teams. Eatman was actually selected in the eighth-round of the 1983 NFL Draft out of UCLA after he had already signed with the USFL. He played five seasons with the Chiefs (1986-90), appearing in 69 games with 51 starts. Eatman went on to play six more seasons in the NFL with the Jets, Rams, Falcons and Oilers. He spent five years (2001-05) with the Chiefs as an assistant line coach on Dick Vermeil's staff.