Clark Hunt has made a lot of decisions since he became the man in charge of the franchise his father founded almost 50 years ago.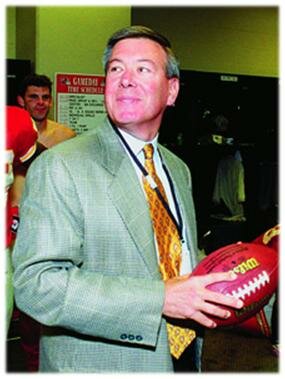 By far, Clark's best decision was made Thursday evening, when the Chairman of the Chiefs came to an agreement to keep Denny Thum with the franchise. Thum had the interim removed from his title on Friday as he was named the fourth team president in the history of the franchise.
Had the decision been anything but presenting the job to Thum, it would have been a mistake. Not because the man will wrap up 35 years with the organization next Friday. But because every time he's been given a task during that remarkable lifespan with the same employer, he's taken the job and made it his own.
We should expect nothing less from the St. Louis native now that he's in charge of the business operation of the team.
"It's a job he can handle because he's done many of the duties already," the most recent team president Carl Peterson said several weeks ago. "He has the skill set and Denny is so good with people, he'll work with everybody and have them pulling in the same direction.
"It would be a mistake not to give him the job."
When he took over the franchise in 1989, Peterson found Thum in the building. At the time he had the title of assistant to the general manager. "I told him, let's go for six months and see how this thing works," Peterson said. "It was one of the best decisions I made."
Thum's first day with the Chiefs was May 16, 1974.
 He was still a week away from graduating from Rockhurst College with a degree in accounting. He was hired by then assistant general manager Jim Schaaf and carried the title Ticket Accountant, working for the director of the department Joe Mazza.
By 1982, he became director of accounting. In 1984 he was named assistant to the General Manager, who by that time was Schaaf. In 1989, working for Peterson his title was assistant general manager. In 1996 he added executive vice-president to his business card. In 2006 he added Chiefs Operating Officer.
It's not hard to follow the trend here. Give Thum a job and then stand back and let him handle the duties. Invariably, it has all worked out for the better of the Chiefs.
What makes it even more amazing is his longevity. The 2009 season will be the 36th since he walked into the operation as a 22-year old, wet-behind-the-ears numbers cruncher. He's only had one employer in this working life. How many of us can say that, and not have the same last name as the owner of the business?
It's not that he hasn't had opportunities to leave the Chiefs over the years; several times he considered taking a president-GM type job with other teams when they've been offered. He always decided his situation was better at Arrowhead.
Now, his loyalty has been rewarded with the highest position in the operation and it puts him in remarkable company. There are 32 teams in the NFL, and 26 of those clubs have a person filling the title of President in their business structure. The other six teams have persons in similar roles, just with different labels like chief executive officer, chief operating officer, senior executive and so on.
Chart the time those executives have spent with their teams and Thum is remarkably the longest tenured employee who has become president that isn't an owner or part of ownership:
 Team
 President
 Ownership

Seasons Working


With Club

Buffalo
Ralph Wilson

Yes

49

Tennessee
Bud Adams

Yes

49

Cincinnati
Mike Brown

Yes

41

Kansas City
Denny Thum

No

35

Miami
Brian Wiedmeier

No

28
Since Thum first began working in the NFL, 20 of the 32 teams were either created or have changed hands. Work down through club executives, GMs, coaches, coaching staffs and there's a long history of turnover throughout the league.
But first Mazza, then Schaaf, followed by Peterson and now Clark Hunt have recognized that if you want to make your organization more efficient, more prepared, more productive and more professional, Denny Thum is your man.
With his new role, the Chiefs do take an organizational hit because Thum will no longer be involved with the team's salary cap and negotiating contracts with players. Those duties fall to GM Scott Pioli, who will handle all football related activities.
Thum is regarded throughout the NFL as one of the best cap guys in the business at making all the numbers fit in the confines of what the football people wanted to get done with the roster. In the agent community, Thum is one of the most respected negotiators in the league, known in the community for his patience. For years, he and Peterson ran a pretty effective good cop-bad cop routine with some of the more difficult negotiations. Thum was almost always the good cop, although he remembers many times when his legendary patience was tested and Peterson had to calm the waters.
Several years ago, Drew Rosenhaus said of Thum: "He represents his team well, he gets the job done and in the end, both sides generally come out of the negotiations feeling pretty good about how things went down. That's not something that always happens in this business."
He'll now work with the other ends of the operations, with sales, marketing, public relations, community relations, stadium operations and the ongoing stadium rehab project at Arrowhead. In this day and age, there's more than enough for the guy on top of the franchise to handle. And in this economy, with a rebuilding team and ticket sales down, there are plenty of challenges in the building.
Those areas are now in good, experienced hands.
HALL OF FAMER HAS ADVICE FOR FAVRE, RIPS MONTANA'S KC STAY

Since he retired as head coach of the Minnesota Vikings a second time some 24 years ago, we've heard little from Bud Grant. That's largely because the media doesn't like hanging out in duck blinds or ice fishing huts.
But Grant had some thoughts this week about the possible comeback of Brett Favre and he dragged Joe Montana into the discussion. He was speaking in Fergus Falls, Minnesota. No really, there's a town named Fergus Falls. He offered Favre advice.
"Stay retired," said Thursday. "History isn't on his side," Grant added. "He's 40. He had a great career and he's a great competitor. He needs to let it go at that. I don't see where coming out of retirement benefits him a lot."
Grant mentioned several Hall of Fame quarterbacks who finished up their careers in less than stellar fashion. One of those was Montana, who was traded in 1993 to the Chiefs and played two years in Kansas City.
"The 49ers released him after a brilliant career so he could go to Kansas City," Grant said. "In two years with the Chiefs he failed to produce."
SIGNINGS & MOVEMENT AROUND THE LEAGUE

RAIDERS – signed RB Gary Russell and FB Lorenzo Neal.
RAMS – released LB Pino Tinoisamoa.
SAINTS – lost fourth-round draft choice LB Stanley Arnoux on Friday with a ruptured Achilles tendon suffered in practice.
SAY HAPPY BIRTHDAY …

May 9

Born on May 9, 1938 in Latrobe, Pennsylvania was LB Walt Corey
(right). He joined the Dallas Texans in 1960 out of the University of Miami, Florida and played seven seasons with the team, appearing in 69 games and making four INTs. He spent 13 years with the team as an assistant coach, working at every position group on the defensive side of the ball and serving as defensive coordinator of the 1986 Chiefs team that broke a 15-year post-season drought.
Born on May 9, 1958 in Detroit was G Brad Budde. He joined the Chiefs as a first-round draft choice in 1980 out of Southern Cal. Budde played in 93 games over seven seasons with the Chiefs. He was the son of Chiefs Hall of Famer Ed Budde.
Born on May 9, 1956 in Laie, Samoa was LB Frank Manumaleuga. He joined the Chiefs as a fourth-round choice in the 1979 NFL Draft and played three seasons (1979-81). Manumaleuga appeared in 35 games with 29 starts at inside linebacker, grabbing six INTs. His career was cut short by a neck injury.
Born on May 9, 1968 in Kansas City was CB Bruce Pickens. He played four seasons in the NFL with four teams, including five games in 1993 with the Chiefs. Pickens was a former first-round draft choice of the Atlanta Falcons.
May 10

Born on May 10, 1961 in Phenix City, Alabama was S Van Jakes. He played six seasons in the NFL, including the 1983-84 seasons with the Chiefs, who he joined as a rookie free agent out of Ken State. Jakes appeared in 22 games and made one start in Kansas City.
Born on May 10, 1977 in Shelby, North Carolina was DT Norris McCleary. He played in 13 games over two seasons (2000-01) with the Chiefs, who he joined as a rookie free agent out of East Carolina.