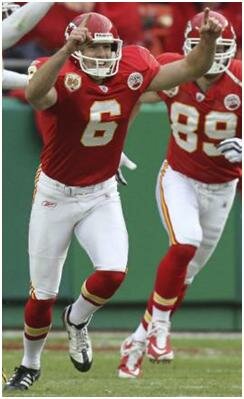 About 10 weeks ago, it would have been laughable to predict Jamaal Charles would finish the 2009 season as the Chiefs MVP.
But that was before Charles took over as the focal point of the Chiefs offense. Everybody was a twitter about Larry Johnson and he had been sent packing in what the club hoped would be addition by subtraction. It turned out that's exactly what the move was for the Chiefs offense as Charles got his shot.
The second-year back from the University of Texas went on to have one of the best second-half offensive performances in the league, ran his way into the Chiefs record book and earned the Derrick Thomas Award as the team's MVP.
The Chiefs announced the selection on Tuesday, along with naming K Ryan Succop as the Mack Lee Hill Award winner as the team's most productive rookie.
Both honors are voted on by the players, but the team does not release the final totals. There seems no doubt that Succop ran away with the rookie award. The only other rookie that might have received consideration was ILB Jovan Belcher, who like Hill joined the franchise as a college free agent.
Succop turned in one of the best seasons for a rookie kicker in recent NFL history, making 25 of his 29 field goal attempts and leading the team with 104 points. Inside the 40-yard line, Succop was a perfect 17-of-17. He was one of the few consistent performers the team had in any facet of the game during the '09 season. He was a factor all the way back to Game No. 1, when he made his first field goal with the Chiefs, hitting from 53 yards against Baltimore. Then in Denver last Sunday, he had three field goals in the Chiefs big 20-point victory.
He's the 45th winner of the Mack Lee Hill Award and the third specialist. Jan Stenerud won in 1967 and punter Bob Grupp was the honoree in 1979.
While Succop was contributing all year, Charles was not. After the first eight games of the season, where he played in seven of those contests, Charles had just 152 yards rushing on 29 carries.
But over the last eight games, he ran for 968 yards on 161 carries and seven touchdown runs. He averaged 6.01 yards per carry. Only Tennessee's Chris Johnson was a bigger factor in his team's offense from Game No. 9 through 16 than Charles in running the ball and in overall offensive yards.
RUSHING YARDS/GAMES NO. 9 THRU NO. 16

 

#

 

 Running Back

 

Team

 

  G

 

  Att.

 

  Yards

 

  Avg.

 

  TD

Yards


Per Game

1.
Chris Johnson
Tennessee

8

214

1,047

4.9

8

130.9

2.
Jamaal Charles
CHIEFS

8

161

968

6.0

7

121.0

3.
Ray Rice
Baltimore

8

146

766

5.2

2

95.8

4.
Frank Gore
San Francisco

8

149

673

4.5

5

84.1

5.
Ricky Williams
Miami

8

156

665

4.3

5

83.1

6.
Maurice Jones-Drew
Jacksonville

8

167

654

3.9

4

81.8

7.
Ryan Grant
Green Bay

8

133

632

4.8

7

79.0

 
Steven Jackson
St. Louis

7

159

632

4.0

2

90.3

9.
Fred Jackson
Buffalo

8

125

617

4.9

2

77.1

10.
Jerome Harrison
Cleveland

7

125

608

4.9

5

86.9
OFFENSIVE YARDS FROM SCRIMMAGE/GAMES NO. 9 THRU NO. 16

 

#

 

Player

 

Team

 

G

 

 Touches

 

  Yards

 

  Avg.

 

  TD

Yards


Per Game

1.
Chris Johnson
Tennessee
8

243

1,388

5.7

9

173.5

2.
Jamaal Charles
CHIEFS
8

184

1,126

6.1

8

140.8

3.
Ray Rice
Baltimore
8

178

1,032

5.8

2

129.0

4.
Frank Gore
San Francisco
8

179

889

5.0

7

111.1

5.
Andre Johnson
Houston
8

59

882

14.9

5

110.3

6.
Adrian Peterson
Minnesota
8

175

846

4.8

9

105.8

7.
Maurice Jones-Drew
Jacksonville
8

190

830

4.4

5

103.8

8.
Fred Jackson
Buffalo
8

151

811

5.4

3

101.4

9.
Wes Welker
New England
8

72

810

11.3

0

101.3

10.
Steven Jackson
St. Louis
7

186

768

4.1

3

109.7
Charles is the 31st player and sixth running back to win the Chiefs MVP award since the honor was formalized by the franchise in 1979. The other backs that were honored were Joe Delaney (1981), Christian Okoye (1989), Marcus Allen (1993-95), Priest Holmes (2001-02) and Larry Johnson (2005-06).
SIGNINGS, HONORS, INJURIES, HIRINGS, FIRINGS AND OTHER MOVEMENT AROUND THE LEAGUE

BEARS – fired offensive coordinator Ron Turner, TE coach Rob Boras, assistant OL coach Luke Butkus, QB coach Pep Hamilton, OL coach Harry Hiestand and assistant WR coach Charles London.
CARDINALS – placed DE Jason Banks on the injured-reserve list; released LB Pago Togafau; signed FB Nehemiah Broughton and DE Jeremy Clark off the Giants practice squad.
CHARGERS – placed LB James Holt on the injured-reserve list (shoulder); signed LV Dontarrious Thomas.
49ERS – fired special teams coordinator Al Everest.
REDSKINS – came to agreement on a five-year contract with Mike Shanahan to become their new head coach.
SAINTS – placed DE Charles Grant on the injured-reserve list (triceps); signed DE Paul Spicer
STEELERS – QB coach Ken Anderson retired.
TEXANS – LB Brian Cushing was chosen the Associated Press's 2009 NFL Defensive Rookie of the Year. He received 39 votes of 50 votes. Bills S Jairus Byrd was second (6), Packers LB Clay Matthews (3) and Redskins OLB Brian Orakpo (2).
FROM THE PAGES OF CHIEFS HISTORY

On January 6, 2001, the Chiefs lost 21-18 to the Seattle Seahawks at Husky Stadium. This game was originally scheduled for the second week of the '01 season but was postponed and re-scheduled because of the terrorist attacks of September 11. Playing outdoors on the University of Washington field as construction continued on the new football stadium in Seattle, the teams were greeted by rain and cold temperatures. The Seahawks had a 14-0 lead at half-time, and then 21-10 going into the fourth quarter. The Chiefs got touchdowns from QB Trent Green to TE Lawrence Ricks on a one-yard scoring pass and FB Tony Richardson scored on a one-yard run. RB Priest Holmes ran for 117 yards on 23 carries, while Seattle's Shaun Alexander got 127 yards on 20 carries. The KC defense had interceptions from CB Eric Warfield and LB Marvcus Patton, and a sack by LB Donnie Edwards. The Chiefs finished the first season under head coach Dick Vermeil with a 6-10 record.
On January 6, 2007, the Chiefs lost 23-6 to the Colts in a wild-card game in the 2006 AFC playoffs at the RCA Dome. The Chiefs were unable to generate any offense against Indianapolis, scoring just one touchdown when QB Trent Green and TE Tony Gonzalez connected on a six-yard pass. Green found TE Kris Wilson for two points after the score. They managed just 126 yards in total offense with 44 rushing yards and only 82 net passing yards. The Chiefs offense turned the ball over three times and allowed four sacks. For the Colts, RB Joseph Addai scored on a six-yard run and totaled 122 yards in the game. QB Peyton Manning and WR Reggie Wayne combined on a five-yard TD pass. TE Dallas Clark had nine catches for 103 yards. The KC defense had three interceptions of Manning, with two by CB Ty Law and another one by FS Jarrad Page.
SAY HAPPY BIRTHDAY …

Born on January 6, 1976 in Spring Valley, Illinois was G Mike Goff. He joined the Chiefs as a free agent for the 2009 season after playing five seasons with the Chargers. Before joining San Diego, he played six seasons with the Bengals, who selected him in the third-round of the 1998 NFL Draft out of the University of Iowa. Goff played in eight games for the '09 Chiefs, starting seven contests before heading to the injured-reserve list.