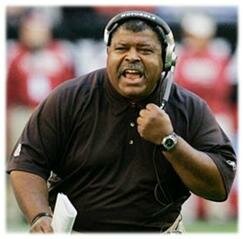 Now that it appears the Three Musketeers from kingdom of Foxboro are going to be reunited in Middle America, there are some things that you need to know about the last man to join the crusade.
Romeo Crennel is named after Shakespeare's Romeo. Really, he is. He even has a sister named Juliet.
It's just one of the little things we've learned about the man who will soon be announced as the team's new defensive coordinator.
HE WAS BORN in Lynchburg, Virginia on June 18, 1947. He'll be 63 on his next birthday.
CRENNEL IS THE OLDEST of five children of Joseph and Mary Crennel. His father was a sergeant in the U.S. Army, who served two tours of duty in Vietnam and was transferred to different army bases all over the world, including Fort Sill in Oklahoma, Fort Hood in Texas and Fort Knox in Kentucky.
HIS NAME COMES FROM Shakespeare's Romeo & Juliet; his father was a poetry fan and returned home from Paris just before his first son's birth. Four years after naming his oldest son Romeo, he named his second daughter Juliet.
ROMEO WAS NOT THE STAR ATHLETE in his family. That was younger brother Carl, who earned a full ride scholarship to West Virginia and was eventually a ninth-round draft choice of the Pittsburgh Steelers in 1970. He played three games before he was released and then finished his playing career in the Canadian Football League where he was part of a championship team with the Edmonton Eskimos who were led by QB Warren Moon.
IN HIGH SCHOOL HE WAS A FOOTBALL AND BASEBALL PLAYER at Central High in Amherst, Virginia and also at Ft. Knox High School in Kentucky. When Sgt. Crennel would be sent overseas, Mary Crennel would take the family back to her home in Virginia, where the Crennel kids spent time on a farm, feeding pigs and chickens and helping to harvest corn.
SGT. CRENNEL'S OLDEST SON WANTED TO JOIN HIM IN THE ARMY, and attended Western Kentucky in the ROTC program in hopes of entering the service as an officer. But his weight and flat feet kept him out of the service.
FOR THE HILLTOPPERS, Crennel was a three-year starter on the offensive line, but then in his senior year when the team was hit with a rash of injuries on the defensive line, he offered to move to the other side of the ball. He was the senior season captain and he was voted by his teammates MVP.
HIS WIFE IS ROSEMARY, who they met at Western Kentucky during Romeo's freshman year. They have three daughters: Lisa, Tiffany and Kristin. He is a grandfather.
AFTER EARNING HIS DEGREE IN PHYSICAL EDUCATION in 1969, Crennel returned to the Western Kentucky football program in 1970 as a graduate assistant. Thus began his coaching career. He handled the defensive linemen for four seasons (1971-74).
ROMEO'S FUTURE WAS CHANGED IN 1975 when he got a job as defensive assistant at Texas Tech. The head coach was Steve Sloan and the defensive coordinator was a guy named Bill Parcells. After three years, he followed Sloan to the University of Mississippi where he coached for two years. He then spent a year at Georgia Tech.
IN 1981, NEW YORK GIANTS COACH RAY PERKINS was looking for a special teams assistant to help his assistant Bill Belichick who wanted to try his hand as the defensive coordinator. Crennel spent 12 seasons with the Giants, most as the defensive line coach under Parcells who was named head coach in 1983. The Giants won a pair of Super Bowls. When Parcells retired for the first time, Crennel stayed with the Giants and worked for Ray Hadley for two seasons. Parcells came back to coach the Patriots in 1993 and Crennel joined his staff in New England for four seasons and then followed him to the New York Jets for three more seasons before Parcells retired for the second time.
FORMER GIANTS LB CARL BANKS ON CRENNEL: "A lot of what Bill Belichick is now is as a result o f having very smart coaches and players around him. As far as coaching, Romeo is just as much of a defensive genius as Bill."

IT WAS THE EXPANSION BROWNS and their head coach Chris Palmer that gave Crennel his first chance to be defensive coordinator in 2000. Head coach Chris Palmer hired him. "I knew he'd be an excellent coordinator," Palmer said.
PALMER ALSO SAID OF CRENNEL: "He's reserved, but he's like E.F. Hutton. When he speaks people listen."

CLEVELAND FIRED PALMER AND HIS STAFF after the 2000 season, but Belichick had just been named head coach of the Patriots and Crennel joined his staff as defensive coordinator. He spent four seasons, and won three more Super Bowl rings in the 2001, 2003 and 2004 seasons.
CRENNEL'S BEST DEFENSE WAS IN 2003, when the Patriots allowed just 14.9 points per game with three shutouts. At home, they gave up only 9.6 points per game. In one stretch they went 62 consecutive opponent possessions without allowing a touchdown. New England led the league in interceptions with 29 and they had six defensive touchdowns.
FORMER PATRIOTS CB TY LAW ON CRENNEL: "In the meetings, Romeo calls the defenses and runs the entire defense. Bill Belichick puts in the flavor and makes suggestions, but the defense is Romeo's."
THE BROWNS HIRED HIM BEFORE THE 2005 SEASON as head coach. In four seasons, Crennel posted a 24-40 record, with a 10-6 mark in 2007. He was fired on December 29, 2008 after a 4-12 season.
SIGNINGS, INJURIES, HONORS & MOVEMENT AROUND THE LEAGUE

49ERS – COO Andy Dolich left the franchise; Jed York appointed team CEO
PATRIOTS – LB Junior Seau says he's retired again and will not play another NFL game.
REDSKINS – hired Lou Spanos (Steelers) as linebackers coach; offensive line coach Joe Bugel announced his retirement.
STEELERS – named Sean Kugler offensive line coach.
FROM THE PAGES OF SUPER BOWL HISTORY

On Sunday, January 14, 1969, the New York Jets beat the Baltimore Colts 16-7 to win Super Bowl III at the Orange Bowl in Miami. This was the victory guaranteed earlier in the week by Jets QB Joe Namath, who was upset because the odds makers made New York an 18-point underdog for the game.
The Jets came out and controlled the game from the first quarter on, in what turned into a defensive struggle. The scoreboard was quiet in the first quarter before RB Matt Snell scored on a four-yard run in the second quarter. With the PAT kick, the Jets led 7-0 at half-time. They added three Jim Turner FGs in the second half. Baltimore finally scored in the fourth quarter on a one-yard run by Jerry Hill. The Jets defense added five turnovers to the winning plate, including four interceptions of Earl Morrall and Johnny Unitas. Snell finished with 121 yards on 30 carries, while George Sauer caught eight passes for 133 yards.
Namath was named the game's MVP, as he hit 17 of 28 passes for 206 yards. He did not throw a touchdown pass or any passes at all in the fourth quarter. The referee was Tom Bell. The national anthem was sung by Anita Bryant. The half-time show was performed by the Florida A&M marching band. The game was broadcast by NBC with Curt Gowdy, Al DeRogatis and Kyle Rote handling the microphones. A 30-second commercial cost $55,000.
FROM THE PAGES OF AFC CHAMPIONSHIP GAMES

On January 14, 1990, the Denver Broncos beat the Cleveland Browns 37-21 at Mile High Stadium in the AFC Championship Game after the '89 season. It was the third time in four years that the Broncos beat the Browns in the conference title game. This time, new Cleveland head coach Bud Carson led the Browns into the mountain-time zone. Broncos QB John Elway threw for 385 yards and three TD passes, including a 70-yard score to WR Michael Young. Elway's other TD passes were to TE Orson Mobley and RB Sammy Winder, who also had a seven-yard TD run.
SAY HAPPY BIRTHDAY

Born on January 14, 1939 in Detroit was TE Fred Arbanas (right). He was selected in the seventh round of the 1961 AFL Draft out of Michigan State by the Texans. Arbanas played nine seasons with the Texans-Chiefs (1962-70), playing in 118 games over his career. He caught 198 passes for 3,101 yards and 34 touchdowns. Arbanas was named to the all-time AFL team by the Pro Football Hall of Fame. He was also in five AFL All-Star Games Arbanas was inducted into the Chiefs Hall of Fame in 1973.
Born on January 14, 1975 in Richmond, Virginia was LB Shawn Barber. He was signed as an unrestricted free agent in 2003 after playing four years with the Redskins and one with the Eagles. Barber spent three seasons with the Chiefs (2003-05), appearing in 27 games, with 24 starts. He had two interceptions.
Born on January 14, 1967 in Hartford, Connecticut was LB Terry Wooden. He joined the Chiefs in 1997 as a free agent after seven seasons with the Seahawks. Wooden played one season with the team. He appeared in 15 games during that '97 season with eight starts at inside linebacker. Wooden had 41 total tackles, two sacks, one forced fumble and one recovered fumble. He spent the 1998 season with the Raiders.