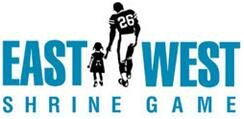 New Chiefs defensive coordinator Romeo Crennel is in Orlando for the next week, as he'll handle the East Squad in the annual East-West Shrine Game.
He can learn a great deal about his new home if he talks with the coach of the West Squad, former Chiefs head coach Marty Schottenheimer. The game will go off next Saturday at 2 p.m. CST from the Citrus Bowl. Practices start on Monday in Florida.
They've been playing the Shrine Game for a long time, but it has fallen behind the Senior Bowl in importance for NFL evaluators. That makes the two rosters not nearly as strong as what will be seen in the week after in Mobile.
Right now, there are no players in this game that grade out to first-round status. The closest are Nebraska SS Larry Asante and Mississippi DE Greg Hardy, who are both considered second round talents. There are three players considered third round prospects in the game: TE Dennis Pitta of BYU, FS Kam Chancellor of Virginia Tech and OT Kyle Calloway of Iowa.
There are three KU players in this game: QB Todd Reesing, WR Kerry Meier and SS Darrell Stuckey.
Here are the rosters for the two teams as of Friday:
EAST SQUAD/Head Coach: Romeo Crennel
First

Name

Last


Name

 

Pos.

 

School

Projected


Round

Mike 

Kafka 

QB

Northwestern 

FA

John 

Skelton 

QB

Fordham 

FA

Richard 

Dickson 

FB

LSU

FA

Andre 

Anderson 

RB

Tulane 

7

Andre 

Dixon 

RB

Connecticut

FA

Javarris 

James 

RB

Miami 

6

Alric 

Arnett 

WR

West Virginia

6

Freddie 

Barnes 

WR

Bowling Green 

6

Naaman 

Roosevelt 

WR

Buffalo 

6

Patrick 

Simonds 

WR

Colgate 

7

Blair 

White 

WR

Michigan State 

6

Nate 

Byham 

TE

Pittsburgh 

5

Andrew 

Quarless 

TE

Penn State

7

Ali

Villanueva

TE

Army

FA

Kyle 

Calloway 

OT

Iowa 

3

Kevin 

Haslam 

OT

Rutgers

6

Rodger 

Saffold III 

OT

Indiana 

7

Chris 

Scott 

OT

Tennessee 

5

Ben 

Staggs 

OT

West Liberty 

FA

Thomas 

Austin 

G 

Clemson 

7

Cord 

Howard 

G 

Georgia Tech 

FA

Sergio 

Render 

G 

Virginia Tech 

4

Jim 

Cordle 

C 

Ohio State

FA

Matt 

Morencie 

C 

Windsor 

FA

A.J. 

Trump 

C 

Miami 

FA

C.J. 

Wilson 

DE

East Carolina

5

Rahim 

Alem 

DE

LSU

5

Greg 

Hardy 

DE

Mississippi 

2

Lindsey 

Witten 

DE

Connecticut 

4

Willie 

Young 

DE

North Carolina State 

4

Nate 

Collins 

DT

Virgina 

FA

Mike 

Neal 

DT

Purdue 

6

Torell 

Troup 

DT

Central Florida 

7

Doug

Worthington

DT

Ohio State

7

Kavell 

Conner 

OLB

Clemson

7

O'Brien 

Schofield 

OLB

Wisconsin 

4

Ryan

Stamper

OLB

Florida

7

Jamar 

Chaney 

ILB

Mississippi State 

4

Mike

McLaughlin

ILB

Boston College

7

Ross 

Pospisil 

ILB

Navy 

FA

Kion 

Wilson 

ILB

South Florida 

FA

Chris 

Chancellor 

CB

Clemson

7

Sherrick 

McManis 

CB

Northwestern 

5

Patrick 

Stoudamire 

CB

Western Illinois 

7

Darian 

Stewart 

SS

South Carolina 

6

Barry 

Church 

SS

Toledo 

6

Justin 

Woodall 

SS

Alabama 

6

Kam 

Chancellor 

FS

Virginia Tech 

3

Van 

Eskridge 

FS

East Carolina

7

Jeremy

Boone 

P 

Penn State

7

Joshua 

Shene 

K 

Mississippi 

7
WEST SQUAD/Head coach: Marty Schottenheimer
First

Name

Last


Name

 

Pos.

 

School

Projected


Round

Max 

Hall 

QB

Brigham Young 

7

Matt

Nichols

QB

E. Washington

FA

Todd 

Reesing 

QB

Kansas 

7

Ryan 

Moya 

FB

UCLA 

7

Keith 

Toston 

RB

Oklahoma State 

7

Lonyae 

Miller 

RB

Fresno State 

7

Dimitri

Nance

RB

Arizona State

FA

Seyi 

Ajirotutu 

WR

Fresno State 

7

Kerry 

Meier 

WR

Kansas 

4

David 

Reed 

WR

Utah 

FA

Emmanuel 

Sanders 

WR

SMU

7

Jordan 

Sisco 

WR

Regina 

FA

Verran 

Tucker 

WR

California 

7

Riar 

Geer 

TE

Colorado 

FA

Nathan 

Overbay 

TE

E. Washington

7

Dennis 

Pitta 

TE

Brigham Young 

3

Zane 

Beadles 

OT

Utah 

4

Chris 

Marinelli 

OT

Stanford 

6

Marshall 

Newhouse 

OT

TCU

7

Mike 

Tepper 

OT

California 

6

Jeff

Byers

G

Southern Cal

7

Brandon 

Carter 

G 

Texas Tech 

7

Shelley 

Smith 

G 

Colorado State 

6

Reggie 

Stephens 

G 

Iowa State 

7

Kenny 

Alfred 

C 

Washington St.

7

John 

Estes 

C 

Hawaii 

6

Jan 

Jorgensen 

DE

Brigham Young 

7

Jeffery 

Fitzgerald 

DE

Kansas State 

6

James 

Ruffin 

DE

Northern Iowa 

7

Jaron

Baston 

DT

Missouri 

7

Earl 

Mitchell 

DT

Arizona 

7

Martin

Tevaseau

DT

UNLV

FA

Daniel 

Te'o_Nesheim 

DT

Washington 

7

Ekom 

Udofia 

DT

Stanford 

7

Dexter 

Davis 

OLB

Arizona State 

5

Stevenson 

Sylvester 

OLB

Utah 

6

Jason 

Beauchamp 

OLB

UNLV 

7

Keaton 

Kristick 

OLB

Oregon State 

7

Reggie 

Carter 

ILB

UCLA 

7

Joe 

Pawelek 

ILB

Baylor 

6

Alterraun 

Verner 

CB

UCLA 

4

Brian 

Jackson 

CB

Oklahoma 

4

Devin 

Ross 

CB

Arizona 

4

Jamar

Wall

CB

Texas Tech

4

Darrell 

Stuckey 

SS

Kansas 

4

Larry 

Asante 

SS

Nebraska 

2

TJ 

Ward 

FS

Oregon 

5

Chris 

Thomas 

FS

Air Force 

FA

Klint 

Kubiak 

FS

Colorado State 

7

Hunter 

Lawrence 

K 

Texas 

FA

Robert 

Malone 

P

Fresno State 

7