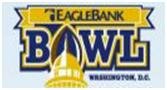 Eagle Bank Bowl

December 29, RFK Stadium, Washington, D.C.

UCLA (6-6) vs. Temple (9-3)

ESPN, 3:30 p.m. CST

UCLA

#1 CB Alterraun Verner, 5-11, 180 pounds – Kansas State fans will remember Verner, as he grabbed two interceptions against the Wildcats early in the 2009 season. A three-year starter for the Bruins, he was one of the team's captains this season and was selected to the first-team All-Pac 10 Conference squad. Verner played in 50 games, with 13 career interceptions and four TD returns, including a 68-yard TD this season against Arizona State. He has 272 total tackles and three forced fumbles.
Evaluation – Outstanding athlete with top-end speed (4.4 seconds in the 40-yard dash), who despite a small frame has been very durable playing in the Pac-10. Verner is very smooth, has very good body control and combines that with intelligence. He's a student of the game, and likes to challenge QBs mentally. Verner is a Mathematics/Applied Science major at UCLA and has been honored for his classroom work. Most scouts consider him a third to fourth-round talent who could improve his standing at the Combine and in workouts.
#51 ILB Reggie Carter, 6-0, 235 pounds – An All-Pac 10 first-team selection, Carter led the Bruins this season with 72 tackles at the middle linebacker spot. He moved back inside after spending the '08 season playing outside linebacker. Over four seasons, Carter has played in 50 games with 266 career tackles, including 30.55 tackles for minus yardage and 3.5 sacks. He also forced six fumbles. Ran into some trouble with the UCLA coaching staff in the last few weeks and was sent home from several days of practice because of incomplete classroom work. Carter was also dealing with a knee injury.
Evaluation – NFL scouts saw him as a fifth or sixth-round pick, but there may be some questions now after his problems with the staff and missed practices. Carter was not enough of a prospect to be able to just walk away from those types of incidents. He's an instinctive player who studies the game, but he needs to be stronger. Carter runs around blocks rather than through them and he sometimes has trouble playing in space. He needs a big performance in the months before the draft to get back on some teams radar.
TEMPLE

#2 DT Andre Neblett, 6-2, 288 pounds – A team captain and conference first-team performer, he has played 48 games with the Owls, not missing a single game because of injury. Nesblett racked up 135 total tackles, 26.5 tackles for minus yardage and 6.5 sacks. He also had an interception and forced six fumbles. In '09, he started 12 games and had 39 total tackles and one sack.
Evaluation – Neblett has had only two sacks in the last two seasons and this season playing against Penn State, he was shutout: no tackles, no sacks and no tackles for loss. He's a big, thick body that can clog the middle. Neblett lacks the quickness to play on the edge or to expect him to blow up plays in the backfield. He's considered a late round draft prospect.
#6 SS Dominique Harris, 6-2, 215 pounds – He's a big, active and intelligent safety, who was named team captain with the Owls. In four seasons he played in 47 games, missing only one. Harris had nine interceptions, 274 total tackles and forced five fumbles. Against Penn State this year he had 10 total tackles. He's an all-Academic selection.
Evaluation – Harris has everything a team is looking for at safety save one thing: speed. That's why he'll be a late-round draft choice. Covering up that lack of foot quickness is much harder to do at the pro level than it is at Temple. His size, production and intelligence will give him an opportunity in the NFL, probably in the sixth or seventh rounds.