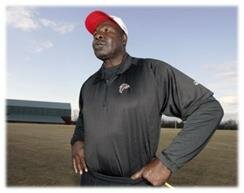 From Ft. Lauderdale, Florida

It rained, and rained, and rained on Monday in south Florida. But then, not much was happening here in Super Bowl Land beyond both teams and thousands of people in the media showing up for the rest of the week.
So we turn north and west for the news of Monday, and it came out of Arrowhead Stadium where head coach Todd Haley was pulling together the final pieces of his coaching staff. The changes are impressive, especially with the additions of Charlie Weis, Romeo Crennel and Hall of Famer Emmitt Thomas (right) to the group.
Combine those new faces with holdovers like special teams coach Steve Hoffman, offensive line coach Bill Muir and assistant head coach/running backs Maurice Carthon, and there's been a significant increase in skill and experience of the men around Haley.
Now, the focus moves full bore to player personnel. GM Scott Pioli and Haley must find better talent for those better coaches to handle. A team's coaching staff can be filled with top line coaches. But to be great coaches, they must have great players.
This is not a "what comes first, the chicken or the egg question?" Great coaches and players must be hatched together; they are not separate items and one is not often found without the other. It has taken two years for Haley to pull together a staff that seems closer to his vision, one that will operate in a manner far closer to his heritage pillars of Bill Parcells.
Haley's staff is essentially two staffs: the proven and the unproven. All the previously mentioned coaches along with linebackers coach Gary Gibbs qualify as the proven. The unproven group is made up of Richie Anderson (wide receivers), Ronnie Bradford (assistant defensive backs), Bernie Parmalee (tight ends), Pat Perles (assistant offensive line), Anthony Pleasant (defensive line) and Otis Smith (defensive quality control). With the exception of Perles, all are former NFL players. And, all but Bradford have been indoctrinated in the ways of (Bill) Parcells, having played for the Big Tuna.
The head coach acknowledged that the experienced members of his staff will not only be coaching the players, but they will be coaching the young coaches as well.
"I feel like we have a coaching staff that is very experienced which is good for our young team, it's also very good for the other younger coaches on our staff because I think the guys that we now have in place, we have a great knowledge base, a great experience base and a great success base," Haley said. "More important than all of that is the fit. I've talked about the fit with Coach Crennel and Coach Weis as coordinators and our past experience working together and how I've learned from them back in the '90s and we've learned from similar mentors."
Haley is trying to recreate a similar situation to the one he enjoyed when he got his first job as position coach under Parcells with the New York Jets in 1999. We've talked plenty about some of the coaches that Haley was exposed to on that staff, from Parcells, Weis, Crennel and Muir, to Ron Erhardt, Dan Henning and Al Groh.
Remarkably, Haley's 2010 coaching staff actually has fewer years in coaching than his 2009 staff (282 years to 271 for the new staff.) But when it comes to experience in the NFL, the '10 staff has 44 years more experience than last year's group (189 to 145) when the coming season is included. Not included in those numbers are the strength and conditioning duo of Cedric Smith and Brent Salazar who were part of both starts.
There's a gamble here for Haley, especially at wide receiver and defensive line, where Anderson is in only his fourth coaching season, while Pleasant will go through his first official year in the business; he spent all of last season with the Chiefs as an intern. Wide receiver and defensive line are two very important positions where the Chiefs must generate improved play in the '10 season.
He's hoping that the experience of Weis will help Anderson, and that Crennel's background as a defensive line coach will make Pleasant's first year less stressful.
"When you get the level of experience that we have now with somebody like Coach Thomas, Coach Crennel and Coach Weis, part of this deal is not only developing the players but also developing young coaches because I think to be a consistent team year-in and year-out, you have to do that," said Haley.
MORE ON HALEY'S COACHING STAFF FOR 2010

Haley met the media horde on Monday, with Weis, Crennel and Thomas in tow. Here's some highlights:
THOMAS ON RETURNING TO THE CHIEFS: "It's a wonderful feeling. I retired in '78 and had the opportunity to work down at Central Missouri State for two years and then I entered the NFL as an assistant coach with the St. Louis Cardinals before they moved to Arizona. Through all the Super Bowls, the hirings and firings, I've always anticipated and wished that I would get an opportunity to come back and finish up my career here in Kansas City where I started as a player."
WEIS ON WHAT HE'S SEEN ON TAPE OF THE CHIEFS OFFENSE FROM '09: "We been groomed, all of us have been groomed to just go by what we see. I think we're more concerned with moving forward, we aren't looking in retrospect to say 'what ifs' anyway. We're in an evaluation process of players, we have a long way to go to know for sure what to have and we'll leave it to personnel to keep bringing in good players and we'll coach the heck out of them and try them better as fast as we possibly can."
CRENNEL ON WHAT HE'S SEEN ON TAPE FROM THE CHIEFS DEFENSE IN '09: "I think there's some talent here on the team. I think every team in the NFL has talent, that's why it's so close and so competitive week-in and week-out. The thing that we have to do is focus on improving the guys on this team, adding pieces to the puzzle so that we can improve and get better. The sooner we can do that, hopefully the better we will be."
NOTES, QUOTES & SIGHTINGS FROM SUPER BOWL CENTRAL

Rain delayed the arrival of the Saints to New Orleans and pushed back their schedule for the entire day, as Sean Payton planned to get his players on the practice field for at least a short workout upon arrival in Florida … Waiting for their teammates in Florida, the Saints Pro Bowl contingent dressed up as bellmen and helped with bags when the team buses arrived at their hotel in Miami … that's DE Anthony Hargrove (left) getting off the Saints charter and looking like he expects bad weather with that skull cap.
The Colts checked into their hotel in Ft. Lauderdale, the same one they stayed in four years ago when they beat Chicago in the Super Bowl. Some of the players who were there for that game asked to have the same rooms for this year's week of preparation.
Former Chiefs head coach Herm Edwards was in Ft. Lauderdale to appear before a group from Motorola. One thing that can always be said about Herm is he's quite a speaker. He had his Motorola crowd enjoying his take on the football and the NFL … New York Jets Pro Bowl LT D'Brickashaw Ferguson on former Chiefs guard Dave Szott, who works for the Jets in dealing with the players. "He's a great guy," Ferguson said. "He's very helpful to the players." … Jacksonville's Pro Bowl RB Maurice Jones-Drew played high school football with No. 3 Chiefs QB Matt Gutierrez at De La Salle in Concord, CA. On whether Gutierrez can be a starting quarterback in the NFL, MJD said: "Without a doubt. He's a leader, a guy who takes command. If he gets a chance, he'll run with it and make something happen."
Spotted in the NFL Media Center: four-time Super Bowl winner RB Rocky Bleier of the Steelers … Spotted in the crowd making its way into Sun Financial Stadium for the Pro Bowl on Sunday night was Charles Haley, former DE for the 49ers and Cowboys who is up for the Hall of Fame this weekend … A very rainy Monday and what's expected to be a very rainy Tuesday has forced the NFL to move it's annual media day event inside at the stadium. Rather than be subjected to interviews on the field, players and coaches will face the media horde on the club level of Sun Financial Stadium.
SIGNINGS, HIRINGS & MOVEMENT AROUND THE LEAGUE

BEARS – named Mike Martz offensive coordinator.
BUCCANEERS – named Alex Van Pelt (Bills) quarterbacks coach.
ONE OF PRO FOOTBALL'S MOST MEMORABLE BIRTHDAYS

Born on February 2, 1895 in Chicago was George Stanley Halas, the Papa Bear, the Hall of Fame player, coach and owner of the Chicago Bears. That's the Papa Bear on the left with his then head coach Mike Ditka some 25 years ago. Speaking of 25, that's how old Halas was when he was part of the group that began the American Professional Football Association in 1920, fielding and playing with a team called the Decatur Staleys. Two years later, the APFA was renamed the National Football League and the Staleys were moved to Chicago and renamed the Bears. Halas played for nine years and was four different times the Bears head coach, collecting 324 coaching victories and six NFL titles. He was one of the charter enshrinees in the Pro Football Hall of Fame when it opened in 1963. Halas was part of the NFL and the Bears right up to his death, on October 31, 1983 at the age of 88.
SAY HAPPY BIRTHDAY …

Born on February 2, 1983 in Navasota, Texas was CB Marcus Maxey. He was selected in the fifth-round of the 2006 NFL Draft out of the University of Miami. Maxey played in just one game with the Chiefs in that rookie season. He was released and claimed by the Chicago Bears, where he played one game in that same season. Maxey's NFL career ended the next season.