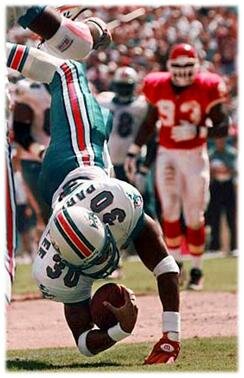 The Parcells transfusion to the Kansas City Chiefs continues.
As Todd Haley remakes his coaching staff for the 2000 season, there appears to be one requirement for a job: the new coach must have been part of the New York Jets in 1999.
Charlie Weis, Romeo Crennel, Richie Anderson, Anthony Pleasant and Bernie Parmalee (left) all have been hired to full-time coaching jobs with the 2010 Chiefs and they share only one obvious trait: they were all working in some capacity for Parcells with the Jets in that '99 season. So was Haley, who was in his first year as a position coach, handling the wide receivers. The offensive line coach of the Jets that season was Bill Muir, now the Chiefs O-Line coach.
Weis was the team's offensive coordinator, Crennel was the defensive line coach and Anderson, Pleasant and Parmalee were all on the Jets roster. Anderson and Parmalee were running backs, working with Weis. Pleasant was the starting right defensive end and Crennel was his position coach.
The coaching moves the Chiefs announced on Thursday were evidence of Haley working towards creating a staff that has the same foundation and values of his personality and constitution as head coach.
He did not have that last year.
Whether because it was mandated to him by those above (Clark Hunt and/or Scott Pioli), or because he was so late getting the job as Chiefs head coach that options for the coaching staff were limited, Haley's '09 staff was a hodgepodge of personalities and approaches to the game. There were six coaches that were carried over from Herm Edwards staff in '08 to last year's group: offensive coordinator Chan Gailey, tight ends coach Bob Bicknell, assistant offensive line coach Joe D'Alessandris, defensive line coach Tim Krumrie and strength and conditioning coaches Cedric Smith and Brent Salazar.
Only Smith and Salazar are left, as far as anybody knows; there have been no announcements of any changes to their status. Gailey was fired back in early September, replaced by Haley and now Weis. Bicknell has gone on to Gailey's Buffalo coaching staff, replaced by Parmalee. Also going to the Bills, D'Alessandris' spot on the Haley's staff has been filled by Pat Perles, who was moved over from defensive quality control. No one has been named to take Krumrie's spot as defensive line coach, although that's the position Crennel has handled in the past. Pleasant will certainly spend his time working there, although his title is defensive assistant.
So in year No. 2, Haley's coaching staff is starting to take a shape that is more fitting to his personality and how he wants to approach the game. On paper, it's also a better coaching staff than the one the Chiefs had last year. Weis and Crennel are major upgrades on both sides of the football in comparison to Haley as offensive coordinator and Clancy Pendergast as defensive coordinator. In combination with Steve Hoffman handling the kicking game, the team now has three talented and proven coordinators.
Bicknell-D'Alessandris-Krumrie are talented coaching veterans who can get the job done in the right situation. It's readily apparent that right situation was not working with Haley in Kansas City. Whether Parmalee-Anderson-Pleasant are coaches of the same quality, they will have to show that in the '10 season. One thing for sure: they have a better understanding of what Haley wants and expects.
That's because they are all branches from that Parcells tree.
HERE'S MORE ON THE NEW COACHES

ANDERSON: A native of Maryland, he will not turn 39 until the first week of the 2010 season. Anderson played 13 seasons in the NFL, after coming out of Penn State University as a sixth-round choice in the 1993 NFL Draft by the New York Jets. He sent 10 seasons with the Jets and then two years with the Cowboys under Parcells before a herniated disc in his neck ended his playing career. Anderson joined the Jets staff in 2005 for two seasons. In 2007, he went to Arizona to join the Cardinals staff of first-year head coach Ken Whisenhunt. But in March of that year, he was arrested on charges of soliciting a prostitute, who turned out to be an undercover Phoenix police officer. The Cardinals fired him and he was out of work until Haley brought him in last October to take over the receiver position.
PARMALEE: The 42-year old New Jersey native spent nine seasons playing for the Dolphins (1992-98) and Jets (1999-2000). He took part in a tryout with the Dolphins after working for UPS after he came out of Ball State. In 2002 he started a three-year stint with the Dolphins as special teams and tight ends coach on Dave Wannstedt's coaching staff. He moved on to Weis' staff with the Fighting Irish, where for five seasons he handled special teams and tight ends. Parmalee helped develop a couple of Irish TEs that were second round selections in the NFL Draft: Anthony Fasano in 2006 and John Carlson in 2008. Both have put together good starts to their pro careers.
PLEASANT: He worked with the Chiefs all through the '09 season, spending extra time with outside linebackers and defensive ends and teaching them pass rush moves. The 42-year old Florida native played 14 seasons in the NFL, starting as a third round selection in the 1990 NFL Draft by the Cleveland Browns. Pleasant played six seasons with the Browns and one with the Ravens in their first season playing in Baltimore. He moved on to the Falcons, Jets, 49ers and Patriots, where he won a pair of Super Bowl rings in his final two seasons. This is his first coaching job.
WHY CHAN GAILEY GOT HIRED IN BUFFALO
The Buffalo News ran an interview with new Bills GM Buddy Nix and he talked about why he surprised many people by hiring Chan Gailey as his new head coach.
Nix knew Gailey's history and was not knocked off the idea of hiring him even though Gailey was fired as offensive coordinator of the Chiefs. Here's what Nix had to say:
"I know Kansas City because we played them twice a year (Nix worked for the San Diego Chargers through 2008). We know the division. He didn't have a lot to work with, and he still got a lot done offensively. He adjusted to (Tyler) Thigpen. Give me a break. Then look at what happened to the offense after he left. My view of him was already high, but it was raised by his job at Kansas City."
SUPER BOWL XLIV HYPE: DAY 4
FREENEY'S ANKLE – The league was buzzing on Friday about the sprained ankle of Colts DE Dwight Freeney. He suffered the injury in last Sunday's AFC Championship Game and has not practiced this week with the Indy defense. In fact, he will not attend Pro B owl ceremonies on Sunday with the rest of the Colts nominated for the game. Freeney will stay in Indy for treatment of the injury. The Colts reported that S Melvin Bullitt (knee) and CB Jerraud Powers (foot) did not practice on Thursday.
COLTS SEEK HELP - Two former Saints defensive backs have spent time this week with the Indianapolis Colts, according to New Orleans radio station WWL. The report says the Colts worked out both Mike McKenzie and Jason David, a pair of veteran cornerbacks. McKenzie played in five games with the Saints during the '09 season. David was with the Colts when they won the Super Bowl after the 2006 season, but then signed with New Orleans as a free agent. He was released before the start of the '09 season.
WHO OWNS WHO DAT? – The always vigilant NFL is stirring up a ruckus in New Orleans over the "Who Dat?" chant that the Saints fans have used for so long. Some t-shirt makers in the Crescent City have put those words in gold on black t-shirts. The league says that's a violation of their trademarks and has issued cease and desist letters to several merchants. But the league does not have the rights to "Who Dat?" That belongs to New Orleans musicians Sal & Steve Monistere. Steve recorded the Who Dat chant in 1983, and he recorded a "Who Dat" single with members of the Saints offensive line and singer Aaron Neville.
WIN OR NOT, SAINTS GET PARADE – Whether the New Orleans Saints are successful in their first visit to the Super Bowl, the folks in New Orleans are going to hold a parade. Next Tuesday afternoon, there will be a parade to honor the Saints and their achievements for the past season. The march will go off whether the team beats Indianapolis or not. "This has been historic," said Ceeon Quiett , spokeswoman for New Orleans Mayor Ray Nagin. "The goal was always to have a celebration to honor the achievements of the Saints."
SIGNINGS, FIRINGS, MOVEMENT & OTHER STUFF

BRONCOS – promoted linebackers coach Don Martindale to defensive coordinator. He's the fifth coordinator in five years for the Denver defense. Head coach Josh McDaniels said they would retain the base 3-4 scheme.
CHARGERS – announced they would not be raising ticket prices for the 2010 season, the second year in a row that San Diego ownership.
JAGUARS – hired Earnest Byner as running backs coach.
FROM THE PAGES OF SUPER BOWL HISTORY

On January 29, 1995, the San Francisco 49ers beat the San Diego Chargers 49-26 in Super Bowl XXIX at Joe Robbie Stadium in Miami. It was the fifth Super Bowl victory for the 49ers, as they became the first NFL team to achieve that mark. It was also Steve Young's title, as he finally was able to win a championship out of the shadows of Joe Montana.
Going into Sunday's game, everyone thought San Francisco was close to unbeatable, as the Niners were considered 18.5-point favorites over the Chargers, who were making their first Super Bowl appearance. The dominating performance was obvious early, as the Niners needed just three players after the opening kickoff for their first score, as Young hit the first of his six touchdown passes, this one 44 yards to WR Jerry Rice. The next time San Francisco's offense had the ball; Young threw a 51-yard TD pass to RB Ricky Watters, giving the Niners a 14-0 lead just five minutes into the game.
Young later threw two more touchdown passes to Rice (seven and 15 yards), another one to waters from eight yards and then a five-yard scoring toss to FB William Floyd. Watters also scored on a nine-yard run. San Diego's scores came on a one-yard TD from RB Natrone Means, a 98-yard kickoff return by Andre Coleman and a 30-yard scoring play between QB Stan Humphries and WR Tony Martin.
With his six touchdown passes, Young was voted the game's MVP award. He completed 24 of 36 passes for 325 yards and he also ran for 49 yards. Rice caught 10 passes for 149 yards and three TDs. Watters had 108 yards in total offense with three scores.
The officiating crew was led by referee Jerry Markbreit. Hank Williams Jr. performed during pre-game ceremonies. The national anthem was performed by Kathie Lee Gifford, while the half-time entertainment was provided by Tony Bennett, Patti LaBelle, Arturo Sandoval and the Miami Sound Machine. ABC carried the television broadcast, with commentary from Al Michaels, Dan Dierdorf and Frank Gifford. A 30-second commercial went for $1.15 million, the first time the cost went over $1 million. The audience was estimated at 83.4 million viewers.
SAY HAPPY BIRTHDAY …

Born on January 29, 1982 in Pine Bluff, Arkansas was WR Mark Bradley (left). He joined the Chiefs in 2008 and remained with the team through games of the 2009 season. Bradley originally entered the league as a second-round pick in the 2005 NFL Draft by the Chicago Bears, where he played three seasons. He played in games with starts with the Chiefs, catching passes for yards and touchdowns. He also threw a 37-yard TD pass during the '08 season to QB Tyler Thigpen. Bradley finished the '09 season with the Tampa Bay Buccaneers.
Born on January 29, 1983 in Houston was the Chiefs current long snapper Thomas Gafford. He joined the team in 2008 and played through the 2009 season, snapping in 25 games. Gafford played his college football at the University of Houston and spent time in training camp with Green Bay, Seattle and Chicago before joining the Chiefs in late October of '08.