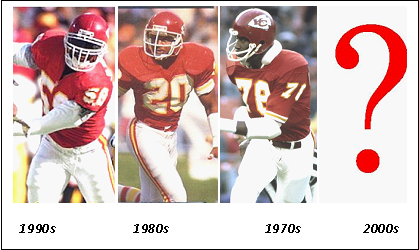 Sometime in the next few days the National Football League is going to release the league's all-decade team for the 2000s.
To put together this all-star team of the decade, the league asked the Pro Football Hall of Fame Board of Selectors to come up with the team. Voting was held last month, with the league asking for multiple selections at each position.
In the last three decades, the Chiefs had five players selected to an all-decade team:
1990s – LB Derrick Thomas and DE Neil Smith.
1980s – FS Deron Cherry.
1970s – LB Bobby Bell and P Jerrel Wilson.
There was also an all-time AFL team, which was essentially also an all-decade team since Lamar Hunt's league began play in 1960 and ended play as a separate entity with the 1969 season. That group included Wilson, TE Fred Arbanas, LT Jim Tyrer, LG Ed Budde, DE Jerry Mays, LB Bobby Bell and S Johnny Robinson.
What Chiefs players have a chance to be part of the team of the past decade? TE Tony Gonzalez, G Will Shields, FB Tony Richardson, PR Dante Hall and LB Donnie Edwards have a chance. Gonzalez and Shields have the best odds of gaining that coveted declaration. Hall would be next.
I have not yet seen the final results for the 2000s; those will be released down in south Florida as part of the Pro Bowl festivities.
But, here are the players that were on my ballot for the All-Decade Team. The number in parenthesis is the total from each position that the NFL asked for in the voting:
OFFENSE

Quarterbacks (2) – Peyton Manning and Tom Brady. This was one of the easiest positions to decide on for the all-2000s team. These two quarterbacks will have played in six of the decade's Super Bowls by the time Manning takes the field against New Orleans next week. In the 2000s, nobody threw for more yards than Manning at 42,254 yards, with 314 TD passes. Brady threw for 30,844 yards and a remarkable TD-INT ratio in the decade of 225-99. OTHERS CONSIDERED: Brett Favre-Green Bay/N.Y. Jets/Minnesota and Donovan McNabb-Philadelphia.
Running Backs (4) – Marshall Faulk, Edgerrin James, Curtis Martin (left) and LaDainian Tomlinson. Faulk had the fewest rushing yards of this group, with 5,578 yards and 50 touchdowns in 83 games. But his impact on the Rams and their offense was huge at the start of the decade. Martin was 13th in the decade in rushing yards with 7,551 yards in 92 games, an average of 82.1 yards per game, one of the highest averages in the decade. Tomlinson and James were the decade's leading rushers with 12,490 and 10,693 yards respectively. L.T. punched in to the end zone 138 times, and that was more than double the visits by James. OTHERS CONSIDERED: Fred Taylor-Jacksonville/New England and Tiki Barber-N.Y. Giants.
Fullback (1) – Tony Richardson. The position is no longer prominent in the league, and among the offensive starters, the fullback gets the fewest snaps. Richardson ranks among the best in the decade when it comes to blocking, and he's run in front of Priest Holmes, Larry Johnson, Adrian Peterson and Thomas Jones, who all gained 1,000 yards. OTHERS CONSIDERED: Lorenzo Neal – Tennessee/Cincinnati/San Diego/Baltimore.
Wide Receivers (4) – Marvin Harrison, Andre Johnson (right), Randy Moss and Reggie Wayne. Johnson had the fewest seasons in the decade, but he was among the decade's leaders in receiving yards per game, at 77.9 yards. He also had the shakiest quarterback situation among the decade's leading receivers. Moss, Harrison and Wayne all finished in the top 10 in receiving yardage over the last 10 seasons; Moss had 120 TD catches. OTHERS CONSIDERED: Torry Holt-St. Louis/Jacksonville; Terrell Owens-San Francisco/Philadelphia/Dallas/Buffalo and Chad Ochocinco-Cincinnati.
Tight Ends (2) – Tony Gonzalez and Antonio Gates. Among all receivers in the league, Gonzalez finished seventh with 1,285 catches for 9,969 yards. He also was on six teams that featured a running back that went over 1,000 yards. Gates has put up some big numbers over the last few seasons, but he's not nearly the blocker that Gonzalez has been. OTHERS CONSIDERED: none.
Tackles (4) – Walter Jones, Jonathan Ogden (left), Orlando Pace and Willie Roaf. The decade had a host of very talented left tackles protecting quarterbacks. Ogden was at the top of the list for most of the 10 years. For two teams, Roaf was an All-Pro performer and the only thing that kept him off the all-star lists was a knee injury that cost him a season and led to his trade from New Orleans to Kansas City. OTHERS CONSIDERED: Willie Anderson-Cincinnati/Baltimore.
Guards (4) – Larry Allen, Alan Faneca, Steve Hutchinson and Will Shields. This was not one of the strongest positions in the 2000s. Allen played through most of the decade, and received All-Pro and Pro Bowl recognition early in the 2000a with the Cowboys. The only thing that kept Shields from ruling the decade was his retirement after the 2006 season; he had seven Pro Bowls and numerous first and second-team All-Pro honors. Hutchinson and Faneca ruled the last half of the decade and were on the field just last Sunday with their teams in conference championship games. OTHERS CONSIDERED: none.
Centers (2) – Kevin Mawae (right) and Jeff Saturday. Over the decade, there weren't not a lot of strong performances at the pivot. When healthy, Mawae was consistently good playing for Seattle, the New York Jets and Tennessee. There were seven Pro Bowls and three All-Pro nods. Saturday has been one of the key performers in the Colts big decade. OTHERS CONSIDERED: Matt Birk-Minnesota/Baltimore and Jeff Hartings-Detroit/Pittsburgh.
DEFENSE

Ends (4) – John Abraham, Dwight Freeney, Michael Strahan and Jason Taylor. Among those four, Taylor had the most sacks in the decade with 111. He also had almost 600 total tackles. Abraham battled injuries throughout his time with the Jets and Falcons, but still had 89.5 sacks and more than 400 total tackles. Strahan and Freeney both played eight seasons and put up big numbers in sacks, Strahan with 89 and Freeney had 84. OTHERS CONSIDERED: Julius Peppers-Carolina and Jared Allen-Kansas City/Minnesota.
Tackles (4) – La'Roi Glover, Warren Sapp, Richard Seymour and Kevin Williams. Sapp and Glover made their marks early in the decade, although both played almost the entire decade. In the second half of the 2000s, the most dominant tackles were Seymour and Williams. OTHERS CONSIDERED: none.
Linebackers (6) – Derrick Brooks, Donnie Edwards, Ray Lewis (left), Junior Seau, Zach Thomas and Brian Urlacher. That group includes five of the top 10 tacklers in the league over the last decade. Lewis, Seau and Urlacher played the entire decade. Brooks, Edwards and Thomas played nine seasons. Lewis had 1,188 total tackles with 23.5 sacks and his 31 interceptions led all linebackers in the decade. Thomas, who went to training camp with the Chiefs in '09, finished the decade with 1,181 total tackles. Edwards had 1,140 total tackles, 12 sacks, nine forced fumbles and 20 interceptions. Seau played in 113 games in the 2000s, with 669 total tackles. OTHERS CONSIDERED: Joey Porter-Pittsburgh/Miami, Keith Bulluck-Tennessee and London Fletcher-St. Louis/Buffalo. Washington.
Cornerbacks (4) – Nnamdi Asomugha, Champ Bailey, Ronde Barber and Charles Woodson. Asomugha has been able to break through the cloud of negativity that hovers above the Raiders and over the last few years, he's been considered the league's top cover corner. He took that tile from Bailey, who has slipped a bit in the last few years, but remains one of the league's top defensive backs. Barber and Woodson have both generated a lot of turnovers during their careers and also taken those takeaways to the end zone. Barber had 33 interceptions and seven TD returns, while Woodson had 39 interceptions and he also had seven scores. OTHERS CONSIDERED: Ty Law – New England/Kansas City/N.Y. Jets/Denver.
Safeties (4) – John Lynch, Troy Polamalu, Ed Reed and Darren Sharper (right). Lynch's career with Tampa Bay and Denver was split between two decades, so his numbers in the 2000s don't match other safeties. But the body of his work right down to the last seasons he played with the Broncos, was still very good. Polamalu is one of the most dynamic defensive backs to play the game over the last 30 years. Reed has been remarkable in his eight seasons, with 46 interceptions and six touchdown returns. Sharper continues to play at the top of his game, even in '09 when he signed as a free agent with New Orleans. He has 58 career interceptions and he's returned nine for scores. OTHERS CONSIDERED: Brian Dawkins – Philadelphia/Denver and Adrian Wilson – Arizona.
SPECIAL TEAMS

Kicker (2) – Matt Stover and Adam Vinatieri. Over all 10 seasons, Stover made 87.1 percent of his field goals for Cleveland/Baltimore/Indianapolis. Inside the 40-yard line, he made 189 of 197 in the decade, or 95.9 percent. Amazingly, he and Vinatieri are both on the Colts team headed to the Super Bowl; Indy signed Stover because of Vinatieri's injury problems. OTHERS CONSIDERED: John Carney-Tampa Bay/San Diego/Los Angeles Rams/New Orleans/Jacksonville/Kansas City/N.Y. Giants and Jason Hanson-Detroit.
Punters (2) – Jeff Feagles (left) and Shane Lechler. Feagles is the punter who will not go away; he's now kicked for 22 seasons and has played in 352 consecutive games, an NFL record. He's the only punter who kicked in all 160 regular-season games in this decade, averaging 41.5 yards a kick. He also put 250 punts inside the 20-yard line, more than any other punter in the 2000s. Lechler was the league's top punter in the decade, averaging 47.3 yards per punt and generally dominating the All-Pro and Pro Bowl spots. OTHERS CONSIDERED: none.
Kick Returners (2) – Joshua Cribbs and Terrence McGee. Cribbs has been sensational in the second half of the decade, and he has eight kickoff returns for TDs and a 26.6-yard average on 265 kickoff returns. That's a TD every 33 returns. McGee had five scores and a 26.3-yard average on his 207 returns, or a score every 41 returns. OTHERS CONSIDERED: Leon Washington – N.Y. Jets.
Punt Returners (2) – Devin Hester and Dante Hall. These two guys are the most dynamic returners in NFL history. Hester was a TD waiting to happen on every return, so much so that teams just stopped kicking to him over a time after he had seven scores in just four seasons. Hall was the best in the game for a period of about four years in the first half of the decade, when he returned six punts for touchdowns. OTHERS CONSIDERED: Santana Moss – N.Y. Jets/Washington and Roscoe Parrish – Buffalo.
SUPER BOWL XLIV HYPE: DAY NO. 2

New Orleans defensive coordinator Gregg Williams was talking to a sports-talk show in Nashville about his time as the head coach of the Buffalo Bills. "I've been able to kind of pick and choose now after all these years about where I want to go to," said Williams. "When I was the head coach of the Buffalo Bills, I really, really, really wanted to draft Drew Brees. Thank goodness that didn't happen otherwise I'd still be stuck up there in cold Buffalo. Now I'm here. I do have a chance to go with him (Brees) into the Super Bowl."
President Barrack Obama has thrown his support behind the New Orleans Saints for the Super Bowl. "You know, I think both teams are terrific," Obama told ABC News anchor Diane Sawyer. "I guess I am rooting a little bit for the Saints as the underdog, partly just because when I think about what's happened in New Orleans over the last several years and how much that team means to them. You know, I'm pretty sympathetic."
The Who will provide half-time entertainment and guitarist Pete Townshend provided an idea of what the band will play during their performance. "We're kinda doing a mash-up of stuff, a bit of 'Baba O'Riley,' a bit of 'Pinball Wizard,' a bit of the close of 'Tommy,' a bit of 'Who Are You,' and a bit of 'Won't Get Fooled Again'," Townsend told Billboard.com. "It's quite a saga. A lot of the stuff that we do has that kind of celebratory vibe about it – we've always tried to make music that allows the audience to go a bit wild if they want to. Hopefully it will hit the spot."
It would not be a Super Bowl without some of those stupid bets that politicians make with each other. Indianapolis Mayor Greg Ballard has put on the line a shrimp cocktail with horseradish sauce from the downtown Indy restaurant St. Elmo's Steakhouse (that sauce will clean your pipes!) New Orleans Mayor Ray Nagin is offering a grab bag of Mardi Gras cakes, other foods and compact discs of New Orleans musicians.
SIGNINGS, HIRINGS & MOVEMENT AROUND THE LEAGUE

NFC PRO BOWL – added Falcons WR Roddy White and 49ers DE Justin Smith to the team; Vikings WR Sidney Rice and DT Kevin Williams were removed from the team.
BILLS – hired Giff Smith as linebackers coach.
BUCCANEERS – LB coach Joe Barry left the team to join the defensive coaching staff at Southern Cal.
JAGUARS – fired DL coach Ted Monachino
RAIDERS – hired Hue Jackson (Ravens) as offensive coordinator. He will call offensive plays rather than head coach Tom Cable.
TEXANS – hired Greg Knapp (Seahawks) as QB coach.
FROM THE PAGES OF SUPER BOWL HISTORY

On January 25, 1987, the New York Giants beat the Denver Broncos 39-20 in Super Bowl XXI at the Rose Bowl in Pasadena, California. The Giants were 9.5-point favorites in this game and the guy who made it all happen was QB Phil Simms. He completed 22 of 25 passes for 268 yards and three TD passes. That 88 percent completion percentage was a Super Bowl and NFL post-season record.
Simms connected on a six-yard touchdown pass to TE Zeke Mowatt, then 13 yards to TE Mark Bavaro and finally a six-yard scoring toss to WR Phil McConkey. RBs Joe Morris and Ottis Anderson had short TD runs and the Giants defense added a safety when George Martin sacked Denver QB John Elway in the end zone.
The Broncos got a four-yard scoring run by Elway and he threw a 47-yard TD pass to WR Vance Johnson. Elway finished the game hitting 22 out of 37 attempts for 304 yards, one TD and one interception. He was also the Broncos leading rusher with 27 yards on six carries and a TD. Johnson was Denver's leading receiver with five catches for 121 yards and a score.
As the game's MVP, Simms became the first athlete to appear in a "I'm Going To Disney World" commercial. After the game, the Giants dumped water from a water cooler on head coach Bill Parcells, the start of what is now known as the "Gatorade Shower." The referee for the game was Jerry Markbreit. The national anthem was sung by Neil Diamond, with the half-time show being a salute to the 100th anniversary of Hollywood movie making with California high school drill teams and dancers, with an introduction by actor George Burns. CBS had the broadcast with Pat Summerall and John Madden in the booth. A 30-second commercial was selling for $600,000
SAY HAPPY BIRTHDAY …

Born on January 27, 1968, in Pensacola was TE Reggie Johnson. He joined the Chiefs as a free agent in 1996, after playing five seasons with the Broncos, Packers and Eagles. Johnson played in 11 games with the Chiefs, catching 18 passes for 189 yards and a TD catch.