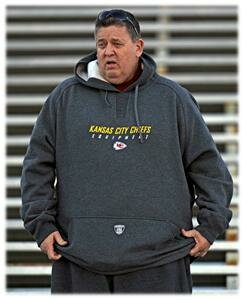 It's not so much an all-star game as it is a convention for the National Football League.
Senior Bowl week each January in Mobile, Alabama is one of the few opportunities for the grunts of the NFL to get together and share some fellowship in the form of a few adult beverages, maybe a quick trip to one of the casinos about an hour away in Biloxi and information.
That's a lot of information. There are close to 100 potential draft choices working out in Mobile this week in preparation for Saturday's 61st Senior Bowl. For every one of those players, there are four or five NFL coaches, scouts and front-office types there to watch and chart every move. The Chiefs have a pretty full contingent there, including new offensive coordinator Charlie Weis (right).
And there's probably another one thousand or so media, agents, along with scouts and coaches looking for work, lingering around the practices of the two teams and the hotel's that are sold out for this week every year.
There are a lot of observations, a lot of questions asked and a lot of judgments made in the cool winter air of Alabama. But is that time and energy really meaningful? Just how important is the Senior Bowl in the evaluation process?
Here's what one NFL personnel director said Wednesday night on his way to a late supper: 
"I'm sure if you told most of the guys here they had to choose one – watch the workouts or spend time talking with everybody in the business – most would choose talking with everybody."
What happens football-wise during this week is just part of the personnel puzzle that's being pieced together right now around the league. It goes with the East-West Shrine Game, other minor all-star games, the NFL Scouting Combine and individual player workouts. The Senior Bowl can be especially helpful for two teams, in this case Detroit and Miami, as their coaching staffs are handling the two teams. They get extra time with the players in meetings and practice. That's Lions defensive coordinator Gunther Cunningham on the left.
For the proficient personnel operations in the league, that is about 50 percent of the puzzle. The other 50 percent is what the players did on the field in games, against live competition, over the period of three months.
"The most important thing is how did they perform when they were trying to stop the guy with the ball, or they were trying to block the guy across from them," said former Chiefs player personnel director Bill Kuharich.
The Senior Bowl has talented and very draftable players, but the top talent at every position is not in Mobile this week. At this point, those players are building their future on the game tapes; that's how they got to be so valued in this coming draft.
Among the rest of the players that will receive serious consideration during the draft, 90 percent come to events like the Senior Bowl to maintain their spot in line. The other 10 percent is split 50-50 between guys who hurt their standing, and others that elevate themselves.
Here's an example of a guy who helped himself at the Senior Bowl some 23 years ago: Christian Okoye.
Coming out of Azusa Pacific College, an N.A.I.A. school in southern California, Okoye was one of those players that every team wanted to eyeball, largely because of his physical numbers. It's one thing to look at a piece of paper and see Okoye charted at 6-2, 250 pounds. It's another thing to see the "Nigerian Nightmare" work in practices and then the game itself.
Every team walked away talking about Okoye. During that Senior Bowl week, they discovered he was a remarkable athlete, who could hold his own against players who had competed at levels far higher than what he saw that year. He was raw in his techniques and fundamentals – he had been playing football for only four years – but he had the qualities of a great running back.
That showed in the Senior Bowl game, as Okoye set a Senior Bowl record with four touchdowns as his South team beat the North 42-38. His first three touchdowns came on runs of one-yard, but he also scored on a six-yard run with 66 seconds to play that proved to be the winning points for his team that was coached by Don Shula. Okoye finished with 47 yards on 13 carries.
"Coming from the NAIA to the Senior Bowl, I had a lot to learn," Okoye said after the game. "I thought I did what I had to do to impress the scouts."
He certainly impressed the Chiefs, who grabbed him in the second round of the '87 Draft as the 35th player selected. This was at a time when the personnel operation of the Chiefs was in a bit of a shambles. But they hit on Okoye, who in 1989 would lead the NFL in rushing with 1,480 yards. In just 79 games with the Chiefs, he ran for 4,897 yards and 40 touchdowns.
There's no question that the Senior Bowl week and game were the biggest reasons that the Chiefs grabbed Okoye. At least, that's what they said afterwards. In this case, it all worked out for the player and the team as Okoye had a very good six seasons with the Chiefs.
SUPER BOWL XLIV HYPE: DAY NO. 3

The Colts practiced on Wednesday in Indianapolis, but DE Dwight Freeney did not work because of an ankle injury he suffered in last Sunday's game against the New York Jets. Two other players did not practice as well: TE Jacob Tamme (ankle) and CB Jerraud Powers (foot). There were a total 20 players on the Colts injury-practice report.
The Saints did not practice on Wednesday, but on Tuesday, TE Jeremy Shockey made a visit to Birmingham, Alabama and the office of orthopedic surgeon Dr. James Andrews. Throughout the playoffs, Shockey has been bothered by a knee injury. This information became public only because of Shockey's Twitter page. Shockey said on Monday there is no way he's going to miss the Super Bowl; remember that when he was with the Giants, he watched the New York victory over New England in a private suite.
The Indianapolis Star reported Wednesday that the average price of a ticket to Super Bowl XLIV at StubHub.com was $2,728. That's higher than last year's average of $2,594 for the game between the Steelers and Cardinals. The website reported that 25 percent of all buyers are from Louisiana, and only seven percent are from Indiana.
SIGNINGS, HIRINGS, FIRINGS & OTHER STUFF AROUND THE LEAGUE

AFC PRO BOWL – Chargers K Nate Kaeding suffered a groin injury and has been ruled out of Sunday's game. Replacing him on the roster is Dolphins K Dan Carpenter.
BILLS – announced hiring of Curtis Modkins as offensive coordinator/RB coach, Bob Bicknell as TE coach, Joe D'Alessandris as OL coach, Kevin Patullo as offensive quality control coach and Giff Smith as defensive quality control; retained DB coach George Catavolos and Bob Sanders.
BROWNS – named Mark Schiefelbein as vice president of football operations. He was the director of football administration/communications with the Packers; hired Kent Johnston as strength and conditioning coach..
CARDINALS – QB Kurt Warner will announce his future plans for continuing his playing career on Friday in Phoenix.
CHARGERS – will not terminate their lease at Qualcomm Stadium for the 2010 season. They had the right to do that at a cost of $53 million. According to the North County Times, in 2011 that one-year get out of the lease price drops to $26.5 million.
CRIME REPORT – former Chiefs OT Chris Terry was arrested in Indiana on Tuesday on charges that included dealing cocaine. He left the Chiefs in 2007 and was suspended by the league in 2008 for violating the substance abuse policy. Terry was charged in Clarksville, Indiana with dealing cocaine, felony possession of cocaine, resisting law enforcement, possession of a handgun without a permit and driving with a suspended license.
GIANTS – hired Robert Nunn (Buccaneers) as defensive line coach.
EAGLES – hired Barry Rubin as head strength and conditioning coach and Ken Croner as assistant strength and conditioning coach.
REDSKINS – hired Keenan McCardell as wide receivers coach; fired the strength & conditioning staff of John Hastings, Bobby Crumpler and Harrison Bernstein.
FROM THE PAGES OF SUPER BOWL HISTORY

On January 28, 1996, the Dallas Cowboys beat the Pittsburgh Steelers 27-17 in Super Bowl XXX at Sun Devils Stadium in Tempe, Arizona. The Cowboys were a heavy favorite going into the game (13.5 points) and while they didn't cover, they dominated this game, taking a 10-0 first-quarter lead, a 13-7 edge at halftime and a 20-7 margin after the third period.
Dallas grabbed the first 13 points, as K Chris Boniol nailed a pair of FGs from 42 and 35 yards, and QB Troy Aikman and TE Jay Novacek connected on a three-yard scoring pass. Later, RB Emmitt Smith had touchdown runs of four and one-yard.
Pittsburgh's scores came on a six-yard TD pass from QB Neil O'Donnell to WR Yancey Thigpen and a one-yard run by RB Bam Morris. K Norm Johnson added a 46-yard FG. O'Donnell threw three interceptions, with two picked off by Dallas CB Larry Brown, who earned game MVP honors.
Cowboys QB Troy Aikman became the third quarterback to win three Super Bowls, joining Terry Bradshaw and Joe Montana, who each won four. The Dallas victory included DE/LB Charles Haley, who became the first player to be part of five Super Bowl championship teams. Cowboys head coach Barry Switzer joined former Dallas coach Jimmy Johnson as the only coaches with victories in the Super Bowl and college national championship.
The lead official for the game was Red Cashion. The national anthem was sung by Vanessa Williams, while the half-time entertainment was provided by Diana Ross. NBC provided the telecast, with Dick Enberg, Phil Simms and Paul Maguire providing commentary. A 30-second commercial in the game cost $1.085 million.
SAY HAPPY BIRTHDAY …

Born on January 28, 1980 in Garland, Texas was OL Jordan Black. He was selected in the fifth round of the 2003 NFL Draft out of Notre Dame. Black played four seasons with the Chiefs (2003-06), appearing in 48 games with 29 starts at both left and right tackles. He signed as a free agent in 2007 with the Texans and then went in '08 to play with the Jaguars.