From River Falls, Wisconsin … Canton, Ohio and points in between

If you called Central Casting and said "send me up an Irish guy" they would send Sean Ryan.
First, there's his name: Sean Patrick Ryan.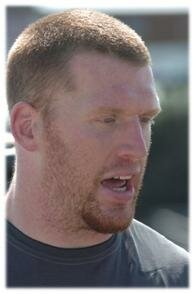 There's his pedigree: a native son of Buffalo, New York … went to St. Joseph's High School … then Boston College … has his degree in history of all things.
There's the red hair on top of his head and in his beard, flecked in spots with a few strands of gray that indicate experience and knowledge.
When the Chiefs were looking to find a guy to help replace Tony Gonzalez at the tight end position they certainly didn't specifically go looking for an Irish guy. But they got one in Sean Ryan.
And as the Chiefs get ready to spend their second weekend in the northwoods, Ryan is the front runner to become the team's starting tight end.
"I was with Sean in Dallas and so I knew a lot about Sean and knew he was a pretty tough guy and a physical-at-the-point (of-attack) blocker," said head coach Todd Haley. "I knew he would prepare and knew how we want to work around here. There are a lot of things I liked about Sean.
"He needs to continue to improve as everybody does, but he's a physical, on-the-line tight end, which is getting harder and harder to find in the league."
Ryan, 6-5 and 260 pounds, has been all over the place during his six-year NFL career. He's been a draft choice (fifth-round by the Cowboys in '04), an unrestricted free agent, a street free agent and he's been traded. Last year alone he was with three different teams by the end of the '08 season: Miami, New Orleans and San Francisco.
The allure for teams interested in Ryan has always been his blocking.
"That's my strong suit and that's what people see when they look at me," Ryan said. "But I think I can bring more to the game than that."
He's shown "that" during practices at UW-River Falls. As a blocker, he's pretty darn good, able to get down the field and clear out bodies. In a pass protection drill on Thursday, Ryan easily handled the pass rush of rookie DE Alex Magee.
But what he's also shown is a good pair of hands and the ability to catch the ball. Ryan runs crisp routes and is athletic enough to be able to make tough catches.
He's no Gonzalez, but the Chiefs have found they've gotten more than a blocker.
"I would say he has improved as a receiver," Haley said. "He's not the type of guy you are going to put out in the slot. He's a tight end. But he can catch a few balls in there."
Ryan does not claim in any fashion to be Gonzalez-like.
"He's one of the best and I'm not from his mold or style," said Ryan. "But I'm a better receiver than people have given me credit for being. That's been the knock on me since college. I don't think it's correct. I can catch the ball."
A lot of observers believe with Gonzalez gone the tight end position will not be a factor in the Chiefs passing offense. That's simply not true. While there's no way they can replace the talents lost when Gonzalez was traded to Atlanta, there are many other ways for Haley and offensive coordinator Chan Gailey to get the tight end involved in the offense. Last year when Haley was calling plays in Arizona, the Cardinals got little from the tight end position as a receiver. That wasn't because of any Haley bias towards the position; it's just that Arizona had little in the way of tight end receivers.
Again, Ryan is not a gazelle, who will be running through opposing defenses. He's a classic tight end, who can block and catch the ball.
And right now, he's the front runner to be the starter. When Brad Cottam missed several days of work because of an ankle injury, the door was opened for Ryan. He walked through it and has shown one of the attributes Haley desires in players: consistency. He's the same tight end every day.
"I view every practice, every day as an opportunity," said Ryan. "There's never a moment or time in this game where you can rest. That's what the off-season is for. When you've got the pads on, you've got to prove it every day. "
THE SITUATION WITH TYSON JACKSON

Both the National Football Post website and 610 Sports in Kansas City reported early Thursday evening that the Chiefs and No. 1 draft choice Tyson Jackson had agreed on a contract.
As of breakfast Friday morning, Jackson is not in River Falls and the number of missed practices for him will likely reach 11 by the end of the day.
It's not that the website and radio station were wrong; it's just that they may have jumped the gun. The Chiefs do not talk about such things these days, but the premise that there is a framework for an agreement may be true. But the devil is in the details and apparently there remains work to be done on that front between Scott Pioli and Jackson's agent Eugene Parker.
When talking about the type of money that's coming Jackson's way as the third player selected in the draft, there are plenty of i's to dot and t's to cross.
If you want to know why teams like the Chiefs don't often announce deals like this one themselves, it's because they want to see the dried ink of a player's signature on the contract before they believe the process is complete.
SIGNINGS, INJURIES & MOVEMENTS AROUND THE LEAGUE

BROWNS – signed DB Brandon Anderson; released CB Don Carey.
CARDINALS – signed DE Alex Field; placed DE Jason Banks on the injured reserve list.
FALCONS – signed WRs Marty Booker and Robert Ferguson; released WR Bradon Godfrey; placed WR Harry Douglas on the injured-reserve list (knee).
PATRIOTS – acquired DE Derrick Burgess in a trade with the Oakland Raiders, giving up a third-round choice in 2010 and a fifth-rounder in 2011.
RAVENS – WR Mark Clayton out for a month with a hamstring injury.
TEXANS – signed cornerback Deltha O'Neil and RB Andre Hall; released DT Jake Visser and RB Jeremiah Johnson.
UFL – WR Koren Robinson signed with Orlando club.
FROM THE PAGES OF CHIEFS HISTORY

On August 7, 1965 the Chiefs beat the Broncos 30-24 in a pre-season game in Denver. QB Pete Beathard threw a pair of touchdown passes, including one for 15 yards to WR Frank Jackson. RB Bert Coan had a 2-yard TD run and Tommy Brooker kicked three field goals. The game was noteworthy for the fact rookie WR Otis Taylor caught his first pass with the Chiefs; it went for 54 yards. RB Abner Haynes played against the Chiefs for the first time, carrying five times for 97 yards and catching four passes for 61 yards.
SAY HAPPY BIRTHDAY …

Born on August 7, 1966 in LaGrange, Georgia was CB Tony Stargell. He joined t he Chiefs for the 1996 season after playing six seasons in the league with the Jets, Colts and Bucs. Stargell appeared in eight games with four starts during the '96 season and intercepted one pass.
Born on August 7, 1969 in San Antonio was TE Keith Cash. He joined the Chiefs in 1992 after he was released by the Steelers. Cash played five seasons with the Chiefs (1992-96), appearing in 59 games, with 37 starts. He caught 111 passes for 1,046 yards and 10 TDs.