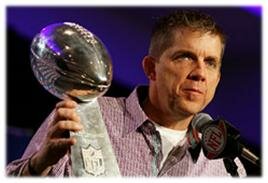 From Miami Gardens, Florida

In the last two NFL regular seasons, there have been 101 onside kicks.
Only 24 were recovered by the kicking team.
That's a success rate of 23.8 percent.
Those odds were well known to Sean Payton. It didn't slow him down and his willingness to fight the odds created one of the most talked about moments in Super Bowl history.
Down 10-6 at the end of the first half, Payton walked to the New Orleans Saints locker room and knew something had to give if his team was going to have a chance to win Super Bowl XLIV. All week, Payton and his coaching staff had talked about being aggressive, no matter what the scoreboard read or the game situation.
Before he even entered the locker room, Payton had made up his mind that on the opening kickoff of the second half, he was going to go against the odds and run an onside kick. It was a decision that would make him a genius or an idiot; there would be no place to land between those options.
On the biggest stage the game of football can provide, he went against the odds.
Payton turned out to be a genius. Punter Thomas Morstead handles the kickoffs for the Saints and he did not give away the play. His kick was perfectly placed, going the requisite 10 yards. The ball bounced off Colts WR Hank Baskett and before it was done, there was a scrum for the ball. After much pushing and shoving, the officials finally got to the bottom of the pile of bodies and gave New Orleans possession at their 42-yard line. Six plays later, QB Drew Brees found RB Pierre Thomas for a 16-yard TD pass and the Saints had a 13-10 lead.
"All week we had practiced that onside kick and at halftime I just told those guys we have to make our look right here," said Payton. "It was a good hit by Thomas. Our guys did a good job in showing a normal kickoff coverage look.
"You know you get a little nervous. There's a lot going on in the week of the Super Bowl and the key was the kicker, and Thomas hit it good, and the guys recovered and we were able to take advantage of it and get seven points, and that then it becomes more like a turnover."
Payton was determined to call the onside kick, so much so that he alerted the officials in a meeting before the game of the possibility of using the kick.
"We knew we were going to call it at some point, and we made the decision we were going to do it," said Payton. "At halftime I just told them, 'Hey, we're going to open up the second half with this. It's going to be a great play.' We had enough time at half-time with the schedule. Guys handled it well."
Said Saints LB Scott Fujita: "He said we are going to try this. We were all on-board with the call. He does things like that all the time. He makes things happen."
NO CAR, BUT BREES WENT TO DISNEY WORLD

Over the years, the Super Bowl MVP has always received a car for his honor. Those days ended with Super Bowl XLIV.
Drew Brees was partying into the night after the victory and he met with the media Monday morning. He was not presented with a new automobile. Thanks to the economy, the car companies like Cadillac have pulled back from participating in the championship.
But Brees did get one residual for the MVP honor, as h e went off to Orlando on Monday morning and was honored at Walt Disney World with a parade. That's him above with Mickey Mouse.
SUPER BOWL XLIV SETS VIEWING RECORD

The folks who handle the television ratings said Monday that 106.5 million Americans watched the CBS telecast, the largest audience in history. Before Sunday night's broadcast, the most watched program was the final episode of the series M*A*S*H, with 105.97 viewers.
Last year's Super Bowl between Pittsburgh and Arizona attracted an audience of 98.7 million.
LEN & TROPHY GET RUSHED BY SAINTS

Chiefs Hall of Fame QB and the MVP of Super Bowl IV Len Dawson delivered the Lombardi Trophy to mid-field for the presentation by NFL Commish Roger Goodell to Saints owner Thomas Benson and Payton.
It did not go as planned in rehearsals. As Dawson hit the field, there was supposed to be a path cleared for him to make his way through Saints players, coaches, staff members and the media.
"They were supposed to create a path," Dawson said Monday morning. "All they wanted to do was touch the trophy."
Which made Dawson's walk a struggle as players not only touched the Lombardi Trophy, but some grabbed at it, others kissed it. This kind of pressure Len had not felt since he retired after the 1975 season. But as would be expected, Dawson fought his way through and handed the trophy over to Goodell for the presentation.
WINNING MAKES FOR STRANGE BEDFELLOWS

Win the Super Bowl, party the night away, but finally there's time for sleep. In the wee hours of Monday morning, Payton finally hit the sack. But he was not alone.
"This thing laid in my bed next to me," said Payton of the Vince Lombardi Trophy. "I rolled over a couple times and I probably drooled on it, but man, there's nothing like it."
Payton also told a story from the Saints post-game party and the trophy.
"Last night, about midnight we grabbed the trophy and one of our coaches is Joe Lombardi, he's Vince Lombardi's grandson," Payton said. "So we get together Joe Lombardi, his father Vince, Jr. and his two brothers and they sat and posed with this trophy. I just thought to myself, you've got to be kidding me. If you believe in heaven, and you believe Vince Lombardi's there looking down on his grandson, I t doesn't get any better. You can't get enough of this."
WHAT HAPPENS NEXT TO SAINTS ROSTER

New Orleans GM Mickey Loomis and Payton have a lot of work to do when it comes to their roster in the next few months.
The Saints have 10 unrestricted free agents and 18 restricted free agents according to the list released by the NFL Players Association last week.
These players that will must have new contracts in some fashion including FS Darren Sharper (UFA), LB Scott Fujita (UFA), RB Pierre Thomas (RFA), SS Roman Harper (RFA) and OT Jammal Brown (RFA).
Here's the complete list: UFA – QB Mark Brunell, TE Dan Campbell, DT Kendrick Clancy, TE Darnell Dinkins, LB Scott Fujita, LB Jason Kyle, OL Nick Leckey, TE Billy Miller, S Pierson Prioleau and S Darren Sharper. RFA – DT Remi Ayodele, RB Mike Bell, OT Jammal Brown, G Jermon Bushrod, DE Jeff Charleston, RB Kyle Eckel, G Jahri Evans, DE Tony Hargrove, S Roman Harper, LB Marvin Mitchell, WR Lance Moore, S Chris Reis, WR Courtney Roby, OT Zack Strief, TE David Thomas, RB Pierre Thomas, CB Leigh Torrence and CB Usama Young.
AND WHAT ABOUT THE COLTS?

The Indianapolis media reported that 11 fans showed up to welcome home the Colts on Monday after the Super Bowl defeat. Even that small crowd was not allowed to get near the team charter after it landed at the Indianapolis Airport.
One of the biggest subjects of the off-season will be QB Peyton Manning's contract, as 2010 is the final year of his deal. It promises to be the biggest pact in NFL history.
The Colts have only two UFAs: MLB Gary Brackett and K Matt Stover. Among 13 RFAs are S Antoine Bethea and S Melvin Bullitt.