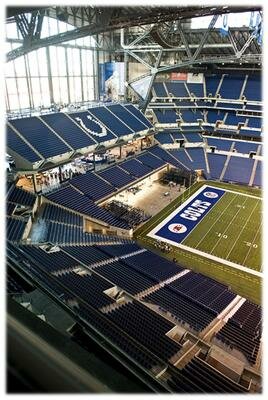 From Indianapolis, Indiana

Sometime Tuesday morning, the secondary will be on the field at Lucas Oil Stadium, the last position group to go through testing and drills at the 2010 NFL Combine.
By dinner time, most of the NFL will have sprinted to the airport and scattered back to home bases around the country. That's where they will evaluate their experiences from the Combine and factor them into the puzzle that is the '10 NFL Draft in late April.
There's a lot of attention placed on what happens at the Combine, tests like the 40-yard dash and bench press. There's the very important medical information and the psychological testing. Also important are the interviews teams conduct with individual players.
More comes out of the Combine than just those numbers, tests results and interview notes. It's a convention for NFL scouts and personnel types. After a day at the stadium and then interviews in the hotels of downtown Indianapolis, league types head for the bars, saloons and restaurants sprinkled throughout a vibrant city center. They complain about their boss, they complain about the long hours, they tell stories from the road and they enjoy the camaraderie of high-stress jobs in a very visible business.
If you hang around long enough and get to know these men, they will provide bits of information about what teams are really thinking about the prospects that will be available in the Draft. If you buy them a couple of beers, they'll tell you more, all off the record and not for attribution.
As the Combine was coming to a conclusion, I spent the weekend sharing suds with a handful of personnel types I've gotten to know over the years. They are good men who have made a place for themselves in the business of judging players. In the increasingly paranoid world of the NFL, several of these guys asked to meet for a beer in establishments outside of downtown Indy, where we weren't likely to run into any other scouts.
It's here at the Combine where teams start spreading rumors, even outright lying about their interest or lack of interest in certain players. They mislead the agents, because they know it's only a matter of time before the agents repeat back what they've been told to the media or other teams. Over the years it's become a much more organized and planned activity to set up smoke screens, fakes, jukes, jives and the like. One of my guys said his team's personnel staff would meet next week to start scripting some of the falsehoods they want to spread down the NFL grapevine. "It's funny, but we never have a meeting after the draft to talk about whether crap we spread had any results," said the scout.
Mostly I wanted to listen to the scouts talk about the players. Subterfuge was not something of interest to me. There were no earth-shattering revelations, just tidbits of information that are always good to have in the bank as the draft draws near. I did ask these guys one question: with the Combine ending, who were their top five players on their teams' draft board?
All were willing to talk because between the five of them, none worked for a team with a selection in the top five; these were all players they knew there wasn't a chance in the world they would get.
Here's how each scout ranked the players:
A – Oklahoma DT Gerald McCoy, Oklahoma QB Sam Bradford, Nebraska DT Ndamukong Suh, Tennessee safety Eric Berry and Notre Dame QB Jimmy Clausen.
B – Bradford, Suh, McCoy, Oklahoma State Russell Okung and Clausen.
C – McCoy, Suh, Bradford, Clausen and Berry.
D – Suh, Bradford, McCoy, Berry and Florida CB Joe Harden.
E – Bradford, Suh, McCoy, Berry and Okung.
Combined – Bradford, Suh, McCoy, Clausen and Berry.
There were no surprises among the names mentioned and it's doubtful much will change between now and the actual first five picks of the draft.
Of course, that doesn't mean those top five names will be the first five selected come Thursday, April 22 and the first round. Remember last year when DE Tyson Jackson wasn't on any team's top five list, save one: Kansas City. When Scott Pioli grabbed Jackson with the third pick, it was a surprise to most everybody in the league; they judged Jackson as a prospect for the second half of the first round.
As one of the scouts said: "You've got Tampa and Washington at No. 3 and 4, so anything is possible there," he said. "
Here's a collection of what these personnel types had to say about the top five guys:
BRADFORD – "If his shoulder checks out, he should be No. 1 … he's got all the things you want from a franchise quarterback … only concern is whether he's fragile … we love his personality … there's some tinkering that needs to be done with his release, but there's nothing major."
SUH – "Personality and ability, can't ask for more than that … our only concern is his lack of pass rushing background; he'll need some work there on setting up blockers … he's pretty much a bull rusher without a second move … hard to find any real negatives with that guy."
MCCOY – "This guy plays on the other side of the line of scrimmage … great motor and he shows leadership … he needs to work more on his conditioning and improve his upper body; otherwise he's ready to play now … for an inside guy in college, he's advanced as a pass rusher."

CLAUSEN – "We had him on the drawing plays on the board and he was sensational; he's got a great sense of offense and defense …. Comes across as cocky, which wasn't so much a negative until Jay Cutler came along … His training with Charlie Weis has him prepared for the league."

BERRY – "We don't take safeties in the first round, but we might break that rule for Berry … has smarts and ability, plus he's always involved in the play … great instincts to go with athletic ability; we think he could be another Ed Reed.
"Listen, we'll go back home and visit all these Pro Days and within a month we'll have all kinds of bad things to say about the top guys on our board," one scout said. "I wish we could draft now."
And what would everyone do for the next seven weeks?
ANOTHER DAY AT THE COMBINE WITH MORE RUNNING, JUMPING & LIFTING

One of the stars on Monday inside Lucas Oil Stadium was Missouri LB Sean Weatherspoon. He put up 34 reps on the bench press lifting 225 pounds. His vertical leap was 40 inches and his official time in the 40-yard dash was 4.68 seconds, although some clocks had him under 4.6 seconds.
Almost as impressive and quite a few pounds heavier was Suh, who ran the 40 in 4.98 and 5.07 seconds. He also had a vertical leap of 35.5 inches.
Among the linebackers, TCU's Jerry Hughes turned in a time of 4.59 seconds. DE/OLB Brandon Graham of Michigan ran the 40 in 4.72 seconds but then was done for the day with a hamstring pull. Alabama's ILB Rolando McClain did not work out because of injuries.
Among the defensive linemen, Dexter Davis of Arizona State was the fastest at 4.64 seconds. Indiana's Greg Middleton had the best vertical leap at 38 inches. At linebacker, the fastest man was Mississippi State's Jamar Chaney at 4.54 seconds. Donald Butler of Washington had 35 reps on the bench press and Oklahoma's Keenan Clayton had a 41.5-inch vertical leap.
In the secondary, Oklahoma State safety Lucien Antoine had 28 reps on the bench press, with Boise State CB Kyle Wilson pushing up 25 reps.
The defensive backs finish things up on Tuesday with the 40-yard dash and other drills.
PERSONNEL MOVES & OTHER STORY LINES FROM AROUND THE LEAGUE

ABC – announced Monday night that Chad Ochocino will be a contestant on the upcoming edition of Dancing With The Stars.
BEARS – released OT Orlando Pace.
BUCCANEERS – will make tender offer to soon-to-be RFA WR Maurice Stovall for third-round compensation.
CHARGERS – will make tender offers to soon-to-be RFAs WR Vincent Jackson, WR Malcom Floyd, OLB Shawne Merriman and LT Marcus McNeil.
49ers will make tender offers to soon-to-be RFAs G David Bass and LB Ahmad Brooks.
JAGUARS – re-signed DT Montavious Stanley.
JETS – will release RB Thomas Jones this week.
RAIDERS – will make a tender offer to soon-to-be RFA QB Bruce Gradkowski.
REDSKINS – will see OT Chris Samuels retire this week because of neck problems.
STEELERS – will not make a tender offer to RFA G Darnell Stapleton thus making him a UFA.
VIKINGS – re-signed WR Greg Lewis.