Production of '10 Second-Round Picks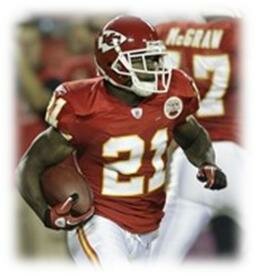 As the season progresses, we are taking a look at the 2010 NFL Draft and what those players are contributing in this rookie season
A couple weeks ago, we checked out the first round and we'll update that in a few weeks.
Here's a look at the 32 second-round choices, including two guys that are wearing a Chiefs uniform: WR/RB Dexter McCluster and CB Javier Arenas (left). While neither one is among the seven full-time starters from the round, their contributions have been big on the season for the Chiefs.
Three of the 32 picks never got on the field for regular season games this year, topped by the 43rd selection in LB Sergio Kindle in Baltimore. The University of Texas product fell down some stairs during the summer and suffered a hairline skull fracture. He will not get a chance to return to play until next season. Also RBs Montario Hardesty (Cleveland) and Ben Tate (Houston) went down in the pre-season to injury. Two others have gone to the IR list during the season: DTs Brian Price (Tampa Bay) and Mike Neal (Green Bay).
The seven starters out of the round have been LT Roger Saffold in St. Louis, FS Nate Allen with the Eagles, S T.J. Ward in Cleveland, DE Lamarr Houston with the Raiders, G Zane Beadles in Denver, ILB Daryl Washington with the Cardinals and ILB Brandon Spikes in New England.   …Read More!