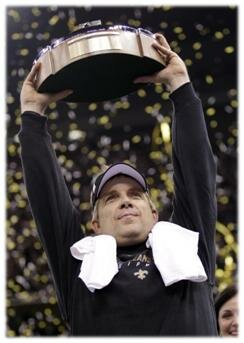 For years, the New Orleans Saints wandered in the NFL jungle. They were one of those bumbling franchises that always seemed t o shoot themselves in the foot.
They began play as an expansion team in 1967 and went 3-11. They would play 11 more seasons with losing record until they went 8-8 in 1979. It would be 21 seasons of play before the Saints had a winning record. Now, after 43 seasons of action, they've had nine winning records and four division titles.
But now the Aints aint no more. They are headed to the Super Bowl for the first time after winning their first NFC Championship on Sunday with an overtime victory against the Minnesota Vikings.
So how did the Saints finally get things headed in the right direction? It appears to be the combination of head coach Sean Payton and GM Mickey Loomis. They've built a squad that has found performers and contributors on almost every avenue on the league's personnel highway. Draft picks, unrestricted free agents, trades, street free agents, college free agents – they are all part of the Saints equation. About the only resource the Saints haven't tapped is the waiver wire.
Payton is a branch off the Bill Parcells tree, while Loomis' roots are from the Seahawks going back to the 1980s. They have a strong personnel group, led by Rick Reiprish, who began his NFL team scouting career with the Chiefs back in the early 1980s.
Here's how the Saints numbers break down compared to the Colts and Chiefs:
| | | | |
| --- | --- | --- | --- |
|   | Indianapolis | New Orleans | Chiefs |
| Draft Choices | 29 | 18 | 18 |
| 1st-Round Picks | 6 | 5 | 6 |
| College Free Agents | 10 | 3 | 7 |
| Street Free Agents | 10 | 14 | 14 |
| Unrestricted FA | 1 | 14 | 7 |
| Trade | 0 | 4 | 4 |
| Claimed on Waivers | 3 | 0 | 3 |
| Starters from Draft | 14 | 12 | 8 |
| Starters from CFA | 2 | 0 | 2 |
| Starters from UFA | 0 | 6 | 5 |
| Starters from Trade | 0 | 3 | 2 |
| Starters from FA | 4 | 1 | 3 |
| Starters from Waivers | 2 | 0 | 2 |
Going into the NFC Championship Game, the Saints had 14 players they had signed as unrestricted free agents and six of those players were in the starting lineup, led by QB Drew Brees. His signing in '06 was the foundation block for Payton/Loomis. Brees has been one of the most prolific passers in the game for the past four years.
His weapons have arrived in many different manners. There's a first-round draft choice in Reggie Bush, and a college free agent in Pierre Thomas leading the backfield. Among the receivers, there is first-round choice Robert Meachem and second round pick Devery Henderson. But they also have seventh-round choice Marques Colston and free agent Lance Moore who came into the league as an undrafted college free agent. A pair of tight ends in Jeremy Shockey and David Thomas came via trades with the New York Giants and New England
His protection unit is largely home grown, with a second, two fourth-round selections and a fifth-round pick with the starters. That doesn't include first-round pick LT Jammal Brown who is on the injured-reserve list. C Jonathan Goodwin (UFA), RG Jahri Evans (4th round) and Jon Stinchcomb (2nd) were all selected to the Pro Bowl.
Those are all the major pieces of an offense that has set records and scored a bushel of points over the last few years. That group includes just two first-round picks: Bush and Meachem. All but two of the key offensive contributors have joined the team since 2006. That's where Peyton deserves some credit because he was part of the discussions in pulling those players into the Saints in the last four years.
Defensively, the Saints have not been as strong despite the fact they've turned over just about every rock on the personnel landscape. They have four UFAs in the starting lineup, including FS Darren Sharper who was added this season. They have a pair of linebackers in Jonathan Vilma and Scott Shanle who they picked up in trades. There are four draft choices, including a pair of first rounders in Sedrick Ellis and Will Smith.
Most teams go out of their way to sign as free agents – whether unrestricted or street – players who were high draft choices for other teams. The Saints do not worry about that. They have 17 players on their roster who were never drafted by any team in the league. A couple of those guys are major contributors like Thomas at running back, starting left cornerback Jabari Greer and starting nose tackle Remi Ayodele.
The Super Bowl-bound New Orleans Saints are well-oiled personnel machine that finds potential players in all manners and then develops them into contributors. That's why they are headed to Miami to face the Indianapolis Colts.
SUPER BOWL XLIV HYPE: DAY NO. 1

The Colts plan to get all their work done this week in Indianapolis, and then fine tune next week in the days before the game. "You try to make it as business as usual as possible," said guard Ryan Lilja. "It's not a normal thing to go down there, and you've got two weeks and all the hype and all the media surrounding it. You just want to keep it as normal as possible." The Colts will have an informational meeting Tuesday at which they'll learn about logistics for their families, tickets for the game and travel schedules. They'll practice Wednesday, Thursday and Friday, and then again on Sunday. They won't depart for Miami until Monday afternoon.
The Colts are 5-5 all time against New Orleans. QB Peyton Manning lost his first two games to his hometown team, but won the last two by 34 and 31 points. The Colts are 2-1 in Super Bowls played in Miami. The Baltimore Colts lost Super Bowl III to the Jets and won Super Bowl V over Dallas, both games were played in the Orange Bowl. The Indianapolis Colts beat Chicago at Dolphin Stadium in Super Bowl XLI four years ago.
SIGNINGS, HIRINGS, FIRINGS AND ASSORTED STUFF FROM AROUND THE LEAGUE

AFC PRO BOWL – added to the roster were Jaguars QB David Garrard, Chargers WR Vincent Jackson Steelers TE Heath Miller, Titans C Kevin Mawae, Titans DE Kyle Vanden Bosch, Jets DE Shaun Ellis and Dolphins S Yeremiah Bell; deleted from the playing squad were Colts Pro Bowlers QB Peyton Manning, WR Reggie Wayne, TE Dallas Clark, C Jeff Staturday, DE Dwight Freeney, DE Robert Mathis and S Antoine Bethea.
NFC PRO BOWL – added to the roster were Cowboys QB Tony Romo, Eagles QB Donovan McNabb, Giants OT David Diehl, Giants G Chris Snee, Panthers C Ryan Kalil, Cardinals free safety Antrel Rolle, LB London Fletcher, CB Mike Jenkins and Eagles SS Quintin Mikell; deleted from the squad were Saints Pro Bowlers QB Drew Brees, OT Jon Stinchcomb, G Jahri Evans, C Jonathan Goodwin, FS Darren Sharper, SS Roman Harper and LB Jonathan Vilma, along with Vikings Qv B Brett Favre and Vikings CB Antoine Winfield.
FALCONS – hired Tim Lewis (Seahawks) as secondary coach.
JETS – fired assistant DB coach Doug Plank; did not renew the contracts of assistant QB coach John DeFilippo, special teams coach Kevin O'Dea and defensive quality control coach Brian Smith; pass rushing consultant Chuck Smith moved on to become an assistant coach at the University of Tennessee.
RAVENS – hired Dean Pees (Patriots) as linebacker coach.
TITANS – fired RB coach Earnest Byner; hired Kennedy Pola to serve as RB coach.
FROM THE PAGES OF SUPER BOWL HISTORY

On January 26, 1986, the Chicago Bears beat the New England Patriots 46-10 in Super Bowl XX at the Superdome in New Orleans. Led by QB Jim McMahon and RB Walter Payton on offense and big DT William "The Refrigerator" Perry and LB Mike Singletary on defense, the Bears came into the game a heavy favorite.
But it was the Patriots that scored first, recovering a Payton fumble and getting a field goal from Tony Franklin after just 79 seconds had run off the first quarter clock. Chicago came right back and got a field goal from Kevin Butler. Then, the Bears pass rush forced a fumble deep in Patriots territory and that set up another FG and then New England RB Craig James fumbled, setting up an 11-yard TD run by Chicago FB Matt Suhey.
Eventually, Chicago 41 unanswered points, as McMahon scored twice on short runs. Perry came into the offense and scored on a one-yard run. The Bears defense under coordinator Buddy Ryan also provided a touchdown, as Reggie Phillips returned an interception 28 yards for a touchdown. Overall, the Pats had just seven rushing yards and finished with 123 total yards. Chicago had seven sacks
The game's MVP was Bears DE Richard Dent, who had 1.5 sacks and forced two fumbles. The head referee for the game was Red Cashion. The national anthem was performed by Wynton Marsalis and the half-time entertainment was courtesy of "Up with People" in a program called "Beat of the Future." NBC had the telecast and Dick Enberg, Merlin Olsen and Bob Griese handled the commentary. A 30-second commercial cost $550,000.
SAY HAPPY BIRTHDAY …

Born on January 26, 1975 in Phoenix was OT John Tait. He was selected in the first-round of the 1999 NFL Draft out of Brigham Young University. Tait played five seasons with the Chiefs (1999-2003), appearing in 75 games with 66 starts at both left and right tackle. He left after the '03 season and signed as a free agent with the Bears, where he played five seasons before retiring after the '08 schedule was complete.
Born on January 26, 1983 in Miami was LB Pat Thomas. He joined the Chiefs in 2007, after spending two seasons and four games with the Jaguars, who selected him in the sixth round of the 2005 NFL Draft out of North Carolina State University. Thomas played two seasons with the Chiefs (2007-08), playing 16 games, with nine starts; he had 59 total tackles. He signed with Buffalo as an unrestricted free agent in '09.