"I don't want a yo-yo team and I don't want yo-yo players. I really want to be the same every day. If we get fractionally better each day, or each week, then we'll be OK." Chiefs head coach Todd Haley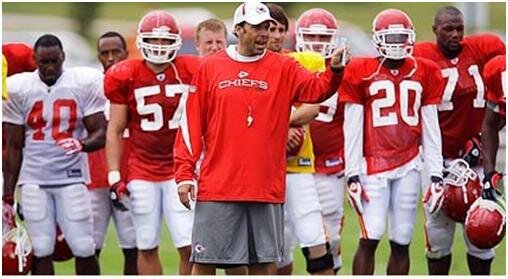 River Falls, Wisconsin

The question comes frequently in e-mails and phone messages, from Chiefs fans everywhere, from family, friends and acquaintances:
How is Chiefs training camp different this year than the past?

I'm not sure five nights in the northwoods is a big enough sample, but there are some very obvious differences with what's going on around this team right now.
That there would be changes was a given considering the alterations at the top of the football operation with GM Scott Pioli and head coach Todd Haley. These guys share a foundation in how they look at football and those that play the game and that stone has the name Bill Parcels inscribed on it.
Thus, the practices in the current training camp are much more physical than anything that's gone down with the team under Herm Edwards, Dick Vermeil or even Gunther Cunningham. The tone, tenor and length of Haley's practices call to mind Marty Schottenheimer; it's the closest comparison to what is taking place at UW-River Falls.
There is nobody still on the roster from the Marty days. There's only one player on the roster from the Gunter days: LG Brian Waters. And amazingly, there are only three others besides Waters still around from the Vermeil Era: Larry Johnson, Monty Beisel and Dustin Colquitt.
That's why it's the NFL, the Not For Long league.
Thus, I can't provide first-hand commentary from those who lived through the Chiefs training camp workouts over the years. But take it from somebody who has not missed a Chiefs training camp in 29 years: things are different and the changes can be broken down into three major areas: contact, conditioning and dealing with players.
Today we'll talk about the first two. On Wednesday, we'll cover dealing with players.
CONTACT

The question was put to Haley: has there been a lot of contact in this camp so far?
"I'd say so," said Haley."
There was a time when training camp practices were filled with contact drills, where players went just a step slower than full speed, and bodies crashed into other bodies. Always the quarterback was off-limits, but everybody else needed to make sure to buckle up their chinstrap.
Over the last decade the amount of contact in NFL camps dropped considerably. It's a by-product of the salary cap and league rules on injured-reserve and the number of players that a team can take to training camp. Gone are the days when over 100 players were on the pre-camp roster. Now there are 80; in the past with NFL Europe exemptions there was a chance to get a few more, but that opportunity is now gone.
The linemen on both sides of the ball see the most contact, but in recent years the intensity of that work has dropped as well. Repetitions have been cut, practices are shorter and there have been fewer where the players wore full pads. That's defined as football pants and shoulder pads.
Contact is back in the Chiefs '09 camp. It's not nearly to the level of the "olden days" but every time the team has worn full pads, there has been at least one part of the session where it was full speed football. That usually has come in the goal line segments and there have been blows delivered. RB Larry Johnson got crunched in Saturday afternoon's work, getting hit high and low by defensive teammates.
Two years ago, that type of tackle would have started a pushing match. This year, Johnson pushed himself off the ground and went back to the huddle. There have been one or two plays like that every day. During Monday morning's workout, OLB Tamba Hali was providing defensive run support and splattered pulling RG Mike Goff. There's probably a difference of at least 40 pounds between the players, but the smaller guy won the contact battle that time.
Even Monday afternoon when the players were not in full pads, the one-on-one work between the defensive and offensive line was intense.
Haley believes this is the way it has to be.
"It's such a short amount of time here," the coach said. "We will have the pads on every day, until we think we know enough. We have to get ready in a short amount of time and the only way to get ready for football, in my opinion, is with the pads on. "
CONDITIONING

I can say this without any equivocation: this is the 33rd NFL training camp that I've covered and the '09 Chiefs are the runningest football team I've ever seen.
Haley ran and ran and ran his players during the off-season program. He promised them he wasn't going to stop. So far, he's held true to his word.
Every practice has some element involved that is done not only for football, but for conditioning. That's why the team has lost more than 750 pounds since the start of their off-season program. By the time they leave River Falls, that total will easily soar past 800 pounds.
All this is about being prepared for the fourth quarter and for late in the season. It's also designed to keep players in better shape, and thus cut down the number of injuries. There's no question this group is slim and trim for a football team. In fact, the only place in River Falls where bellys hanging over belts can be found is at whatever bar the media horde is drinking at that night. Haley said they've not yet totaled up the lost body fat for the squad, but that figures to be another number through the roof.
Haley said on Monday that he would have had this team running no matter what he had found when he took over. But watching the tapes of the 2008 season just convinced him even more that conditioning was going to be important.
The running has drawn grumbles from some of the older players. They won't go on the record so we won't repeat their comments here. The one guy who did say something was RT Damion McIntosh, who talked about not being part of a cross country team, but a football team.
What Haley wants is a highly conditioned football team that can fight off injuries and have the No. 1 ability that any player can show in the NFL: availability.
"I want guys that want to be here practicing every day, that I can count on and are the same guy every day," Haley said. "I don't really care if they are great.
"These guys need to be the same guy every day … I don't want a yo-yo team and I don't want yo-yo players. I really want to be the same every day. If we get fractionally better each day, or each week, then we'll be OK. But when one day you are superstar and the next day you can't walk and chew gum, that's when you get frustrated."
The 2009 Chiefs would never walk and chew gum. They would have to run. Whether they chewed the gum would be another matter.
SIGNGINGS, INJURIES & MOVEMENT AROUND THE LEAGUE

BENGALS – TE Reggie Kelly suffered an Achilles tendon injury during a Monday practice and is out for six months.
BILLS – The NFL denied an appeal by RB Marshawn Lynch and he will have to serve his full three-game suspension handed down to him by the Commissioner for violating the league's personal conduct policy.
BRONCOS – signed first-round draft choice Robert Ayers; LB Nick Greisen suffered a leg injury in a Monday practice.
BUCCANEERS – signed G Ryan Schmidt; released G Maurice Miller.
FALCONS – veteran WR Roddy White continues to holdout of camp; he has one season remaining o n his contract.
EAGLES – agreed to terms with first-round draft choice WR Jeremy Maclin; MLB Stuart Bradley suffered a torn ACL during a Sunday night practice; reportedly he's done for the season.
GIANTS – WR Plaxico Burress was indicted by a New York grand jury on three felony charges resulting from the incident late last year where he carried a handgun into a New York bar and accidentally shot himself in the leg. All three of the charges have mandatory sentences if he's convicted.
PANTHERS – LB Jon Beason and DT Ma'ake Kemoeatu both left practice Monday with injuries; Beason is a hamstring and Kemoeatu suffered a torn Achilles tendon and is likely done for the season.
PATRIOTS – signed QB Andrew Walter; released QB Matt Gutierrez.
SAY HAPPY BIRTHDAY …

Born on August 4, 1927 in Tomball, Texas was DT Ray Collins. He was a member of the original Dallas Texans, playing two seasons with the franchise (1960-61) at the end of his career. Collins came out of LSU and played in three seasons (1950-52) with San Francisco and one season (1954) with the New York Giants. He had been out of football for six years when he signed with the Texans. Collins played in 27 games for Hank Stram.
Born on August 4, 1940 in Tarboro, North Carolina was DE Bill Hull. He joined the Dallas Texans for the 1962 season out of Wake Forest, appearing in 14 games. That was Hull's only season in pro football.
Born on August 4, 1978 in Pittsburg, California was S Shaunard Harts
(left). He was a seventh-round selection in the 2001 NFL Draft out of Boise State. Harts played four seasons (2001-04) with the Chiefs, appearing in 51 games with 17 starts. He finished with two interceptions.