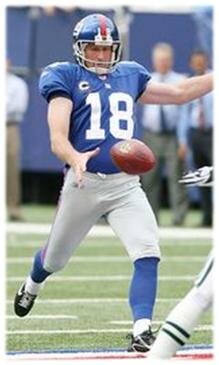 This is a story about a professional football player who was not arrested. He was not fined and handed a suspension by the NFL Commissioner. He did not embarrass himself, family or his team's fans with bad behavior.
He just went out and played pro football and acted like a gentleman for one season, two seasons, three … in the end it was 22 seasons.
Lost in the muddy ramifications of Big Ben's trip to a dirty bathroom in a Georgia bar about two weeks ago was this story: New York Giants punter Jeff Feagles announced his retirement.
After 22 seasons and 352 games in the NFL, Feagles' body had enough. A sore back and a swollen knee from the start of his off-season workout program was a message he could not ignore. So as the month of April came to end, so did his career as the NFL's most prolific punter.
Most fans around the country that even bothered to know who Feagles was generally considered him just another one of those faceless legs that handle the punts and kicks in the pro game. But among other punters and those in the know when it comes to NFL special teams, Feagles was a rock star.
"I remember the first season I was here, we played the Giants and I remember running out on the field before the game and making a bee-line for Jeff," said Chiefs punter Dustin Colquitt. "I was so excited to get to speak with him. I went running up to him and told him I had worked with Steve Hoffman after I was drafted when the Chiefs brought him in to work on some stuff and clean me up. It was Hoff who was his coach at the University of Miami and found the guy (in an Arizona junior college.)
"I told him I used to play him on the Tecmo Super Bowl (video) game."
That's Feagles kicking for Seattle in '99 against the Chiefs with Derrick Thomas (58), Chester McGlockton (75) and Eric Hicks (98) on the rush.

Colquitt's enthusiasm to meet and talk with Feagles disarmed the veteran punter and he was unable to pull his normal prank on the visiting kicker.
"I used to tell them to look at the flags (at the stop of Giants Stadium); that's the way the wind's blowing," Feagles said during his retirement ceremonies. "It's the complete opposite."
It was only later that Colquitt found out his hero worship saved him from getting punked.
"He told me this a couple years later, that since this was my rookie year, he was going to tell me everything wrong on the wind and scare me to death," Colquitt said. "But he said I came up and said all this stuff and put him in his place, he didn't have the heart to do it."
Feagles career was remarkable in its longevity and production. He punted 1,713 times for 71,211 yards; that was just less than 41 miles of punts. He had 12 punts blocked (.007 percent), 127 went for touchbacks (7 percent), 554 punts were downed inside the 20-yard line (32 percent). Since the NFL started keeping the statistic on punts inside the 20-yard line, those 554 are easily more than the No. 2 punter, Craig Hentrich with 399.
On the day of his retirement, Giants coach Tom Coughlin said Feagles was "a master of an art which is fading fast in our game." He was speaking out being able to effectively punt the ball directionally. He was talking about the coffin corner kick.
Feagles was the best directional kicker in the game over the last 15 or so seasons of his career that began in 1988 with the New England Patriots. When he came out of Miami (below), he was like all young kickers, full of power and looking to kick the ball out the stadium, whether it was in distance or hang time.
But along the way, Feagles learned a few things about his abilities and the nature of the punting game in pro football. NFL head coaches want their kickers to split the pipes on field goals of a reasonable length and all PAT kicks. It's a simple charge for a sometimes complicated mechanism of snap, rush, block, hold, kick, cross your fingers.
Coaches demand so much more from the punter. First, they want the kick to get away, without being touched by the other team. They want it kicked so that minimizes the chances of the opponent getting good field position after catching the ball. They want hang-time and distance, and placement and coverage and …
After a few years in the league, Feagles figured out that his leg wasn't going to get stronger with age; he was going to lose power and distance. That's when he transformed himself into a directional punter, a guy who would cut off 75 percent of the field when it came to a return. His goal really was to eliminate 100 percent – no returns.
It was aim for the corner and hit the ball so it ended up going out of bounds.
"The coffin corner went out so long ago," said Feagles, who kicked for New England, Philadelphia, Arizona, Seattle and the Giants. "The reason I still do it is because I feel better kicking the angles. I aim for the 10 and I can control where the ball goes out.
"The young players, they really have never been taught how to coffin corner."
Said Colquitt: "When he was younger, Feagles was one of those hang-time power punters who would drive the ball; he was like Shane Lechler (Oakland) is today and Mike Scifres (San Diego). As he wised up, he discovered he could help his team by not giving up any returns. Hoffman taught him how to do some of those things when he got him to Miami.
"He told Mike Priefer (former Chiefs special teams coach, who also worked with the Giants) that he didn't learn how to be a pro punter until after his seventh year in the league. That's when he came to understand the effect he could have on a game.
"I haven't gotten there yet. When he says things like that, I listen. I call him up and say 'what do you mean when you say that?' Or 'what did you mean when you say this?'"
It's a simple case of doing the math. A 10-yard punt return may not seem like much for a punt coverage team to allow, but it's the equivalent of giving up a first down to the offense. That's why the punter's most feared moment is the touchback. That's 20 yards of field position given up, or two first downs.
All that rests on top of the game-long battle for field position; a well-placed coffin-corner punt would give the opponent the ball at the five-yard line. That's 95 yards to the other end zone. A flubbed coffin corner kick ends up in the end zone and the other team only needs 80 yards to score.
"He might not hit a 60-yard bomb, but he's going to hit one 45 yards, on the sideline so it limits the return," said Colquitt. "You might have a punter who is hitting them 60 yards every time, but he gets off a bad punt that gets taken back for a significant return and all the sudden his net average is not where it should be."
The reason most punters no longer can hit the coffin-corner kick is because it scares coaches, especially head coaches and defensive coordinators. It took the game's best directional punter years before he was comfortable with slicing the field down to 25 percent and then kicking the ball at an angle. It increases the chances that a shanked punt will go but a few yards. It also gives the punt rush an angle to the ball that it doesn't have when the punter is using the whole field.
"It's risky, there's no doubt," Colquitt explained. "When you watch him in pre-game warm-ups, he's not just going out there and hitting balls after balls. He starts out by working on his hands in handling the snap. He does another drill where he works on his drop about 100 times. His deal is muscle memory; he works on those fine points over and over again, so that by the time he's kicking in the game, it's something he did about 100 times that day already.
"He's so successful at the directional punt because he works so hard on his drop."
Colquitt paid attention to Feagles, what he did and what he said. He picked his brain on how he conditioned, how much he kicked, what he concentrated on to keep his body in shape to play for 22 seasons.
"I've looked at everything, down to the shoes he wears," Colquitt said. "I did that this year, wearing the Astro Grabber shoe that he wears on his plant foot. It looks like he's wearing a basketball shoe on one foot. I tried that last year. I've tried to mimic my game after his because of his success."
There have also been those moments when in pre-game conversations Feagles has said something that seemed far-fetched to Colquitt, but then became quite clear and memorable.
"He said one time talking about a return guy that wasn't very good catching the ball over his right shoulder," Colquitt said. "I was walking away from that conversations talking to myself that I needed to know how returners liked to catch balls and what side of their body they were most comfortable with.
"I started watching film and studying that. When we faced Philly last year with DeSean Jackson, I started thinking 'well, he's right handed, he's going to want to catch the ball like that' how can I place the ball to make it more uncomfortable for him."
As he's studied Feagles and knows his story, can Colquitt even comprehend still punting the football in the NFL season of 2026 … that would be his 22nd season?
"I know now that it's possible," Colquitt said. "I've got five years in; I'm starting my sixth season and going that long doesn't seem possible right now.
"But you never know. Jeff showed us that it can be done."
HOW FEAGLES DID AGAINST THE CHIEFS

In his 22 seasons, Feagles kicked in 13 games against the Chiefs, most of those coming during his time in Seattle when the Seahawks were the AFC West.
He punted 66 times for a 39.9-yard average. The Chiefs had an average return of 5.9 yards and they blocked one Feagles punt. His net average worked out to 35.3 yards.
Feagles kicked six times at Arrowhead Stadium, averaging 42.2 yards per punt with a 36.3-yard net average.
THE POLLS HAVE BEEN RE-OPENED

The Associated Press decided this week to void the results of a first election of the NFL's Defensive Rookie of the Year and hold a second vote.
So this week, the 50 NFL observers that cast ballots must again decide if Houston LB Brian Cushing (right) will be the defensive winner of the rookie award. Late last week the NFL announced a four-game suspension for Cushing for violating the league's rules on performance enhancement drugs.
Turns out that Cushing tested positive early in that '09 rookie season of his with the Texans. His appeal of the decision kept it all out of the public eye until just the last week. In the first voting, Cushing walked away with the award.
I disagree with the AP's decision here. They should simply take the award away from Cushing and vacate the honor. The young man's performance was tainted; he shouldn't have the chance to keep the hardware.
PERSONNEL FILE/TUESDAY, MAY 11

BILLS – signed RB Chad Simpson; released DT Marlon Favorite.
BUCCANEERS – re-signed ERFA OT Jeremy Trueblood.
JAGUARS – placed LB Bryan Smith on the injured-reserve list (right ACL); signed LB Teddy Lehman (Bills).
LIONS – signed TE John Madsen; released WR Kole Heckendorf.
STEELERS – placed WR Limas Sweed on the injured-reserve list (Achilles); signed WR Isaiah Williams.
TEXANS – signed UFA LB Danny Clark (Giants).