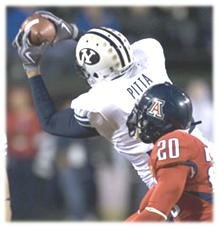 NAME – Dennis Pitta
Position – Tight End.
College – Brigham Young.
Status – Senior.
Size/Weight – 6- ½, 245 pounds
Important numbers – 4.63 seconds in the 40-yard dash, 27 reps on bench press, 34-inch vertical jump, 0-foot 5-inch broad jump.
Age – 25.
Honors – Second-team All-America '09 … first-team All-Mountain West offense '07-'08-'09 … team captain '09.
College career – Pitta's journey through Provo, Utah is quite a story. He was a walk-on back in 2003 out of Moorpark High School in California. He got on the field in the '04 season as a red-shirt freshman and then spent two years in the Dominican Republic on an LDS church mission. He returned for the '07 season and became a force in the BYU offense immediately. In his junior season, he caught 83 passes for 1,083 yards and six TDs. He holds most of the tight end receiving records for the Cougars and that's saying something because they've been producing draft-choice tight ends for years. …Read More!