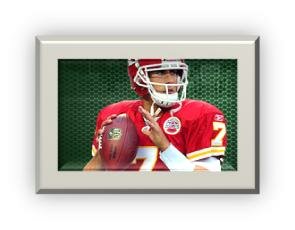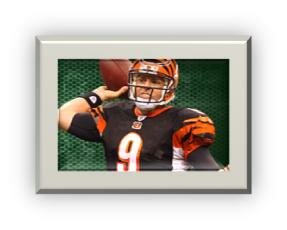 They were not Felix and Oscar of "Odd Couple" fame on stage and screen.
But for one school year, Matt Cassel and Carson Palmer shared a room. Each one had a single bed in the same room of a house filled with other University of Southern California players and students.
They became good friends and confidants and they will get to see each other on Sunday at Paul Brown Stadium with Palmer and his Bengals host Cassel and his Chiefs.
"I learned an awful lot from him," Cassel said of Palmer. "He was the man when I got to USC and he took me under his wing and was very helpful in helping me handle the transition to college football."
Cassel's first season with the Trojans was in 2000, when he took a red-shirt year in what was Palmer's sophomore season when he established himself as the USC starter. They spent the next two seasons together, as Cassel watched from the sidelines and Palmer became the 2002 winner of the Heisman Trophy and the first player selected in the 2003 NFL Draft.
It was during that 2002 fall and spring that they shared the room. This was not a pairing of the clean freak Felix and the sloppy Oscar. 
"We both had our times when we were sloppy," Cassel said. "Sometimes it was him and sometimes it was me. You know how it is in college; you get going doing a bunch of things and don't much worry about whether you hang up your jeans or thrown them over a chair.
"It got pretty bad a couple times, but usually we just dug in and cleaned it up."
The connection started early for these two; when Cassel made his official recruiting trip to the Southern Cal campus, it was Palmer who served as his host.
"We just really clicked," Cassel said. "He's such a good person and he was very helpful in telling me about the school and the program. I don't think it takes much to sell SC, but his help was one of the reasons I decided to go there."
In the 2001 and 2002 seasons with the Trojans, Palmer was the starter for Pete Carroll. He had a big season in '02 when Norm Chow came to Southern Cal as the offensive coordinator. Palmer threw for 3,942 yards, completed 63.7 percent of his passes with 33 TD throws and 10 interceptions. That earned him the Heisman, where he finished ahead of Iowa quarterback Brad Banks.
In those two seasons, Cassel saw the field for only some mop up duty, as he completed four of six passes for 32 yards and ran the ball three times for 22 yards.
Palmer became the first player selected in the 2003 NFL Draft, while Cassel would be the 230th selection in the 2005 NFL Draft, taken in the seventh round by New England.
For a pair of Southern Cal quarterbacks, there could not have been more opposite entries into pro football. But it matters not how a player enters the NFL. He will be remembered for what he did and how he leaves the game.
That's why SC quarterbacks like Palmer, Matt Leinart and Mark Sanchez may have had an advantage in starting their pro careers as first round draft choices, but Cassel has proven he's capable of playing the game as well and he retains the ability to become more successful than those first-round picks.
"I watched how he handled himself during those last two years and that was a learning experience," said Cassel. "To watch him deal with it, and then to go back to the room and be able to ask him questions about everything that was going on was very helpful to me.
"He was always willing to share."
That's why Cassel and Palmer remain good friends. They see each other once or twice a year away from football and they talk all the time, during the season and off-season.
"He's a good man and a good friend," said Cassel.
FOR HARRISON, IT HAD TO BE THE GATES!

It was quite a family weekend last Saturday and Sunday in Kansas City and Arrowhead Stadium.
Cleveland Browns RB Jerome Harrison flew his parents from Kalamazoo, Michigan to KC for the Chiefs-Browns game to help celebrate their 32nd wedding anniversary. They were joined by an aunt and five cousins who live over in Columbia
They all saw Harrison run for an amazing 286 yards; that was a Cleveland team record, the best rushing day of the 2009 season and the third best rushing day in NFL history.
And, it may have been fueled by a President's Platter from Gates Bar B-Q.
"One of his cousins took him to Gates Bar-B-Q," his mother Debbie Persell said. "By the time I got to the hotel (Saturday night), he'd eaten everything. Ribs, ham, barbecue . . . there was one bone left. I said, 'Can I have that?' 'He was rubbing his stomach and saying how full he was. I said, 'Are you going to be OK to play?'
"Now we're saying Gates Bar-B-Q gave him the strength and the energy to do it. We're talking about flying him in some Gates Bar-B-Q."
A platter of Gates, a franchise record and a victory … it doesn't get much better than that if you are Jerome Harrison, especially if your folks are there to see it all.
"They had a ball," Harrison said. "My mom was crying, my dad was so proud. It was good just to see them excited and happy."
TONY G. CLOSING IN ON 1,000 CATCHES

Tony Gonzalez needs six catches on Sunday against Buffalo to join a very exclusive club: receivers with 1,000 catches.
Right now, Gonzalez has 994 catches for 11,760 yards and 82 touchdown catches. All of those numbers are records for the tight end position. When he reaches the 1,000-mark, he will become the first tight end to break that plateau. It's ironic that WR Terrell Owens can also reach that 1,000-mark and needs only two catches, since they will be on the field together.
The previous five to top 1,000 catches in their career were all WRs: Jerry Rice, Marvin Harrison, Cris Carter, Isaac Bruce and Tim Brown.
Gonzalez will have plenty of opportunities to get the mark if it doesn't come this Sunday. He plans to play at least one more year with the Falcons.
"It's depends on what day of the week you ask me," Gonzalez said. "I think that's true of all old guys in the league. Next year, I'm coming back for sure. I'm never going to say I'm 100 percent done after next year. Obviously I would be leaning towards that direction unless something changes. I feel good mentally and physically. I love playing this game. I still think I can do it a high, high level.
"It's one of those things that can't just be my decision. I can't be that selfish about it. It's something I'd have to talk to my wife and my family about. Right now, I'm enjoying it."
Gonzalez will be 34 in February, and very few tight ends play to that age.
"Fortunately, I have not had anything major, knock on wood," Gonzalez said of injuries. "I have had some key stuff. MCL damage four times. A shoulder, I guess just normal stuff after this long of a career, but nothing too bad."
"Who knows, maybe I will go out there and play another three years. I don't know. I'm not throwing that out the window. I agree with what Coach (John) Madden says. He says once you say you're retiring, when guys come out and say they are retiring, it's over. Mentally, you'll shut it down. You should not say that. You should just wait until the end of the season and re-evaluate. That's the way I'm going to take it. I've always told myself going into the next season that this is probably going to be my last year after 14 years in the NFL, but at the end of that year, who knows. I feel great."
SIGNINGS, INJURIES & MOVEMENT AROUND THE LEAGUE

BRONCOS – ruled out of Sunday's game against Philadelphia were LB Spencer Larsen and WR Eddie Royal.
CARDINALS – OT Mike Gandy will not on Sunday against the Rams.
COWBOYS – out of Sunday's game against the Redskins are OT Marc Colombo and S Pat Watkins.
49ERS – will be without K Joe Nedney and CB Nate Clements for Sunday's game against the Lions.
LIONS – have declared CB Phillip Buchanon out of Sunday's game against the 49ers.
RAIDERS – out of Sunday's game against the Browns are WR Darrius Heyward-Bey and WR Nick Miller.
FROM THE PAGES OF CHIEFS HISTORY

On December 26, 1982, the Chiefs lost to the San Francisco 49ers 26-13 before 24,319 fans at Arrowhead Stadium. The Chiefs held a 10-9 lead going into the fourth quarter, but the defending Super Bowl champions scored 17 points in the period to gain the victory. The Chiefs only touchdown came on a 41-yard pass from QB Bill Kenney to WR Anthony Hancock. K Nick Lowery added a pair of FGs. The big play in the fourth quarter for the 49ers was an interception and 83-yard return for a TD by Ronnie Lott (left). San Francisco QB Joe Montana was 20 of 35 for 253 yards, but he threw a pair of interceptions, as CB Eric Harris and LB Thomas Howard grabbed the picks. WR Dwight Clark caught four passes for 104 yards.
On December 26, 1993, the Chiefs lost to the Minnesota Vikings 30-10 in a Sunday night game at the Metrodome. On a Sunday when the Chiefs captured the AFC West division title before they even stepped on the field, they then played like a spot in the playoffs was wrapped up, falling behind early and never catching the Vikings. Kansas City's only TD did not come until the fourth quarter when Dave Krieg and TE Keith Cash hooked up on a two-yard scoring play. Nick Lowery had the other points with a 42-yard FG. Minnesota RB Scottie Graham ran 33 times for 166 yards and a TD. Vikings QB Jim McMahon threw a pair of TD passes to WR Cris Carter (right).
On December 26, 1998, the Chiefs beat the Raiders 31-24 in a Saturday afternoon game at the Oakland-Alameda County Coliseum. The Chiefs fell behind 14-0 in the first quarter but fought their way back in the second half, scoring 24 points in the second half. RB Bam Morris had a pair of one-yard TD runs and TE Tony Gonzalez caught a 20-yard scoring pass from QB Elvis Grbac. LB Derrick Thomas returned a fumble 44 yards for a score and had two sacks. In all, the Chiefs defense had six sacks. Morris ran 17 times for 96 yards, while Grbac was 20 of 32 for 254 yards. He also threw a pair of interceptions. The victory allowed the Chiefs to finish the season with a 7-9 record, their first losing season in 10 years.
On December 26, 1999, the Chiefs lost 23-14 to the Seattle Seahawks at the Kingdome. On the day after Christmas the Chiefs got a lump of coal from the Seahawks defense that picked off three Elvis Grbac passes and sacked him four times. The Chiefs scores came on a pair of TD passes from Grbac, throwing four yards to TE Lonnie Johnson and 76 yards to WR Joe Horn (left). Seattle got a pair of TD passes from QB Jon Kitna and three FGs by K Todd Peterson.
SAY HAPPY BIRTHDAY …

Born on December 26, 1958 in Morehead City, North Carolina was LB Calvin Daniels. He was selected in the second round of the 1982 NFL Draft out of the University of North Carolina. Daniels spent four seasons with the Chiefs (1982-85), appearing in 57 games with 33 starts. He had 8.5 sacks and two interceptions and five recovered fumbles in those four seasons. Daniels finished his NFL career playing the 1986 season with the Redskins.
Born on December 26, 1967 in Palo Alto, California was WR Tony Hargain. He joined the Chiefs as a free agent in 1992 after spending several years on the 49ers roster, where he did not play. Hargain appeared in 12 game for the '92 Chiefs, catching 17 passes for 205 yards. It was his only action in pro football.