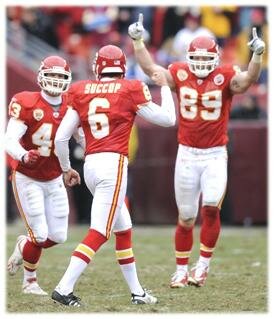 From Cincinnati, Ohio

So just what do the Chiefs have to play for today?
They will take the field at Paul Brown Stadium against a Cincinnati team that is 9-5 and one victory away from winning the AFC North. The Chiefs will take the field wearing their 3-11 record like a scarlet "L" as in loser, stuck as they are at the bottom of the AFC West, AFC and NFL.
Kickoff is set for just after 12 noon and unlike last week, the entire game can be viewed on CBS. Even the folks in the River City will get to watch as the remaining 1,500 tickets were purchased by the local CBS affiliate and a Bengals sponsor.

There are just two more steps left in what has become a miserable season of rebuilding and starting "the process" which has been Todd Haley's mantra all season. The end of a grind that started back in late July is just days from being completed.
So just what does this team have to get excited about or motivate them? What do the Chiefs have to play for against the Bengals?
LB Mike Vrabel's left eyebrow arched a bit when he was asked that question.
"We need to win," said Vrabel. "We need to go out and find a way to win the game. That's it."
That is it. There are many fans and pundits who believe the Chiefs should approach these last two meetings against the Bengals and Broncos as Sundays to cement their spot in the top five of the NFL Draft come April 2010. That's the worst thing they could do.
More than anything, these Chiefs need to win. There is not a single game or competition where they shouldn't do anything and everything they can to grab a victory. Losing four straight after winning two in a row has wiped out any memories of victory that existed in the Kansas City locker room. This team, this head coach, this franchise needs to return winning to their vocabulary.
OK, but what's the difference if this team finished 3-13 or 5-11? Plenty according to Todd Haley
"When you can finish strong, you definitely give yourself a boost going into the off-season," said the Chiefs head coach. "If a particular side of the ball does well you're able to give yourself a bunch of confidence going into the off-season. I've been a couple of places, and most specifically Arizona, where that has happened. There's no doubt in my mind winning the last two games in '07 from my perspective as an offensive coach we got it going and built on that for off-season and it definitely gave us a boost going into training camp."
More devil's advocate: but coach, a lot of the guys that will play in these last two games won't be around when the regular season starts next September. What good is the momentum when the team won't be the same?
"Winning breeds winning and there haven't been a lot of positives to draw on this year," said Haley. "It's critical that we're right on the guys that are going to be a part of a good team.
"A team never stays the same and they'll be changes, additions and subtractions. But for the guys who will be part of that nucleus winning is very critical. We're going on the road against a very good playoff-caliber team that's playing to get in. It's an opportunity for us to have a positive experience and bounce back from a poor performance on defense and, offensively, I feel like we're building a little momentum which gives us a chance to go against a very good defense, specifically run defense, and build on what we're doing."
Right now, the Chiefs are tied for what would be the fourth and fifth selections in the first round with Cleveland. If they were to finish 5-11 and everybody else around them lost all of their games, they would be tied for the sixth spot. Whether a team selects fourth, fifth or sixth in the draft matters not when it comes to picking up a talented player.
But talented players will only show that talent if they are developed and they can show their abilities in a winning situation.
And there's only one way to develop a winning situation – that's to win, and the circumstances, opponent and time of the year doesn't matter.
To become winners, a team must win.
"I think winning is a mentality that you have and the more people we get in this building with that mentality it's all encompassing," said Haley. "You could say to some of these guys who are significantly beat up that are fighting to play and practice and say, 'we're out of it, these games don't mean a lot.'
"I think it's a mentality whether you have 14 wins, three wins or no wins. You have the mentality that it's important to play, it's important to go out and win. Really, it's all areas, not just injured guys. When this football team comes out of our locker room or the visiting locker room at any time, pre-season, regular season, playoffs, Super Bowl, we're coming out to win and the more guys we have thinking, acting and practicing that way the better we'll be and ultimately be a good team."
Winning is a habit. So is losing. Victories in the last two games, starting with Sunday's meeting with the Bengals, provides the Chiefs with a chance to break one habit, and start another.
"Nothing else really matters," said Vrabel. "It's about winning. It's not about the game plan, it's not about who is on the field and who isn't. It's about winning.
ROSTER SHUFFLE CONTINUES AS THE SEASON HEAD FOR COMPLETION

All year the Chiefs have been one of the NFL's busiest teams when it comes to roster adjustments.
They proved that again this past week. Over the span of eight days, five players went off the active roster and five players were added. WR Mark Bradley was released and RB Dantrell Savage, TE Brad Cottam, S DaJuan Morgan and LB Justin Rogers went to the injured-reserve list.
Added were G Darryl Harris, DT Derek Lokey and S Ricky Price from the practice squad, WR Quinten Lawrence was re-signed to the active roster for the third time and S Reshard Langford (left) was signed off the Eagles practice squad.
Price and Lokey were added on Saturday, as Morgan (chest) and Rogers (thigh) saw their seasons end with tickets to the injured-reserve list.
Lokey, Price and Langford are the 69th, 70th and 71st players to have a spot on the 53-man roster.
SIGNINGS, INJURIES & MOVEMENT AROUND THE LEAGUE

BROWNS – released OT Scott Kooistra; promoted LB Titus Brown from the practice squad.
COLTS – promoted QB Drew Willy from the practice squad.
LIONS – signed QB Patrick Ramsey.
RAIDERS – promoted RB Marcel Reece from the practice squad.
RAMS – placed QB Marc Bulger on the injured-reserve list (shin); promoted WR Cord Parks from the practice squad.
RAVENS – placed CB K.J. Gerard on the injured-reserve list (hamstring); signed S Marcus Paschal.
FROM THE PAGES OF CHIEFS HISTORY

On December 27, 1987, the Chiefs beat the Seattle Seahawks 41-20 at Arrowhead Stadium with a crowd of 20,370 watching. In the final game of the strike-marred '87 season, the Chiefs picked up their fourth victory thanks to a strong first half where they scored 27 points and tacked on two more touchdowns in the second half. The Kansas City offense rolled to 512 yards and four touchdowns. QB Bill Kenney threw for 320 yards and had touchdown passes to WR Carlos Carson for 81 yards, to offensive lineman Mark Adickes (left) for three yards and WR Stephone Paige for 46 yards. RB Herman Heard scored on a 37-yard run and the Chiefs got a kickoff return for a touchdown from Paul Palmer that went 92 yards. Heard finished with 107 rushing yards while Carson caught four passes for 120 yards and Paige had seven receptions for 100 yards.
On December 27, 1992, the Chiefs beat the Denver Broncos 42-20 in front of 76,240 at Arrowhead Stadium. The Chiefs held a 14-7 lead at half-time and then added on four touchdowns in the second half. It was a big day for the KC defense as they scored three touchdowns. S Charles Mincy and CB Dale Carter returned interceptions thrown by Denver QB John Elway for touchdowns. Mincy's score came from S Bennie Thompson, who picked off the pass and then lateraled to his teammate who ran 32 yards. Carter's return went for 36 yards. LB Derrick Thomas (right) recovered a fumble in the end zone for another score. QB Dave Krieg and TE Jonathan Hayes hooked up for a pair of TD passes, from five and 12 yards. RB Christian Okoye scored on an eight-yard run. The KC defense added six sacks in the game, including three from Thomas. In the final statistics, Thomas had five tackles, three sacks, recovered two fumbles, forced a fumble and scored a touchdown.
SAY HAPPY BIRTHDAY …

Born on December 27, 1986 in Port Arthur, Texas was RB Jamaal Charles (left). He was selected in the third round of the 2008 NFL Draft out of the University of Texas. Charles has played in 29 games with the Chiefs, with 10 starting assignments. In those opportunities he has rushed for 1,116 yards on 208 carries, a 5.4-yard average and five TD runs. He caught 63 passes for 544 yards, an 8.6-yard average and two TDs. And, Charles has returned 51 kickoffs for 1,246 yards, a 24.4-yard average and one TD.
Born on December 27, 1962 in Long Beach, California was WR Lew Barnes. He joined the Chiefs in 1989, after playing two previous seasons for the Bears and Falcons. Barnes played in two games that season and returned a pair of punts for a 20.5-yard average.
Born on December 27, 1964 in Atlanta was OT Steve Wallace. He joined the Chiefs in 1997, after spending 11 seasons with the 49ers. Wallace played in 10 games during that '97 season.