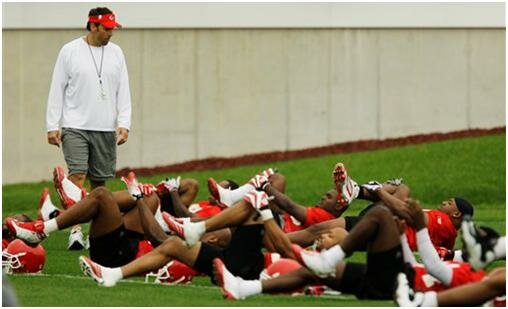 With the exception of Dwayne Bowe's ill-advised comments about the actions of his teammates on a three-year old road trip, things have been pretty quiet around the Chiefs in this off-season.
When the team hits the field Friday morning for the first of five mini-camp practices in three days, the focus by the players, coaches and even the media will be on football. Naturally, some of the scribblers, yakkers and hairdos will reference the absence of veteran S Jarrad Page, the only player who has not been around during all the work that began in late March.
But Page has remained silent, so there haven't been any verbal, Twitter or YouTube bombs thrown into Chiefs off-season 2010. That's not the case in a lot of other places around the league.
In Pittsburgh, Steelers bad boy QB Ben Roethlisberger spoke to several TV stations on Thursday about his behavior. "Big Ben just kept building up and it ended up coming off the field," Roethlisberger said, speaking like Big Ben was some sort of creature that took over his life. "It kept taking over. Superman kept taking over Clark Kent and you just never saw who Ben Roethlisberger was any more. At the time, I didn't see it. I was gaining everything but I was losing a lot of who I was raised to be. It got so overwhelming, it consumed me."
In New York, they Jets have a mandatory mini-camp next week and their best player, CB Darrelle Revis says he'll be there. But his concern is about being paid as the best cornerback in the NFL. He's one of about a half-dozen financially disgruntled Jets. "There's a lot of us in line right now," Revis said on Thursday. "It's up to them to choose."
Over in Cincinnati, the Bengals are about five days away from their mini-camp that will conclude their off-season work. They've yet to see WR Chad Ochocinco, who has been too busy being a television star to find time to work with his teammates. That's made QB Carson Palmer unhappy. "It would be great to have our number one receiver here and working with him and building it around him," Palmer told the media on Thursday. "We've tried moving guys around. Maybe they're trying to find a new number one receiver (out of the group here) because it's hard to work your offense in without that guy around."
Up the road in Cleveland, they have a number of players who won't be part of the team's weekend mini-camp because of unhappiness about money. Even the kicker Phil Dawson is grumbling about his contract, although he's in the building. Down in Baltimore, the Ravens wrapped up their off-season work – remember they got penalized a week's worth of practices for violating NFL rules – and DE/OLB Terrell Suggs was a no show for all of them. This despite his pedestrian '09 season and the $62 million deal that he signed last year.
I'll stop there. If you follow football it's easy to understand that this stuff happens all the time. What does not happen very often with any NFL franchise is quiet. I can assure you that GM Scott Pioli and head coach Todd Haley are enjoying the silence and the focus on football. But they know those placid waters can become turbulent in a very short period of time.
This is the 30th Chiefs off-season that I've covered whether for print, radio or the web. I've searched my files and my addled brain and while I cannot say this conclusively, I'm willing to go out on a limb and designate the last three months as the quietest off-season for the red and gold in the last three decades.
So what does that mean? Good question. For Pioli/Haley and their staffs, it's a wonderful moment of silence where players are improving individually and in turn, they are improving as a team. That seems the very obvious focus of 86 of their 87 players.
For the guys on the roster, the last dozen weeks have been very important moments individually and together to build the necessary foundation to turn around a franchise that's gone 10-38 in the last three seasons. That's the worst three-year stretch in the 50-year history of Lamar Hunt's baby. To turn around a unique negative moment in time takes an opposing unique positive moment. The pendulum must swing back the other way, and that's what's happened here for these players.
For the fans, there is hope. Every team in the league serves out healthy doses of enthusiasm and dreams for their team in the time leading into the season. It's so much easier to do so when the record is 0-0 and the real games are still three months away. The talk coming out of the Chiefs offices is generally positive; although not so much that it seems ridiculous or stupid. A dozen times in speaking to the media in just the last couple months, Haley has said he's not crazy, he knows the team went 4-12 last year. The balloon of hope can deflate very quickly with a couple big injuries, problems signing Eric Berry-Dexter McCluster-Javier Arenas or unexpected mayhem that could come from the six weeks where the players are on their own.
The media horde struggles to find anything to whip up for negative headlines and sports talk chit-chat. Certainly, there are legitimate questions surrounding some of the decisions that Pioli and Haley have made since they walked in the door. There's time in the future to fill up the media with those.
Enjoy the quiet, enjoy the focus on football. College athletics is imploding, oil continues to gush from the floor of the ocean and the economy continues to stumble along. There are plenty of negatives out there. They just aren't hovering over the Chiefs right now.
The bubble of hope has not yet been pricked.
THE MOST UNUSUAL MINI-CAMP IN THE NFL STARTS FRIDAY

As we told you earlier this week, the Chiefs mandatory mini-camp is no big deal this year because of the near perfect attendance at the team's OTA sessions so far. There will not be players showing up who haven't been around, because with the exception of Page, they have all been working in the practices. I've checked around the league and there isn't a team anywhere that's had the consistent numbers that we've seen from the Chiefs.
There's a chance Page may decide to show up. He's not required too, because he's not under contract and thus cannot be fined. He could walk in and sign his tender offer and practice, but at this point it wouldn't really make much sense for him. Even if the Chiefs decide to drop their tender offer to him on June 15th, it's a difference of only around $60,000.
What the Chiefs will do in morning and afternoon practices on Friday and Saturday and then a morning workout on Sunday is largely designed to be a repeat of what they went over in the first OTA sessions. They'll do the same in the first days of training camp in St. Joe. It's all about establishing the fundamentals.
We will have reports after each of the five practices with daily wrap-ups and a look at the entire weekend on Monday. Check back early and often.
BUSY DAY AT SPORTS COMPLEX ON SEPTEMBER 13

The Royals announced on Thursday that they've changed the starting time of their game on Monday, September 13 at Kauffman Stadium to 2:10 p.m. It was originally scheduled as a night game.
But across the street, the Chiefs will open the 2010 regular season on that same Monday night with a game against San Diego. Kickoff for that affair is expected to be right around 9:15 p.m., since it's the second game of a season-opening double-header on ESPN.
It's not the first time the Complex has held baseball and football games on the same day. The most famous was in 1985 when World Series games were played in the evening on consecutive Sundays, while the Chiefs played in the afternoon.
Fans who want to exchange their baseball tickets can call the Royals ticket office at 816-504-4040, or e-mail or visit Kauffman's ticket office. There will be more details to come on parking regulations and rules for that day from both teams.
NFL PERSONNEL FILE/THURSDAY, JUNE 10

BILLS – signed 6th-round draft choice LB Arthur Moats to a 4-year, $1.9 million contract with $112,000 in guaranteed money – a Division I-AA DE at James Madison, he's moving to OLB in Buffalo's 3-4 defense; signed 7th-round draft choice QB Levi Brown to a 4-year, $1,860,000 contract with $69,000 in guaranteed money – he's out of Troy and might have a chance to stick in what's a pretty wide open QB situation.
EAGLES – signed 4th-round draft choice LB Keenan Clayton to a 4-year, $ contract – smallish LB out of Oklahoma, he'll play on the strong side; released QB Joey Elliott, WR Pat Simonds, FB Chris Zardas and RB Keithon Flemming – Elliott was an undrafted rookie out of Purdue, Simonds was an undrafted rookie free agent from Colgate, Zardas was an undrafted rookie free agent from UMass and Flemming was an undrafted rookie from West Texas A&M ; placed DB Marlin Jackson on the injured-reserve list due to the Achilles' tendon injury he suffered several weeks ago.
FALCONS – signed 6th-round draft choice S Shann Schillinger to a 4-year, $1,915,000 contract with a $125,000 signing bonus – out of Montana, he was a big hitter with 10 INTs in the secondary; released QB Eric Ward – an undrafted rookie free agent from Richmond.
PANTHERS – placed injured LB Thomas Davis on the Physically Unable to Perform List after he tore his the ACL in his right knee for the second time in just over six months; veteran WR Muhsin Muhammad announced his retirement on Thursday after 14 NFL seasons, 11 of those with Carolina; released DL Amon Gordon – he missed '09 season with an Achilles' tendon injury.
RAVENS – released WRs Chris Hannon and Maurice Price – both were former members of the Chiefs who came into the league as undrafted free agents, Hannon out of Tennessee and Price out of the Charleston Southern.
STEELERS – agreed to terms with 4th-round OLB Thaddeus Gibson to a 3-year, $1,581,000 contract with a $366,000 signing bonus – out of Ohio State he's making the switch to OLB from DE; agreed to terms with 7th-round DL Doug Worthington on a 3-year, $1,248,000 contract with a $33,300 signing bonus – he was a three-year starter at Ohio State, he'll play DE with Pittsburgh.