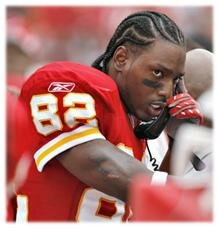 Mistakes are part of life. The only way they can be positive and productive is if something is learned from our failures, generally with the idea of making sure they don't happen again.
This is a concept that apparently Dwayne Bowe has not been able to grasp, despite having numerous opportunities to do so.
The Chiefs wide receiver is at it again. Rather than getting as far away from the controversy involving the ESPN the Magazine article about the road trip habits of his teammates in 2007, Bowe has again opened his yap and breathed new life into what was a dead story.
Speaking on an Atlanta radio station last week while attending a football camp, Bowe again said he was misquoted by the writer of an article about road trip stories from athletes. In that piece, Bowe said in his rookie season on a trip to San Diego, some of his teammates arranged for various women to stay in the team's hotel during the Chiefs visit there. His claims of an entire top floor of women flown in by Chiefs players was scandalous on the surface and ridiculous and likely fabricated in reality.
When asked by the show hosts on 790 the Fan if he took some grief from teammates over the incident, Bowe said:

"No, because now they are finding out that it definitely wasn't me. Definitely, but I took that like a man. People that really know the Dwayne Bowe that clowns but on a serious note won't let anything out of the locker room that is not supposed to be out." …Read More!