It has been a mad scramble over the weekend as we celebrated the graduation of our youngest with her Masters of Science in Speech Pathology from the University of Tulsa. As a parent, you always hope your children are smarter than you; that was not too hard for Liz, but she went above and beyond to get it done. Congratulations sweetie!
Now back to work as we catch up on a number of items from around the world of pro football.
WHERE IS JOHN HENDERSON?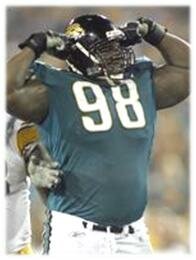 He is not at Arrowhead Stadium. He's not going through the off-season program with the New York Giants. John Henderson remains unemployed several weeks after his release by the Jacksonville Jaguars.
Why? There could be several factors at work here, but likely the biggest reason is an over-estimation of his value to his next team. Simply: he wants too much money. This happens a lot when long-time veterans are cut loose by their old team and they view it as a chance to cash in at the pay window.
If that's the case, it sends a message about what this player thinks is important. If that's the case, it would seem to diminish the chances of Henderson landing with the Chiefs. Pioli/Haley are not looking for guys seeking a pay day. They are looking for players "that fit" their mold.
DEFENSIVE ROOKIE OF THE YEAR SUSPENDED

Houston Texans LB Brian Cushing, the NFL's defensive rookie of the year last season, got slapped for a four-game suspension by the league under the performance enhancing drugs category.
Rumors of PED use by Cushing go back to his days at Southern Cal and it was a charge that the linebacker denied, saying he never tested positive. Even after the NFL suspension, Cushing denies using PEDs, saying in a statement released by his agent that the suspension was due to a "non-steroidal banned substance."
 That line alone tells us who to blame for this situation: Cushing. OK, it wasn't a steroid, but it was banned by the league, so it might as well have been a steroid. More than likely it was a diuretic-type substance or a similar type of masking agent. No matter, players are provided a significant amount of information and education on what they can use in their bodies and what they can't. They may dislike the whole idea of the NFL being able to tell them what they are allowed to ingest.
And if they want to take a stand that's fine – leave the league and go make millions doing something else. That cases like this keep popping up in the NFL tells us that setting up rules only starts a clock on those seeking a way to beat the regulations.
Another factor here that's bothersome for the NFL: Cushing is the third defensive rookie of the year in the last eight that has received an NFL suspension for PEDs. The others were San Diego LB Shawne Merriman (2005) and then Carolina DE Julius Peppers (2002).
If the league is trying to get a message to young players about stopping the use of PEDs, it doesn't help matters when the top rookie gets nailed and other than losing four-game checks, there's little or no ramifications. Look at Peppers. He cashed in this year – his first chance to be a true free agent – with a contract that includes $40 million in guaranteed dollars.
PACMAN RETURNS ON MONDAY

World out of the Queen City of Cincinnati is that on Monday the Bengals will formally announce the signing of Pacman Jones to a two-year contract.
Is this something the NFL really needs? Pacman has been arrested six times and been involved in a dozen incidents where police were called during the time since he came out of the University of West Virginia as a first-round choice in the 2005 NFL Draft. He's been suspended by the league for a handful of games and for an entire season, 22 games in all.
But still there's a team that is willing to take a chance on him. It's no surprise that it would be the Bengals. We obviously see now that the football ruler of the franchise Mike Brown does not view familiarity with law enforcement officials to be a negative. Brown sees himself as the NFL's Father Flannigan, welcoming troubled young men to his Boy's Town in Cincinnati.
In '05-06, Pacman was a remarkable contributor to the Titans, contributing five TDs on defense and special teams. In the three seasons since then, he's played in only nine games and has not sniffed the end zone.
Just what Jones can bring to the Bengals at this point is unknown. They have a pair of pretty good cornerbacks and they used a high draft choice just a few weeks ago on another (3rd-round pick Brandon Ghee.) They were a division winner in '09 and they made the playoffs.
Do the Bengals need Pacman? Not as much as Pacman needs the Bengals and that apparently is enough to get the attention of Father Flannigan Brown.
LAWRENCE TAYLOR AND HIS TRAVAILS

Scum … that may be too nice a word to describe Lawrence Taylor, his behavior and lifestyle.
My definition of scum is someone who knows better, has been caught and disciplined for his actions and stupidity, but continues to take part in those actions and stupidity.
Taylor becomes has become the poster scum for this type of person. It's time for the justice system to open the cell door and slam it behind him. Heaven knows if there's any chance he can change his behavior. But rehab – whether for drugs, booze or sexual addictions – hasn't done anything to alter this man's perspective on tomorrow.
Maybe the Graybar Hotel can do that.