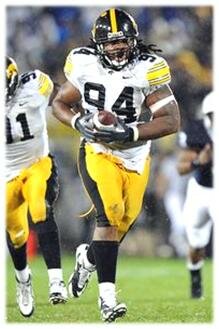 Here's a look at the preliminary list of the top defensive players for the 2011 NFL Draft.
This list of players includes several who will be juniors this fall, but are expected to declare for draft consideration.
DEFENSIVE END

Adrian Clayborn/Iowa (right), 6-3, 282 pounds. The St. Louis native exploded last year for Kirk Ferentz and his Hawkeyes defense, and Clayborn ended up being named the MVP of Iowa's Orange Bowl victory over Georgia Tech with nine tackles and two sacks.
Over his career in Iowa City, he's taken part of 140 total tackles, 30.5 tackles for loss and 15.5 sacks. Last season, he started all 13 games at defensive end, with 70 total tackles, 20 tackles for loss, 11.5 sacks and four forced fumbles. He also blocked a punt against Penn State that turned into a touchdown for Iowa. His performance earned him first-team All-Big 10 honors.
In February he pleaded guilty to an assault charge involving an altercation with a taxi driver. Clayborn played at Webster Groves High School.
DEFENSIVE TACKLE

Marcell Dareus/Alabama (junior) (left), 6-4, 296 pounds. Dareus changed the direction of the BCS National Championship Game back in January when he tackles Texas QB Colt McCoy on his right shoulder. McCoy left the game and did not return. Dareus also picked off that ill-advised Texas shovel pass late in the second quarter and returned it 28 yards for a TD. That earned him defensive MVP honors for the game.
In 22 games for the Crimson Tide, Dareus has 37 total tackles, nine tackles for loss and 6.5 sacks. He played in nine games and made four starts last season, contributing 25 total tackles, 8.5 tackles for loss and 6.5 sacks.
OUTSIDE LINEBACKER

Von Miller/Texas A&M, 6-3, 240 pounds. Miller was a second-team All-America selection and first-team All-Big 12 defense for his play during the '09 season for the Aggies. Over his career he's contributed 110 total tackles with 22 sacks.
Last year, he led the nation's pass rushers with 17 sacks, along with 43 total tackles and 21.5 tackles for loss. Miller considered leaving College Station for the '10 NFL Draft, but eventually decided to return for his senior season.
INSIDE LINEBACKER

Quan Sturdivant/North Carolina, 6-2, 235 pounds. The North Carolina native has played middle linebacker and strong side outside linebacker for Butch Davis' defense with the Tar Heels. In three seasons, he's had 249 total tackles, four sacks, two forced fumbles and three interceptions, including one that he returned for a touchdown.
Last year, he had 80 total tackles with one sack and one forced fumble.
CORNERBACK

Patrick Peterson/LSU (junior) (right), 6-1, 211 pounds. A product of the ultra-competitive football fields of Florida, Peterson played 13 games as a true freshman, including starting the final four games. He had 41 total tackles, one interception and a forced fumble.
Peterson came back as a sophomore in '09 with 47 total tackles, two interceptions and a recovered fumble. He also broke up 13 passes. Two years ago, he legally changed his last name from Johnson to Peterson.
SAFETY

DeAndre McDaniel/Clemson, 6-1, 210 pounds. He's another Florida native who has been very productive in his first three seasons at Clemson. McDaniel has 200 total tackles, two sacks, four forced fumbles and 11 interceptions while playing for the Tigers.
Last season, Mc Daniel was one of the most productive defensive players in the ACC, especially with his eight INTs, including one that he returned for a touchdown. He also had 98 total tackles with two sacks.