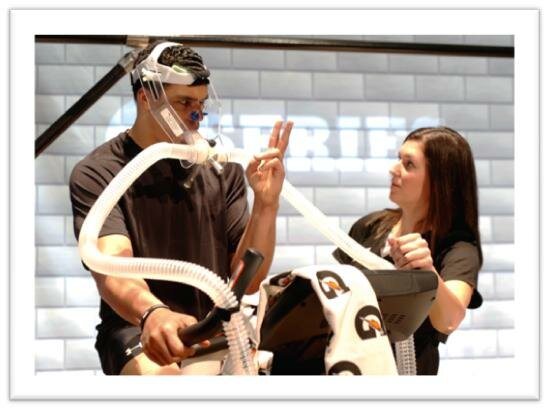 From Fort Lauderdale, Florida

Tony Gonzalez hoped by leaving the Chiefs and joining the Atlanta Falcons he would be playing on Sunday in Super Bowl XLIV.
Instead, he's here in south Florida on the same ticket that has taken him to Super Bowls in the past: as a celebrity doing promotional appearances. He visited the Gatorade Performance Lab (above, with Gatorade Sports Science Institute scientist Melissa Tippet) where he took part in physical testing. It was right up his alley of doing everything he can to help his body play another year of pro football.
Everyone can see him go through the testing with former Denver-Baltimore TE Shannon Sharpe on the CBS Super Bowl Pre-Game Show on Sunday.
As always, Gonzalez has been very busy. He's written a combination cook book-nutrition guide called "The All-Pro Diet." He and his wife October will welcome their second child next month as River Christian Gonzalez is schedule to arrive on March 15th.
And he says he's going to play at least one more season and he thinks the 2010 Atlanta Falcons will be the best team he ever played on.
Here's Tony Gonzalez from the Super Bowl.
Podcast: Play in new window | Download