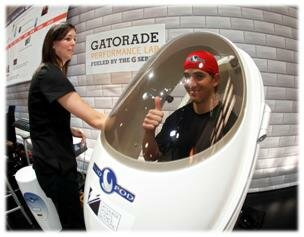 From Fort Lauderdale, Florida

Eli Manning owns a Super Bowl ring from the New York Giants victory two years ago over the New England Patriots. This Sunday, he'll be at Sun Financial Field to watch his brother Peyton go for a second championship as the Indianapolis Colts face the New Orleans Saints.
Manning makes no bones about the fact he'll be rooting for his brother, but he also talks about the Saints, his hometown team when he was a kid growing up in New Orleans.
Those were just some of the subjects Eli talked about as he visited the Gatorade Performance Lab at Super Bowl XLIV. That's Eli in the red cap, getting in the Bod Pod testing system used by the folks from Gatorade. Enjoy the conversation.
eli for web site
Podcast: Play in new window | Download