Tickets to the Super Bowl are ready to be punched on Sunday as the AFC and NFC Championship. The games will go down in Indianapolis and New Orleans, with the home teams both favored to win.
Some of the best players in the game today are ready to play for a chance to become the 44th winner of the Vince Lombardi Trophy.
NEW YORK JETS @ INDIANAPOLIS, LUCAS OIL STADIUM, 2 P.M.

The Indianapolis Colts/AFC South champion/15-2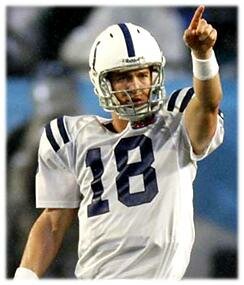 There have been a lot of changes around Indianapolis in the last year.
But the fact the Colts are in their third AFC Championship Game this decade speaks to the one factor that doesn't change: Peyton Manning.
The NFL's 2009 MVP knows there are a lot of teammates like him that have been in this situation before, and that there are a lot of teammates who are getting their first taste of championship football.
"I have always felt that experience is your best teacher, as long as you use the knowledge that you gained from the experience," Manning said this week. "I think that is important. We have a lot of young players, a lot of rookies that are playing prominent roles for us this year; I know they will be excited. But I think all the veteran players, guys that have been in this game before, will be equally as excited. It's just a great opportunity."
The '09 season was very different for the Colts. Tony Dungy was out and Jim Caldwell was in as head coach. Marvin Harrison was gone at wide receiver and guys like Austin Collie and Pierre Garcon got their opportunities, as did rookie RB Donald Brown.
"There certainly was a lot of unknown to start the season," said Manning. "Certain guys looked good in practice, but you just don't know how certain players will respond once you get into game situations. It is one thing to look good in training camp, but do you look as efficient once the lights turn on? We had a number of young guys that really stepped up. The game never seemed too big for them. Guys like Pierre Garcon, Donald Brown, and Austin Collie. I think that was critical when those guys were called on to make plays for us and to fulfill some critical roles.
"You have to kind of go through the experience to see how they are going to respond. They have done a good job all season. They have gotten better. They have learned a great deal in their first season or second season. So from that standpoint, it has been gratifying to see these guys mature as players, become better football players, and to see how the veterans really helped those young guys come along."
Now, those young guys have to deal with a talented Jets team that just a few weeks ago handed them a 14-point defeat and the pressure of a conference championship game that their veteran teams expect to win.
"Playoffs are just a different environment, a different atmosphere," said TE Dallas Clark. "They're (the Jets) playing really good football right now. For them to go into Cincinnati, go into San Diego and play those teams and to beat them says that.
"It's going to take a tough-fought, four-quarter game from us to win."
The New York Jets/AFC East wildcard/11-7

Darrelle Revis comes out of Aliquippa, Pennsylvania, a football-rich environment that has produced the likes of Mike Ditka, Tony Dorsett, Ty Law and many others. After his 2009 performance, he's well on his way to having his name spoken in the same sentence as the others.
Under head coach Rex Ryan's defensive plan for the Jets, each and every game Revis gets the other team's best receiver. There's no left and right corner in New York's defense. The biggest receiving threat is the man Revis covers all over the field.
That's just the way he likes to play the game.
"I have been playing cornerback since I was seven and started football," Revis said. "I guess it just always stuck with me. I played a couple of other positions, but I always just liked what a cornerback does –getting interceptions, coming up tackling, and just watching receivers and trying to shut them down.
"I did want to grow up wanting to be like a Deion Sanders, like a Ty Law, like a Darrell Green, like a Mel Blount. Now I guess it is happening, but you still have to work hard and prove yourself every year."
This season, Revis had six interceptions, including one that he returned 67 yards for a touchdown. Opposing receivers had a difficult time producing against him. He held Houston's Andre Johnson to 35 yards and Cincinnati's Chad Ochocinco picked up just 28 yards in two games. In a pair of AFC East games against Randy Moss, he held him to 58 yards with a TD. Buffalo's Terrell Owens managed only 44 yards in two games, while Marques Colston of the Saints had to 33 yards and Carolina's Steve Smith managed only five yards. That's nine games against six receivers, all of whom have been selected for the Pro Bowl, and Revis allowed an average of 22.6 yards.
Those types of numbers are why Revis was considered for the Defensive Player of the Year Award. He received 14 votes, while Green Bay's Charles Woodson won the award with 28. That result had Ryan talking about how Revis got screwed out of an honor that he deserved.
"It was a tough decision this year," Revis said. "Charles Woodson had a great year too, and I voted for him. I am a fan of his. Like I said before, it is an award going into the season that you don't know if you will get or not. I didn't have it on my list of goals.
"I didn't get it, I wish I would have. You can't be down about it, because there are a lot of great players in the NFL."
He'll see several of those great players when playing the Colts, including the man he'll spend most of his time watching, Reggie Wayne. When these teams played a few weeks ago, Wayne had just three catches for 33 yards before he was pulled from the game in the third quarter.
"I'm not sure there are many real shutdown corners in the game," said Ryan. "But Darrelle Revis is one of them."
MINNESOTA @ NEW ORLEANS, SUPERDOME, 5:40 P.M.

The New Orleans Saints/NFC South champion/14-3

It always happens when one half of a football team is so dominant; the other side doesn't get enough attention.
Such is the case with the Saints defense under the direction of Gregg Williams. There's no question now that New Orleans has reached this point of the '09 season in large part because of the addition of Williams this season as defensive coordinator.
"Sean told me he wanted this defense to play with a swagger, to play the way our offense plays," Williams told the media this past week. "It starts with attitude first defensively.  I think there was a lot of attitude plays that started early in the season that carry over and confidence kind of is contagious, it catches on.  Then all of a sudden now they believe it's their idea.  It's not my idea.  They buy into it.  Empowerment is powerful."
Williams has been very successful during his coaching career that goes all the way back to Belton and Excelsior Springs High School by empowering players. The only point it did not work was during his stint as head coach of the Bills. His teams went 17-31 in three seasons.
"I've always been able to kind of get people to buy in and get people to believe it's their idea," Williams said. "Sometimes it takes a lot longer to walk them down the path instead of forcing it down their throat.  I think that's short-term success any time the old dictatorial or authoritarian type coaching that went on in years past, I don't think that's a way to handle the new players.  Now I'm old school in the respect that if I can't get you to walk down the path, I'm probably going to get you to walk out the door. But we're going to go the extra mile with a talented guy.  Get him to understand that the team's first."
Talented players are a must to be able to reach the NFC Championship Game, and they are vital if the Saints are going to be able to control the Minnesota offense as devised by Vikings head coach Brad Childress. 
"I think they're very sound on the line of scrimmage," Williams said of the Vikings offense.  "I think the running backs are special, and I say backs because I've had tremendous respect for Chester (Taylor) ever since he was at Baltimore. Adrian Peterson, he's special.  They've been able to get some receivers in there that can make big plays.  I've tried to speak with as many coaching friends and confidantes as I could this week that play in that division.  And every one of them made sure they tried to make an impression with me in a conversation I've had with them about what a talented young athlete Percy Harvin is." 
Then there's Brett Favre.
 "You've got to try to throw a wrinkle out there," Williams said. "You've got to try to do something to create doubt and change it up.  I know he's going to go back and look at some of those things just as I have.  But it comes down to players making plays.  Hopefully we can try to affect the clock in his head a little bit and affect some of the guys that are trying to help him win also.  But we do try to change up as much as we can from time to time. "
Minnesota Vikings/NFC North champion/13-4

Coming into the 2009 season, Sidney Rice was a disappointment. The 44th player selected in the 2007 NFL Draft out of the University of South Carolina, Rice had just 46 catches for 537 yards in 26 games with the Vikings.
The '09 season was going to be huge for Rice. He needed to establish the fact he was a consistently viable receiving threat or his future with the club would be very tenuous.
So if you want to know what QB Brett Favre has meant to the Vikings, just ask Rice. He finished the seasons with 83 catches for 1,312 yards and eight scoring plays. He caught six passes for 176 yards against Baltimore, and then 10 catches for 136 yards against Pittsburgh – two of the best defenses in the league.
"I knew what I was capable of doing," Rice said this week. "It was just a lot of people were doubting me and things like that. My main thing was to stay healthy and be able to be out there on the field and perform at a high level."
One of the things Rice did before he even knew Favre was the Vikings quarterback was an off-season workout program with former Vikings receiver Cris Carter, Cowboys RB Marion Barber and Cardinals receiver Larry Fitzgerald. It was a grueling amount of work in a short period of off-season time.
"Those guys, they have the talent but their work ethic is just amazing and I learned that from those guys," said Rice. "That's why I'm always out here after practice catching extra balls, running, sprinting to the end zone on the last play of each period, things like that. It's not just myself. It's the other guys around and that's what makes this team so good. "
Carter is known for being very hard on under-performing players that take part in these off-season workouts. He was certainly hard on Rice.
"It was pretty crazy," he said. "(Carter) grilled me a little bit and Larry Fitzgerald was standing there the whole time saying, 'You going to let him talk to you like that?' I just told him I'd wait until the season and prove him wrong. I'm the type of guy that takes criticism and I use it for the good. I actually use that for the motivation as I was working out. "
The motivation worked, as he turned in one of the best seasons by a receiver in the league during the '09 season and he followed that up in the Vikings victory last weekend over Dallas. Rice caught six passes for 141 yards and three touchdowns.
"I knew what I was capable of doing and kept doing all along," said Rice. "It was just a lot of people were doubting me and things like that. My main thing was to stay healthy and be able to be out there on the field and perform at a high level."
 CHAMPIONSHIP SUNDAY INJURY UPDATE

INDIANAPOLIS – CB Jerraud Powers was downgraded to doubtful for the game because of a left foot injury. The rookie did not practice all week. Definitely out for the Colts is kicker Adam Vinatieri.
NEW YORK JETS – DE Shawn Ellis (broken left hand), LB David Harris (right ankle) and LB Bart Scott (left ankle) were all limited in practice on Friday, but they are expected to play against Indianapolis.
NEW ORLEANS – TE Jeremy Shockey did not practice all week because of a knee injury, but he is expected to play against the Vikings
MINNESOTA – WR Percy Harvin missed two days of practice because if migraine headaches, but he made the trip south with the Vikings on Saturday. His ability to contribute and play will be a pre-game decision.
SIGNINGS, HIRINGS, NEWS & NOTES AROUND THE LEAGUE

BENGALS – will raise ticket priced $3 per game for lower level seats and $1 per game for upper level seats. The team's average ticket price for 2010 will be $73.34.
BILLS – hired Curtis Modkins (Cardinals) as offensive coordinator. Modkins was the Chiefs running back coach in '08, after coaching with Chan Gailey at Georgia Tech.
BRONCOS – hired Bob Ligashesky (Steelers) as tight end coach and Eric Studesville (Bills) as running backs coach; moved Clancy Barone to offensive line coach and Ben McDaniels to quarterbacks coach.
PATRIOTS – have decided not to raise ticket prices for 2010, according to the Boston Herald. The paper reports the Pats average ticket price in '09 was $117.84.
RAIDERS – did not renew contracts for assistant coaches Aaron Pelch (assistant special teams), Rich Scangarello (offensive quality control) and Bert Leone (defensive quality control).
REDSKINS – will retain Steve Jackson as safeties coach and they hired Sean McVay as an offensive assistant.
FROM THE PAGES OF SUPER BOWL HISTORY

On January 24, 1982, the San Francisco 49ers beat the Cincinnati Bengals 26-21 in Super Bowl XVI at the Silverdome in Pontiac, Michigan. It was the first title for the Niners, but not the last. It was also the first northern Super Bowl, but not the last.
The then young 49ers with head coach Bill Walsh jumped to an early lead, scoring the game's first 20 points. QB Joe Montana found the end zone on a one-yard run, and he then hit FB Earl Cooper for an 11-yard scoring pass. Ray Wersching kicked a pair of FGs. Cincinnati got back into the game with a five-yard TD run by QB Ken Anderson, who then threw a four-yard TD pass to TE Dan Ross.
Wersching kicked two more field goals that kept San Francisco in charge. Anderson and Ross combined on a three-yard score to keep the difference close. Montana was named the game's MVP even though he threw for a paltry 157 yards. He ran for another 18 and was involved in two touchdowns. Ross finished with 104 receiving yards on 11 catches and teammate WR Cris Collinsworth had 107 yards on five catches.
Diana Ross sang the national anthem, while Up With People handled the half-time show, a salute to the music of Motown. Pat Haggerty was the referee. The game was broadcast on CBS, with Pat Summerall and John Madden handling commentary. A 30-second commercial cost $324,000.
SAY HAPPY BIRTHDAY …

Born on January 24, 1980 in Cincinnati was LB Rocky Boiman. He joined the Chiefs during the 2008 season after playing six seasons with the Titans and Colts. Boiman played in 11 games with the Chiefs in '08, starting nine times. He finished the season contributing 75 total tackles and forcing one fumble on defense. He added six tackles in the kicking game.
Born on January 24, 1966 in Camilla, Georgia was S Danny Copeland. He joined the Chiefs in 1989 as a free agent after being selected in the 1988 NFL Draft by the Browns in the ninth round. Copeland played two seasons with the Chiefs (1989-90), appearing in 30 games with one start. He had 36 total tackles on defense and 34 special teams stops. He also returned 26 kickoffs in '89 for an average of 17.9 yards.
Born on January 24, 1982 in Atlanta was LB Keyaron Fox. He was selected in the third-round of the 2004 NFL Draft out of Georgia Tech. Fox played four seasons with the Chiefs (2004-07), appearing in 40 games with four starts. He had 66 total tackles on defense, with one sack. Fox also contributed 38 tackles in the kicking game. He signed as an unrestricted free agent with Pittsburgh in 2008 and won a Super Bowl ring that season with the Steelers.