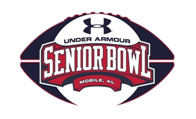 The Senior Bowl week begins Monday with the first practices of the week. Almost all of the NFL will be there by Tuesday, from GMs, to head coaches and all the personnel folks.
The quality of the people watching practice will exceed those that they watch. While there may be several last minute additions and/or deletions, the players in Mobile, Alabama this week does not include the names that will be taken early in the first round. The top quarterbacks, running backs, wide receivers, tight end, offensive and defensive linemen, linebackers and defensive backs. It's doubtful the Chiefs choice at the No. 5 pick will be playing in this game.
There are only two of the top 20 or 25 players taking part: OT Trent Williams from Oklahoma and CB Patrick Robinson of Florida State. Most of the players on both rosters are considered good enough to be selected in April's NFL Draft.
In the last five drafts, the Chiefs selected 43 players. A dozen of those players participated in the Senior Bowl: 2009-Alex Magee, 2008-Brad Cottam and Barry Richardson, 2007-Dwayne Bowe, Tank Tyler and Kolby Smith, 2006-Tamba Hali and Brodie Croyle, 2005-Dustin Colquitt, Craphonso Thorpe, Alphonso Hodge and Jeremy Parquet.
Here is the list of invitees by position that will work with the coaching staffs of the Detroit Lions and Miami Dolphins:
Quarterbacks

 Player
 School
 HT
 WT

Proj.


Round

Jarrett Brown
West Virginia
6-4
223

7

Sean Canfield
Oregon State
6-4
214

4

Dan LeFevour
Cent. Michigan
6-3
238

5

Tony Pike 
Cincinnati 
6-6 
225

5

Zac Robinson
Oklahoma State
6-3
218

7

Tim Tebow
Florida
6-3
240

3
Running Backs

Joique Bell

Wayne St.

6-1

223

7

LeGarrette Blount

 

Oregon

 

6-2

 

240

 

5

Chris Brown

Oklahoma

5-10

200

5

Anthony Dixon

Miss. State

6-1

235

3

Montario Hardesty

Tennessee

6-0

215

3

Rashawn Jackson (FB)

Virginia

6-1

245

7

Stafon Johnson

 

Southern Cal

5-11

 

210

 

6

Dexter McCluster

 

Mississippi

5-8

 

165

 

4

Lonyae Miller

 

Fresno State

 

5-11

 

215

 

7

Charles Scott

 

LSU

 

6-0

 

234

 

4

Ben Tate

 

Auburn

 

5-11

 

218

 

4
Wide Receivers

| | | | | |
| --- | --- | --- | --- | --- |
| Danario Alexander | Missouri | 6-5 | 215 | 3 |
| Riley Cooper | Florida | 6-3 | 215 | 4 |
| Dorin Dickerson (FB) | Pitt  | 6-2  | 230  | 3 |
| Jacoby Ford | Clemson | 5-9 | 175 | 4 |
| Mardy Gilyard | Cincinnati | 6-1 | 187 | 2 |
| Shay Hodge | Mississippi | 6-1 | 207 | 5 |
| Brandon LaFell | LSU | 6-3 | 206 | 2 |
| Chris McGaha  | Arizona State  | 6-1  | 199  | 5 |
| Taylor Price  | Ohio  | 6-1 | 212 | 7 |
| Andre Roberts  | The Citadel  | 5-11  | 190  | 3 |
| Joe Webb | UAB | 6-4 | 220 | * |
| Jeremy Williams  | Tulane  | 6-1  | 205  | 3 |
* position change from QB
Tight End

| | | | | |
| --- | --- | --- | --- | --- |
| Ed Dickson  | Oregon  | 6-5 | 235  | 2 |
| Garrett Graham  | Wisconsin  | 6-3  | 250  | 3 |
| Jimmy Graham | Miami | 6-8 | 260 | 4 |
| Mike Hoomanawanui  | Illinois  | 6-5  | 270  | 5 |
| Anthony McCoy | Southern Cal | 6-2 | 250 | 2 |
| Colin Peek | Alabama | 6-6 | 255 | 6 |
Offensive Line

| | | | | |
| --- | --- | --- | --- | --- |
| Jon Asamoah/G | Illinois  | 6-5  | 315  | 3 |
| Zane Beadles/G | Utah  | 6-4  | 305  | 4 |
| Ciron Black/T | LSU | 6-5 | 322 | 3 |
| Charles Brown/T | Southern Cal | 6-6 | 285 | 2 |
| Jeff Byers/G | Southern Cal  | 6-6  | 285  | 7 |
| Selvish Capers/T | West Virginia  | 6-5  | 298  | 2 |
| Vladimir Ducasse/G | Massachusetts | 6-5 | 330 | 2 |
| Mike Iupati/G | Idaho | 6-6 | 325 | 2 |
| John Jerry/G | Mississippi | 6-5 | 350 | 4 |
| Mike Johnson/G | Alabama  | 6-6  | 305  | 3 |
| Ted Larsen/C | NC State  | 6-2 | 296 | 7 |
| Shawn Lauvao/G | Arizona State  | 6-3  | 305  | 6 |
| Eric Olsen/C | Notre Dame  | 6-5  | 305  | 7 |
| Mitch Petrus/G | Arkansas  | 6-4  | 315  | 5 |
| Matt Tennant/C | Boston College  | 6-4  | 294  | 3 |
| J.D. Walton/C | Baylor  | 6-3  | 305  | 3 |
| Ed Wang/T | Virginia Tech  | 6-5   | 309  | 4 |
| Trent Williams/T | Oklahoma  | 6-6  | 318  | 1 |
| Sam Young/T | Notre Dame  | 6-8  | 320  | 4 |
Defensive Line

| | | | | |
| --- | --- | --- | --- | --- |
| Tyson Alualu/DT | California | 6-3 | 290 | 4 |
| Geno Atkins/DT | Georgia | 6-1 | 290 | 3 |
| Alex Carrington/DE | Arkansas St. | 6-5  | 284  | 7 |
| Terrence Cody/DT | Alabama | 6-5 | 365 | 2 |
| Antonio Coleman (OLB) | Auburn | 6-3 | 261 | 7 |
| Brandon Graham/DE | Michigan | 6-2 | 263 | 2 |
| Lamarr Houston/DT | Texas  | 6-2  | 300  | 3 |
| Jerry Hughes (OLB) | TCU | 6-3 | 257 | 2 |
| Brandon Lang (OLB) | Troy | 6-3 | 256 | 4 |
| Jared Odrick/DT | Penn State  | 6-5  | 296  | 2 |
| Jeff Owens/DT | Georgia | 6-3 | 300 | 5 |
| George Selvie/DE | So. Florida | 6-4 | 250 | 2 |
| D'Anthony Smith/DT | Louisiana Tech  | 6-2  | 300  | 3 |
| Cam Thomas/DT | North Carolina  | 6-3  | 325  | 5 |
| Dan Williams/DT | Tennessee | 6-3 | 327 | 1 |
| C.J. Wilson/DE | East Carolina | 6-4 | 278 | 4 |
Linebacker

| | | | | |
| --- | --- | --- | --- | --- |
| Pat Angerer/ILB | Iowa  | 6-1  | 235  | 4 |
| Donald Butler/ILB | Washington  | 6-1  | 235  | FA |
| Jamar Chaney/ILB | Mississippi St. | 6-1 | 245 | 3 |
| Koa Misi/OLB | Utah  | 6-3  | 263  | 6 |
| Roddrick Muckelroy/OLB | Tennessee  | 6-2  | 235  | 3 |
| Eric Norwood/OLB | So. Carolina | 6-1 | 252 | 2 |
| Darryl Sharpton/ILB | Miami | 6-0 | 235 | 5 |
| Cameron Sheffield/OLB | Troy | 6-2 | 249 | 7 |
| Daryl Washington/ILB | TCU | 6-3 | 234 | 3 |
| Dekoda Watson/OLB | Florida State  | 6-2  | 228  | 5 |
| Sean Weatherspoon/OLB | Missouri  | 6-2  | 250  | 2 |
Defensive Back

| | | | | |
| --- | --- | --- | --- | --- |
| Nate Allen/S | South Florida | 6-2 | 207 | 3 |
| Javier Arenas/CB | Alabama | 5-9 | 198 | 2 |
| Larry Asante  | Nebraska  | 6-1  | 214  | 3 |
| Harry Coleman/S | LSU | 6-2 | 206 | 4 |
| Chris Cook/S | Virginia | 6-2 | 210 | 6 |
| Perrish Cox/CB | Oklahoma St.  | 6-0  | 198  | 1 |
| Trevard Lindley/CB | Kentucky | 6-0 | 179 | 3 |
| Taylor Mays/S | Southern Cal  | 6-3  | 235  | 1 |
| Kyle McCarthy/S | Notre Dame  | 6-1  | 210  | 6 |
| Devin McCourty/CB | Rutgers  | 5-11  | 190  | 3 |
| Jerome Murphy/CB | South Florida  | 6-1  | 192  | 5 |
| Patrick Robinson/CB | Florida St. | 5-11 | 193 | 1 |
| Myron Rolle/S | Florida St.  | 6-2  | 218 | 6 |
| Terrell Skinner/S | Maryland | 6-3 | 214 | 7 |
| Syd'Quan Thompson/CB | California  | 5-9  | 191  | 3 |
| Kyle Wilson/CB | Boise State  | 5-10  | 186  | 2 |
Punter

| | | | | |
| --- | --- | --- | --- | --- |
| Zoltan Mesko  | Michigan  | 6-5  | 231  | 6 |
| Matt Dodge | East Carolina | 6-2 | 220 | FA |
Kicker

| | | | | |
| --- | --- | --- | --- | --- |
| Leigh Tiffin  | Alabama  | 6-2  | 212  | 7 |
| Brent Swenson | Michigan State | 5-8 | 185 | 6 |
Snapper

| | | | | |
| --- | --- | --- | --- | --- |
| Mike Windt  | Cincinnati  | 6-2  | 250  | FA |
| Morgan Cox  | Tennessee  | 6-4  | 226  | FA |