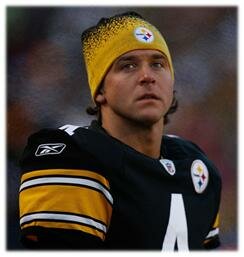 The Chiefs were busy on the transactions front Wednesday, just about 36 hours before the start of free agency in the NFL.
They released a pair of veteran players who finished the 2009 season on the injured-reserve list: WR Devard Darling and RB Dantrell Savage.
And they signed journeyman QB Tyler Palko (left).
At 6-1, 215 pounds, Palko has bounced around over the last three seasons since he left the University of Pittsburgh. He went undrafted and was signed as a free agent by New Orleans. Palko spent most of the '07 season on the Saints practice squad and was cut before the start of the '08 season. He was signed in December '08 by Arizona and went to training camp with the Cardinals in '09 but was released.
Last year, Palko signed with the California Redwoods of the UFL but was released before the start of the season. That took him to the Canadian Football League where he signed with the Montreal Alouettes. But he was allowed out of his contract last December when he was signed by Pittsburgh as a backup quarterback when both Ben Roethlisberger and Charlie Batch were injured. Palko was on the game-day roster for one game, but did not play. 
Palko played his high school ball at West Allegheny High School in Imperial, PA, which is a few miles due south of the Pittsburgh International Airport. His college career at Pitt saw him in the starting lineup for three seasons (2004-06). In the spring of '05, Palko was selected the starter over another QB on the Panthers roster, Joe Flacco. When Flacco was not selected as the starter, he finished out the year and then transferred to Delaware.
Darling spent the '09 season on the IR-list due to a knee injury (ACL) suffered at the end of pre-season. He joined the franchise as an unrestricted free agent from Baltimore n 2008. That season he played all 16 games, finishing with 17 catches for 247 yards and a TD. He also had 11 tackles in the kicking game.
Savage made the team as a college free agent in 2008 after a college career at Oklahoma State and Mississippi Gulf Coast C.C. At 5-8, 182 pounds, Savage was under-sized physically, but that did not include his heart. An ankle problem sent him to the IR-list last season. He finished his time in Kansas City with 25 carries for 98 yards, nine catches for 51 yards, 14 punt returns for 53 yards and 34 kickoff returns for 793 yards.