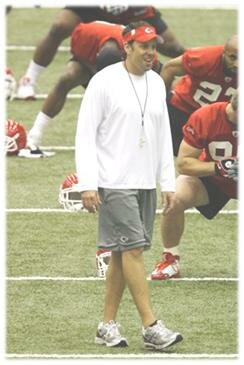 Say this for the guys in the Chiefs locker room – they've bought in lock, stock and barrel. He may drive them crazy sometimes, ruffle their feathers and bruise their feelings, but Todd Haley has won over his roster, and won it over in a big way.
With one exception, the Chiefs were present and accounted for on Monday with the first OTA practice session. That pretty much matches the attendance numbers that Haley has seen from the team's strength and conditioning program that began in the last days of March.
That's 85 players on the roster and 84 in the house. Thanks to the TI-1795 calculator, I can tell you that's 98.82352 percent of the team.
Remember, these are voluntary practices. Players attend only if they want to keep their spot on the Chiefs roster for the coming season. That's right – 84 men want to be part of a team that went 4-12 last year and has gone 10-38 in the last three years.
Why? Because of what Haley has established in his first 16 months on the job. Through all the histrionics of last season, the tantrums by the head coach and some of the players and the sideline shouting matches, Haley has connected with his players.
We saw that late in the season when the Chiefs continued to play hard, despite the growing number of defeats. They didn't always play smart or their best, but there was never a question about effort with the '09 Chiefs – they played hard every Sunday. They all want to win; many are desperate for the chance to achieve success in pro football. They listen to what Haley says, see what he and the organization have done, and they believe in the future.
That's grown in this off-season.
"This whole off-season has been a really good sign of commitment by everybody involved," Haley said. "This isn't just about today, it's really the last few months where these guys are really working and working together, and now we've got a chance to take another step towards the goals we're trying to reach."
We all know that progress has been made by this franchise when both Mike Vrabel and Brian Waters (right) show up and take part in the practice. Last year they stayed away, unhappy with their station in life and their position on the Chiefs roster. Vrabel had been traded by the Patriots and it was obvious that if he was going to leave New England, he would not have picked Kansas City as the place to land at the end of his career. Waters was unhappy with the team's losing and some of the changes that came with the upheaval of the entire organization. Then there was that incident between Waters and Haley where the head coach supposedly said something about pulling 22 guys off the street and being able to win two games.
Vrabel and Waters are part of the leadership group for the NFL Players Association, and staying away from the voluntary workouts last year was important for them in showing players that there was that option in the collective bargaining agreement.
So why were they on the field Monday, No. 50 with the first defense and No. 54 with the top offensive line?
"I wanted to be here for two reasons," said Waters. "One was to get with the team. There are a lot of new things we are putting in and I wanted to get familiar with all the nuances of the offense. Two, we've got a big year with the CBA and I wanted to make sure I got back to communicate with the players and make sure they are informed. This is the best time to do that.
"There are not too many teams that are going to have 100 percent participation, but it is always good when you can have the whole team together."
Vrabel's thoughts on leaving home in Ohio and taking part in the on-field work were about making more of what the Chiefs established last season.
"Every year, teams are going to be different," Vrabel told the Kansas City Star. "Some teams that had a really good season last year won't be very good this year and some teams that weren't very good last year will be good this season. We need to commit ourselves to being one of those teams."
Only one player on the roster was unwilling to make that commitment on Monday and that was veteran safety Jarrad Page. As a restricted free agent, Page would need to sign the contract tender offer presented to him by the club last February to take part in the practice. Either that, or sign an injury waiver that would cover him in case of career ending problems.
Although Page was not available Monday, there something obvious in his absence – he or the Chiefs want him to be somewhere else for the 2010 season.
Page lost his starting job last year before he suffered a season ending calf injury. He and Haley knocked heads several times over different issues throughout the year. With the selection of two safeties in the 2010 NFL Draft, the future in Kansas City does not look good for Page. He can see that as well. What minimal leverage Page has comes from staying away and hoping the Chiefs trade or release him. The Chiefs may have told him to stay away, intent on making a personnel move with him sometime soon.
It makes sense for the Chiefs to do one or the other and slice Page from the roster.
Waters touched on another factor in why he decided to break with recent tradition and take part in the work: his thoughts on the direction of the franchise.
"The difference in the last few years is you have an organization that is going the same way," Waters said. 'No matter where you stand or how you agree or disagree the fact you have the whole organization on the same page is a good thing."
Among the 84 players that showed up, all looked to be in good shape. They had to be because Haley ran them through some gassers at the end of practice. For players who came in early for the strength and conditioning workout, it made for a long, grueling day.
But then, that type of pace has been going down in the building since the end of March.
"We've had everybody here," said RB Thomas Jones. "We've all been working out and sweating together for weeks. This was just another day of that. It was business as usual."
That it has become business as usual for all but one member of the 2010 Chiefs tells us that they've made quite a bit of progress since a year ago at this time.
Todd Haley sees it, and only wants it to continue.
"That's the name of the game, continue to make progress," Haley said. "It was critical that we didn't take a step back, and there isn't anybody that I feel like took a step back. Everybody at least stayed where they were or even got a little better from a physical standpoint. Now, we continue to work and gain ground."
LEFTOVERS FROM OTA #1

Will Waters be involved in all the OTAs? "My plan is to be here for as many as possible," Waters said. "That's between me and the team."
Jones said getting his first taste of the Chiefs offense on Monday was no big deal. "I've played in a lot of different offenses over 10 years in the league," said Jones. "It's not too hard to pick things up."
Haley on QB Matt Cassel: "He's willing to do whatever's asked of him and generally when you have a player like that that's got ability, things are going to work out the right way for him. I think he understands that. He's all ears and he's at work right now – he's just had a baby, he's had some things that could've been distractions and you wouldn't know … He's a tough-minded guy. He's fired up; he's working his backside off and is putting himself in the best position to be successful."
RB Kolby Smith looked good running the ball … All the draft picks ran with the third-team units on offense and defense. That didn't stop No. 1 pick Eric Berry from filling nicely on a cutback gap; he would have blown up the running back with a big hit … the Chiefs actually ran some special teams drills, something not normally seen in the first OTA session of the off-season. Kicking game coordinator Steve Hoffman had his punt team working. It featured flyers Maurice Leggett and Donald Washington, with Jon McGraw as the personal protector and Thomas Gafford as the snapper. Across the front from left to right on the line of scrimmage were RB Jackie Battle, LB Derrick Johnson, LB Jovan Belcher, LB David Herron, LB Corey Mays and FB Tim Castille.
PERSONNEL FILE/MONDAY, MAY 17
BROWNS – signed DEs Martin Tavaseau and Brian Sanford, TE Ryan Moya, S Matt Harris, DT Kwaku Danso and K Leigh Tiffin.
BUCCANEERS – signed C Jeff Tow-Arnett and LB Chris Mauriello; released WR Damola Adeniji.
CARDINALS – signed LB Chris Johnson and WR Deryn Bowser.
CHIEFS – claimed TE Leroy Banks on waivers (Falcons); signed DE Jeffrey Fitzgerald and DB Andre Jones.
COWBOYS – C/G Cory Procter.
49ERS – signed 7th-round draft choice CB Phillip Adams to a 4-year contract.
RAIDERS – signed OT Daniel Loper; re-signed DL Ryan Boschetti
RAVENS – signed CB Travis Fisher (Seahawks) and S Brad Jones.
REDSKINS – signed UFA DE Vonnie Holliday (Broncos); signed WR Brandon Banks, CB Melvin Stephenson and WR Shay Hodge.
SEAHAWKS – released TE Jason Pociask.
VIKINGS – signed 7th-draft choice RB Ryan D'Imperio.