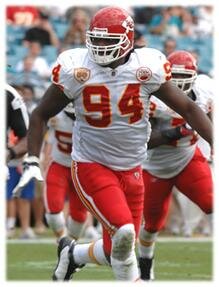 The Chiefs were next to last in run defense during the 2009 season.
With that kind of hole in their defense, Pioli/Haley apparently decided there were two answers to fixing the problem. First was the hiring of defensive coordinator Romeo Crennel. Second was improvement from within.
The Chiefs are obviously counting on significant improvement from within since they've added just two players in the front seven: draft choice OLB Cameron Sheffield and free agent NT Shaun Smith.
Haley wouldn't name names when it came to what players already on the roster must provide more production, but one of them is obvious: last year's No. 1 draft choice DE Tyson Jackson.
Most fans and observers of the '09 Chiefs called Jackson's rookie season performance a disappointment. He played all 16 games, started 14 times and finished the year with 31 tackles, no sacks, no fumbles caused, no fumbles recovered, no interceptions, knocked down two passes and put pressure on the quarterback four times.
There's no question that Jackson struggled with the transition to the NFL. He had a five-game stretch early in the season where he contributed a total of two tackles. There was another three-game stretch in November where he had two tackles. But he had seven tackles against Jacksonville, including two quarterback pressures. Against Buffalo, he had six tackles.
Every week was a learning experience for Jackson. Now, the Chiefs are expecting him to put those lessons into use in season No. 2. But what can the Chiefs reasonably expect from their second-year defensive end?
Let's start with another question: what can any team playing the 3-4 defensive scheme expect in the way of production from the guys on the end. A bit below we have a chart of all the starting d-ends in the 3-4 from last season. There were 13 teams that lined up in the 3-4. There were four teams in that group that identified one or both of the players on the end of the line as defensive tackles. In essence, they were defensive ends, so they are included with the group.
There were a total of 27 starting ends; Pittsburgh had three due to the season ending injury suffered by starter Aaron Smith after five games. Here some details on those DEs and their production:
The DEs averaged 50 tackles per man over the season. The most active tackler was San Francisco's Justin Smith with 90 total tackles. The N.Y. Jets Marques Douglas had 77 tackles and Johnny Jolly of the Packers contributed 75 tackles. At the other end of the spectrum was Denver's Ryan McBean who started 14 games, but had only 25 tackles. Jackson with his total of 31 tackles was in the bottom five for tackle production.
When it came to taking down the passer, those 3-4 defensive ends averaged 2.5 sacks on the season. The leading sackers were Arizona's duo of Calais Campbell and Darnell Dockett; they both had seven sacks. Smith had six sacks for the Niners. McBean and Jackson were the only DEs without a sack on the season.
Among the 27, there were 17 that took part in a turnover of some kind: either an interception, forced fumble or recovered fumble. Smith was part of four takeaways. Of the 10 that did not take part in a play that changed possession, the group included Jackson, along with the New England duo of Ty Warren and Jarvis Green.
OK, that was all 3-4 defensive ends. What about those guys playing on the better defenses, especially the best 3-4 defenses against the run? Of those 13 teams that used the 3-4, six were in the NFL's top 10 during the '09 season when it came to allowing the fewest rushing yards: Green Bay (1), Pittsburgh (3), Dallas (4), Baltimore (5), San Francisco (6) and New York Jets (8).
Among those teams the starting defensive ends averaged 56.5 total tackles.
So, if the Chiefs defense is going to improve in stopping the run, Jackson and his fellow defensive end Glenn Dorsey have to improve across the board. Dorsey had 45 total tackles and a sack last year, while recovering three fumbles; his production was far closer to the norm.
To reach average, Jackson would have to add one more tackle per game. If he wants to be a major force, he needs to double up on those 31 tackles from last year. A season with 62 stops would almost average four per game and would guarantee improved run defense on Jackson's side.
And while he wasn't drafted because of his ability to rush the quarterback, Jackson must be able to get the passer on the ground at an average level, or 2.5 times during the season. He also has to become part of forcing turnovers. The fact that he didn't force a fumble all season is an indication he was not making many powerful tackles, or ripping the ball out of the runner's arms, or simply not at the point of attack often enough.
Here's one thing in Jackson's favor – last year he was the least experienced DE starting in the 3-4 scheme, the only rookie. Jackson along with Campbell from Arizona and Miami's Kendall Langford were all 23 years old.
There's a lot of football in Tyson Jackson's future, but improved production must come in 2010, especially against the run. Without it, the Chiefs defense doesn't stand a chance at controlling the line of scrimmage and the opportunities to win drop considerably.
Here are the 3-4 defensive ends from last season. Those listed by their team as a DT playing DE are noted. The age and experience are for this season, that statistics are for the 2009 regular season.
 Team
 Player
 HT
 WT

 Age

 Exp

 Tackles

 Sacks

Take-
aways
Arizona
Calais Campbell
6-8
290

24

3

53

7

FF
 
D. Dockett (DT)
6-4
285

29

7

57

7

INT
Baltimore
Dwan Edwards
6-3
290

29

7

50

1

2FR
 
HolatiNgata (DT)
6-4
345

26

5

41

1.5

FF, FR
Cleveland
Kenyon Coleman
6-5
295

31

9

38

1.5

 
 
Robaire Smith
6-5
310

33

11

62

1.5

 
Dallas
Marcus Spears
6-4
309

27

6

50

2.5

 
 
Igor Olshansky
6-6
315

28

7

76

1.5

 
Denver
Ryan McBean
6-5
297

26

3

25

0

 
 
Kenny Peterson
6-3
295

32

8

40

1

FF
Green Bay
Johnny Jolly
6-3
325

27

5

75

1

2FR, FF
 
Cullen Jenkins
6-2
305

29

7

50

4.5

3FF
CHIEFS
Tyson Jackson
6-4
296

24

2

31

0

 
 
Glenn Dorsey
6-1
297

25

3

45

1

3FR
Miami
Kendall Langford
6-6
295

24

3

43

2.5

FF
 
Randy Starks
6-3
305

27

7

56

7

FR
NewEngland
Ty Warren
6-5
300

29

8

57

1

 
 
Jarvis Green
6-3
285

31

9

47

1

 
N.Y. Jets
Shaun Ellis
6-5
285

33

11

56

6.5

2FF
 
Ma. Douglas (DT)
6-2
290

33

10

77

1.5

2FR, FF
Pittsburgh
Travis Kirschke
6-5
298

36

14

25

1

 
 
Brett Keisel
6-5
285

32

9

63

3

FF, FR
 
Aaron Smith
6-5
298

34

12

13

2

 
San Diego
Jacques Cesaire
6-2
295

30

8

32

11

FF, FR
 
Luis Castillo
6-3
290

27

6

38

2

FF
San Fran.
Is. Sopoaga (DT)
6-2
330

29

7

69

1

 
 
JustinSmith (DT)
6-4
285

31

10

90

6

2FF,2FR
Edwards signed with Buffalo as a UFA; Green signed with Denver as a UFA; Peterson, Douglas and Kirschke remain unsigned as UFAs.
PERSONNEL FILE/MONDAY, MAY 10

BENGALS – signed CB Adam Jones to a 2-year contract.
COWBOYS – acquired OT Alex Barron in a trade with the Rams for LB Bobby Carpenter.
FALCONS – signed CB Daylan Walker and QB Eric Ward.
LIONS – signed UFA S C.C. Brown (Giants).
PACKERS – re-signed RFA G Daryn Colledge to his tender offer.
PATRIOTS – re-signed UFA RB Chris Taylor.
RAMS – acquired LB Bobby Carpenter from the Cowboys for OT Alex Barron.
SAINTS – signed LB Sam Maxwell.