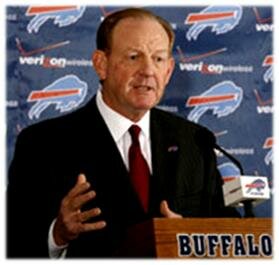 Over the last year or so, there's been this undercurrent running through the Chiefs Nation that anything that happened with this franchise before the big facelift of 2009 was bad. I've heard it many times from fans and posters who in the despair of 10-38 over the last three seasons have forgotten the success that came before.
The frustration that has overwhelmed red and gold fans has made them forget that there used to be victories and outstanding football people working for the Chiefs.
Two more of those people were in the news on Tuesday. As reported on Monday, Chan Gailey was named the head coach of the Buffalo Bills. The Chiefs former offensive coordinator was introduced at a Tuesday afternoon press conference.
All the way on the other side of the country, former Chiefs pro personnel guy John Schneider was named the new general manager of the Seattle Seahawks. Schneider will work with head coach Pete Carroll in the rebuilding of that franchise.
Schneider joins a group with Jeff Ireland (GM in Miami), Mark Dominick (Tampa Bay GM) and Thomas Dimitroff (GM in Atlanta) as men running NFL teams who spent time in the Chiefs personnel department. Others who came out of the team's front office who became NFL general managers were Terry Bradway (New York Jets) and the late Mark Hatley (Green Bay).
Gailey was a recent Chiefs assistant coach, but he joins a group of former KC assistants who have moved on to bigger jobs in the last two decades. Names like Bill Cowher, Tony Dungy, Mike McCarthy are or were NFL head coaches. Others have gone on to top coordinator jobs and the like. When the University of Alabama won the national championship several weeks ago, one of the key members of Nick Saban's coaching staff was former Chiefs offensive coordinator Joe Pendry.
So yes, as bad as things have been the last few years, it's a relatively recent phenonmenon; in the previous 15 years or so a lot of very talented people came through Arrowhead Stadium and helped the Chiefs win a lot of football games.
Good football teams always have good players. And, they always have good coaches and good administrators who teach and shape the squad. Chiefs fans can only hope the recent additions to the coaching staff will re-create that atmosphere around their favorite team.
SCHNEIDER COMES OUT OF THE SHADOWS

There are dozens of guys like John Schneider working in the NFL – talented personnel evaluators who are seldom seen by the average fans and even the media covering the league. But those inside the game know the talented people and the 38-year old Schneider has been attracting attention for the last decade.
In three seasons with the Chiefs, Schneider served as the team's pro personnel director (1997-99), where he replaced Hatley, who went to the Chicago Bears as vice-president of player personnel. That was a decade ago, but one of his finds remains in the Chiefs starting lineup: G Brian Waters.
It was Schneider who thought there was some athletic ability in the big college tight end out of North Texas State who failed as an undrafted rookie to make the roster of the Dallas Cowboys. Schneider signed Waters with the idea of seeing if he could play center. The Chiefs sent him to NFL Europe, where Waters played center for the Berlin Thunder in the spring of 2000.
Schneider did not get a chance to enjoy Waters development into a Pro Bowl guard, as he went to Seattle in 2000 to work for Mike Holmgren and then went to Washington the next year to serve as vice-president of player personnel for the Redskins with head coach Marty Schottenheimer. After owner Daniel Snyder blew that arrangement up after the '01 season, Schneider returned to Green Bay where he's played a major role in the Packers personnel department, doing everything from college and pro scouting, to helping with the hiring of coaches, working out trades and advising on all football matters with Green Bay GM Ted Thompson.
Schneider is expected to have control over the Seattle personnel department. Seahawks CEO Tod Leiweke said that Schneider and Carroll will collaborate on personnel decisions. Leiweke will serve as the tiebreaker when agreement can't be reached.
In the last two years under Holmgren and Jim Mora, the Seahawks put together a 9-23 record.
CHAN'S THE MAN IN BUFFALO

That's Gailey above with Bills GM Buddy Nix yesterday as he was announced as the Bills 15th head coach.
Some pundits in Buffalo and around the country are not impressed by the hiring of Gailey, figuring the franchise should have been able to land a bigger name.
But one big name is sold on Gailey and that's Bill Cowher, who recommended his former offensive coordinator for the job with the Bills.
"Number one he has a wealth of experience in the National Football League and I don't think there's a situation he's walked into that he hasn't been a part of turning it around," Cowher said. "He's a great teacher. He's a great communicator. I think he has the ability to adapt to a team and a city. He's been to a lot of different places and I think the one thing that you'll realize the more you're around him, the more you will not only like him, but the more you will truly appreciate him."
Cowher said one of Gailey's strengths is something the Chiefs saw during the '08 season when he was offensive coordinator for Herm Edwards.
"I think the one thing to me that separates the coaching world … I think we all have beliefs in systems, but I think the ability to adapt to what you have and to find a way to get the players to believe in that is what separates you in the coaching world," said Cowher. "And I think Chan's resume and what he's done proves that this guy can adapt to situations as well as anybody in the league."
The former Chiefs defensive coordinator and Steelers head coach had a great example of a time when Gailey adapted during their time together in Pittsburgh: a game in October of 1996 against Cincinnati.
"I remember a couple of times telling him we're only going to have one receiver healthy enough to play and he put together a package," Cowher said. "He said 'that's fine, just let me know, and if you can get a second one I really would appreciate it.' We actually won the football game and used a completely different package than we had shown all year. We came out in a two-tight end package and two backs. We had been a three to four-wide team. We were banged up, it was a short week and Chan put together a plan and made it work."
For his part, Gailey isn't going to spend a lot of time worrying about whether he's a big enough name for the job.
'I can't say anything to change anybody's mind," Gailey said. "All I can do is go help us try to win football games. If we win football games, everybody's mind will be changed.
"I've come into that stadium enough times to know about the fans of the Bills Nation. Who wouldn't want to come here? Maybe some guys have personal reasons they don't want to be here. Great. I'm glad because I get to come here."
Nix wanted a head coach who had been there before.
"I didn't want to go through a guy having to learn the NFL, the workings of the NFL," Nix said. "There is a learning curve, and everybody goes through it that hasn't done it. There is no school for it, there is no internship, and I don't care how long you've been an assistant. The day you become a head coach, you start learning how to be one. Before that, you don't know.
"This guy met more of the criteria than I thought we could find," Nix added. "And this guy's won everywhere he's been … He'll get us back to winning and get to where we want to go."
SIGNINGS, INJURIES, MOVEMENT & STORY LINES AROUND THE LEAGUE

PRO BOWL – Raiders long snapper Jon Condo added to the AFC team; Vikings CB Antoine Winfield added the NFC squad.
BILLS – named Chan Gailey head coach.
DOLPHINS – hired Mike Nolan as defensive coordinator.
SAINTS – RB Deuce McAlister made his retirement official after returning to the Saints for last week's game in the playoffs.
STEELERS – hired Al Everest as special teams coach.
FROM THE PAGES OF SUPER BOWL HISTORY

On January 20, 1980, the Pittsburgh Steelers beat the Los Angeles Rams 31-19 in Super Bowl XIV after the 1979 season at the Rose Bowl in Pasadena, California. Seeking a fourth championship in six seasons, the Steelers were heavy favorites in this game despite the fact the Rams were essentially playing a home game. That familiar feeling must have been a help to the Rams, as they jumped to a 7-3 lead and then 13-10 margin.
But in the second half, the Steelers roared back as QB Terry Bradshaw threw a 47-yard TD pass to WR Lynn Swann and then a 73-yard toss to WR John Stallworth. Also, RB Frank Harris scored on a one-yard TD run, his second score of the game.
Bradshaw finished as the game's MVP, completing 14 of 21 passes for 309 yards, two touchdowns and three interceptions. Stallworth had three catches for 121 yards and a touchdown. Pittsburgh KR Larry Anderson returned five kickoffs
Fred Silva was the referee for this game. The national anthem was sung by Cheryl Ladd and the half-time show was from "Up with People" as they did a salute to big band music. CBS handled the television broadcast, with Pat Summerall and Tom Brookshier in the booth. A 30-second television commercial cost $222,000.
FROM THE PAGES OF AFC CHAMPIONSHIP HISTORY

On January 20, 1991, the Buffalo Bills beat the Los Angeles Raiders 51-3 in the 1990 AFC Championship Game at Rich Stadium in Buffalo. The Bills ripped the Raiders defense, putting up 502 total yards, including 202 yards rushing yards. RB Kenneth Davis had three TD runs, while RB Thurman Thomas ran for 138 yards and a touchdown. WR James Lofton caught five passes for 113 yards and two touchdown catches. LB Darryl Talley returned an interception for a score. The only Raiders points came on a first-quarter FG by Jeff Jaeger from 41 yards. The Buffalo defense had six interceptions
SAY HAPPY BIRTHDAY …

Born on January 20, 1981 in Ft. Lauderdale, Florida was CB Benny Sapp. He joined the Chiefs as an undrafted college free agent ou of Northern Iowa in 2004. Sapp played four seasons with the Chiefs, (2004-07) appearing in 56 games with six starts, spending most of his time on special teams and as the extra DB in the nickel defense. He had 2.5 sacks, two interceptions, 101 total tackles on defense, three forced fumbles, 30 tackles in the kicking game and 15 kickoff returns for a 18.1-yard average. Sapp has spent the last two years playing with the Vikings.
Born on January 20, 1973 in Lake Charles, Louisiana was WR Eddie Kennison (right). He joined the Chiefs near the end of the 2001 season, after playing six years in the league with the Rams, Saints, Bears and Broncos. With Dick Vermeil as head coach, Kennison found a home with the Chiefs, playing for at least parts of seven seasons (2001-07), appearing in 91 games with 85 starts. He caught 321 passes for 5,230 yards and 25 touchdowns, with 1,000-yard plus seasons twice. Kennison finished his career in St. Louis during the '08 season, but he did not play. Over his 13 NFL seasons, Kennison caught 548 passes for 8,345 yards and 42 TD catches.
Born on January 20, 1955 in San Francisco was QB Bill Kenney. He joined the Chiefs as a free agent in 1980, after spending time with the Redskins. Kenney played nine seasons (1980-88) with the Chiefs, appearing in 106 games with 77 starts in the team's offense. He completed 1,330 of 2,430 passing attempts for 17,277 yards, 105 TD passes and 86 interceptions. Kenney's best season was 1983, when he threw for 4,348 yards, while completing 346 of 603 attempts, with 24 TD passes; all of those numbers were career highs.
Born on January 20, 1957 in Wilkes-Barre, Pennsylvania was DL Ray Yakavonis. He came to the Chiefs during the 1983 season after spending four seasons with the Redskins and Vikings. Yakavonis appeared in two games for the Chiefs that season, and those were the final games of his NFL career.