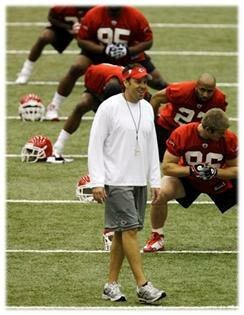 Somebody snitched on the Baltimore Ravens and the Jacksonville Jaguars are brawling.
It's just another week of the off-season in the National Football League.
Just where does the on-field work by the Chiefs fit in with other NFL teams when it comes to physicality and intensity? More on that subject later, but first here was the news of Monday:
– The NFL took the Ravens and head coach John Harbaugh to the woodshed, announcing that the team would forfeit its final days of OTA practice sessions because they violated rules and regulations for off-season work that were set up between the league and the NFL Players Association.
"We made a mistake and it won't happen again," said Baltimore GM Ozzie Newsome in a team statement. "We'll complete our organized team activity days this week and then turn our focus to the start of training camp."
– In Jacksonville tempers flared at the end of the Jaguars Monday morning workout and it took several players an extended period of time to bring an end the skirmish. The main combatants were offensive lineman Paul McQuistan and defensive lineman Walter Curry. Afterwards, Jags coach Jack Del Rio said he had no problem with the practice fisticuffs.
"It's competitive, guys lost their temper, it's hot," Del Rio told the Jacksonville media. "I told them my standpoint on fighting. You can fight all you want. Don't wait for me to jump in there. When you're done, we'll keep practicing. It happened to be on the last play of practice. They're grown men. Sometimes, they get irritated."
Yes, sometimes players do get irritated, especially in these off-season OTA sessions and mini-camps. Under the rules of the collective bargaining agreement there is to be no physical contact in these practices and there is a limited amount of time that players are supposed to be on the field or even in the team's building.
But come on … this is football. There's no way that NFL teams can hold these practices and make them worthwhile without some physical contact.
This year's Chiefs off-season has been relatively quiet when it comes to practice intensity and fights. The team has had 10 OTA sessions, of which seven have been open to the media. In those 90-minute practices there has been physical contact. But it's not been anything exceptional and I can assure you I have seen off-season practices under other Chiefs coaches that were much more physical and intense.
That's one of the reasons that Todd Haley is always stressing that the off-season is about strength and conditioning. Making sure his team continues to lift weights, run and pursue the other conditioning options available to them is more important to the head coach than how many plays the Chiefs fit into their 14 OTA practices and three-day mini-camp.
As for fights, other than a single pushing match that lasted but a few seconds, there have been no confrontations in the seven sessions that the media has been allowed to watch the Chiefs this May and June. Again, I can remember previous spring sessions that had plenty of fights, usually between offensive and defensive linemen.
As a Chiefs fan you wonder whether your favorite team is intense enough? Are they getting the required physicality to play what is always a very physical game? So far Haley and his coaching staff have their players walking the fine line between physical play and being too intense. Haley is constantly reminding his team to play under control and to stay off the ground. That's hard to do in football, where every player ends up on the ground at one point or another during a game.
But bodies on the ground are the fastest way to injury, with players tripping over each other or getting their legs caught in bad positions.
Here's some of what the agreement says between owners and players about the off-season practices. It's Article XXXV:
"… sessions shall be strictly voluntary … no Club official shall indicated to a player that the Club's off-season workout program or classroom instruction is not voluntary … contact work (e.g., "live" blocking, tackling, pass rushing, bump and run) is expressly prohibited in all off-season workouts … no more than four days a week …. on the field no more than ninety minutes per day … only helmets allowed."

If followed to the letter of the agreement, every team in the league has violated the rules at some point during the off-season. There's no way a team can practice 11 men against 11 other men without physical contact. But the idea of the rules is to keep a football game from breaking out during these sessions.
That's why it's impossible to judge the play of the defensive and offensive lines. They push against each other, but there's not the ferocity and power that comes with really playing the game. It's hard to judge the running game because the defense is not coming off the snap like a rocket and delivering a blow.
For a team to get slapped for breaking the rules is an indication they didn't just step over the line; it's a sign that they jumped over the line and trampled the idea of no contact or physical play. Apparently in Baltimore there were not only very physical practices, but the sessions went well beyond the 90-minute limit. Here's the content of the charge against the Ravens as released by the league:
"The NFL Management Council and the NFL Players Association have resolved a complaint by the Players Association against the Baltimore Ravens concerning violations of the Collective Bargaining Agreement's off-season workout rules. It was determined that the Ravens violated the rules concerning the intensity and tempo of drills conducted on the Club's organized team activity days ('OTA days') and the length of time spent by players at the Club's facility on such days.

"As a result, the Ravens will forfeit the final week of their off-season program (June 14-18, 2010).  Ravens' players are not permitted to be at the facility on those days, but will be paid for the sessions.  The Club cannot reschedule the canceled days."

Next week, the Ravens were scheduled for two days (June 15-16) to work on special teams. That opportunity is gone.
So just how does the NFL and union know that the workouts are too intense or too long? Somebody has to complain, and that somebody must be a player. No one working for an NFL team would turn their employer in to the league. It takes an unhappy player to make the initial charge, enough so that the union launches an investigation. That can be a tipoff to some internal locker room problems.
Given the fact that two union officials are going through these workouts with the Chiefs in OLB Mike Vrabel and LG Brian Waters would seem a pretty good indication that nothing untoward has happened around these workouts.
It's not the first time that an NFL team has been disciplined for breaking the off-season rules. Just two years ago, the Oakland Raiders lost a week of practices because the work was too intense. More than 30 years ago, the Steelers lost a draft choice (third-round in 1979) when it was exposed by the Pittsburgh Press that they were practicing in the off-season wearing shoulder pads. The writer who exposed that fact? That was John Clayton, then a youngster, but long a part of the NFL coverage at ESPN.
NFL PERSONNEL FILE/MONDAY, JUNE 7

BEARS – released DE Lawrence Wilson in an injury settlement – the undrafted rookie free agent out of Ohio State suffered a knee injury during rookie camp
CHARGERS – RFA WR Malcom Floyd signed his tender offer, a 1-year, $3,168,000 contract.
COLTS – claimed QB Tom Brandstater off waivers (Broncos).
COWBOYS – WR Patrick Crayton's agent said the player will show up on Tuesday for the team's OTA session and will stay in Dallas through this weekend's mini-camp. Crayton has missed the first three weeks with the off-season work because he's unhappy with his contract and was upset when he learned the team tried to trade him during the NFL Draft;
RAMS – obtained WR Isaac Bruce in a trade with the 49ers so Bruce can retire as a member of the Rams. That's expected to come on Wednesday in St. Louis.
RAVENS – RFA OT Jared Gaither signed his tender offer, a 1-year, $2,396,000 contract – there were trade talks between Baltimore and several teams, but nothing came together. He's moving from left to right tackle this season.
SAINTS – signed G Terrence Metcalf to a 1-year contract – Metcalf was a starter about 5 years ago with the Bears but was out of football last season; released OL Joe Tonga – an undrafted rookie free agent, he was signed after the draft.