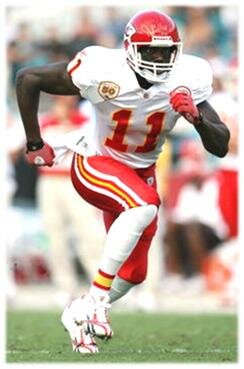 Piecing together the roster of a professional football team is like a game of stacking dominoes. If one falls, it creates a chain reaction. Fail on a significant draft choice and the rest of the roster feels the failure.
A team signs a free agent with hopes they can contribute at a specific position, and when it doesn't happen, they must react.
This is especially true on bad football teams. When the talent level is so low, there's no reason to keep the stability of the roster. Signing players off the street, or claiming players on the waiver wire, or making quiet trades are all tools a team's personnel decision makers use to raise the talent tide.
As we examined on Thursday, the Chiefs performance in bringing in players with NFL experience before the start of training camp was not very successful. On average, the players and their contributions graded out to a D-minus grade.
The success rate was not much better after the start of training camp in River Falls, Wisconsin. And, part of that was the domino effect from pre-camp failure.
For example, take the wide receiver position highlighted by veteran Chris Chambers (left). The new Arrowhead regime knew that was a weak spot on the club's roster after the '08 season. A number of wide receivers were signed: Terrance Copper, Bobby Engram, C.J. Jones and Rodney Wright. By the end of the '09 regular season, only Copper remained and he was largely a special teams performer.
So from the start of camp, wide receivers paraded through the roster – Amani Toomer, Ashley Lelie, Bobby Wade, Lance Long and Chambers, who was the only one that made a real impact on the offense.
Thus, the dominos remain out of kilter a year later at the wide receiver position.
Here are the additions made to the roster with players that had previous NFL experience:
LB VINCE REDD – Claimed off waivers on August 4 after he was released by the Patriots, Redd showed up in Wisconsin and showed he looked like an NFL linebacker. He just didn't practice or play like one. He was waived on August 24. GRADE: F.
QB MATT GUTIERREZ – Claimed off waivers from the Patriots on August 6, Gutierrez was hardly impressive in the pre-season and played just one game in the regular season. GRADE: Incomplete.
WR AMANI TOOMER – The veteran free agent was signed on August 6 and then released o n September 1. Toomer was very unimpressive as his skills had obviously eroded. Grade: F.
WR ASHLEY LELIE – He was signed on August 17 and released on September 5. At times it looked like he might be a good addition, but there was no consistency in his performances. Grade: F.
G/T IKECHUKU NDUKWE – Acquired in a trade with Miami on August 24, Ndukwe was immediately thrown into the problem spot at right tackle. He started the first three games of the season and was then sent to the bench. Ndukwe ended up playing in 12 games. He had a chance to make the position his and he failed. Grade: F.
G ANDY ALLEMAN – Picked up in the trade with Miami on Aug. 24, Alleman played in nine games with three starts at right guard. There was nothing impressive about his play. Grade: D.
RT RYAN O'CALLAGHAN – Claimed off the waiver wire from the Patriots on September 6. He ended up playing in 14 games and made 12 starts at right tackle. He allowed four sacks. Grade: D.
WR BOBBY WADE (right) – He was signed on September 15 and ended up playing in 13 games with seven starts. Wade caught 36 passes for 367 yards and two TDs. He had 21 punt returns for an average of 7.6 yards. Wade was among the team and league leaders in dropped passes. Grade: D.
WR LANCE LONG – After being released by Arizona just days after the '09 season opener, he was signed on September 16 to the practice squad and then added to the active roster on October 25. Long played in eight games, with one start. He caught 20 passes for 178 yards and he had six kick returns for an average of 17.7 yards. Grade: F.
TE LEONARD POPE – He signed on September 29 and it took only a few weeks for him to establish himself as the starter at TE. In 13 games, he had eight starts and caught 20 passes for 174 yards and a touchdown. Grade: D.
ILB DAVID HERRON – Signed on September 30, Herron played in 10 games, all on special teams where he did register 11 tackles. Grade: C.
CB MIKE RICHARDSON – He was also added on September 30 and played in 11 games with one start. He also got the chance to play in the nickel back role, although he couldn't hold onto the spot. He did have 12 tackles in the kicking game. Grade: C.
DT KENNY SMITH – After being off the football field for several years, Smith was signed on October 21 and was released on December 8. He was credited with two tackles in limited playing time. Grade: F.
WR CHRIS CHAMBERS – Claimed off the waiver wire from San Diego on November 3, Chambers was an immediate upgrade at the position. In the second half of the schedule, he became the most productive receiver, catching 36 passes for 608 yards and four touchdowns. Grade: B.
ILB JUSTIN ROGERS – He was a yo-yo on and off the roster. He was signed first October 14, and then released three days later. He was re-signed November 11, played in one game and then was sent to the injured-reserve list on December 26. He was credited with one special teams tackle. Grade: Incomplete.
FB TIM CASTILLE (left) – On the street after being released by the Cardinals back in early September, Castille signed with the Chiefs on November 17. Appearing in seven games, he carried the ball 14 times for 55 yards and caught four passes for 37 yards and a TD. He also threw an interception and had five tackles in the kicking game. Grade: C.
S RESHARD LANGFORD – Signed on Christmas Day, he did not see the field in the final two games. Grade: Incomplete.
SIGNINGS, HIRINGS, CHANGES, STORY LINES AROUND THE LEAGUE

CARDINALS – DE Bertrand Berry retired after 12 years in the league playing for the Colts, Broncos and Cardinals.
COWBOYS – signed head coach Wade Phillips to a two-year extension for 2010-11.
EAGLES – QB Michael Vick has a 10-part reality series beginning February 2 on the BET network. Called the Michael Vick Project, it will explore all aspects of the man's life, both good and bad.
49ERS – hired Mike Solari as offensive line coach.
JETS – head coach Rex Ryan sent a game ball from the team's victory over San Diego last weekend to former Chiefs and Chargers head coach Marty Schottenheimer. Of course, Brian Schottenheimer is New York's offensive coordinator.
PANTHERS – named Tyke Tolbert wide receivers coach.
REDSKINS – hired Chris Foerster (49ers) as offensive line coach.
FROM THE PAGES OF SUPER BOWL HISTORY

On January 22, 1989, the San Francisco 49ers beat the Cincinnati Bengals 20-16 in Super Bowl XXIII at Joe Robbie Stadium in south Florida. There was three minutes, 10 seconds left in the game and the 49ers trailed by three points as they took possession of the ball at their own eight-yard line. During the timeout before the drive began, San Francisco QB Joe Montana looked into the stands behind the end zone and turned to his teammates in the huddle and said "Hey, isn't that John Candy?"
Whatever tension that huddle held slipped away as the 49ers players laughed at either Montana, Candy or both. That was the start to an 11-play, 92-yard drive for the winning touchdown and another championship for San Francisco. Montana's 10-yard pass to WR Jon Taylor went for a touchdown with 39 seconds to play in the game.
Cincinnati scored just one touchdown in the game, as Stanford Jennings returned a kickoff 93 yards for the score. Bengals kicker Jim Breech kicked three field goals. Montana had a big game, throwing for a Super Bowl record 357 yards and touchdown passes to Taylor and WR Jerry Rice, while completing 23 of 36 passes. RB Roger Craig had 71 rushing yards and 101 receiving yards. Rice was named the game's MVP, catching 11 passes for 215 yards and a touchdown.
The lead official in the game was Jerry Seeman. Billy Joel sang the national anthem and the half-time show was titled "Be Bop Bamboozled in 3-D and featured an Elvis impersonator. The game was broadcast on NBC, with Dick Enberg and Merlin Olson in the booth. The price of a 30-second commercial was $675,000.
FROM THE PAGES OF AFC CHAMPIONSHIP GAME HISTORY

On January 22, 2006, the Pittsburgh Steelers beat the Denver Broncos 34-17 in the 2005 AFC Championship Game at Invesco Field in Denver. The Steelers forced four turnovers and held a 24-3 lead at half-time. With the victory, the Steelers became the first No. 6 seed in the field for the playoffs to advance to the championship game. QB Ben Roethlisberger threw a pair of TD passes and ran for another. RB Jerome Bettis scored on a three-yard run. Denver got a TD run from RB Mike Anderson and a 30-yard TD pass from QB Jake Plummer to WR Ashley Lelie.
SAY HAPPY BIRTHDAY …

Born on January 22, 1932 in Ardmore, Oklahoma was WR Max Boydston. He was a member of the 1960 Dallas Texans, joining the AFL after having played four seasons in the NFL with the Chicago Bears. He was actually the second player taken in the 1955 NFL Draft, coming out of the University of Oklahoma. Boydston played the 1960-61 seasons with the Texans, appearing n 25 games. He caught 41 passes for 524 yards and four touchdowns. He finished his pro football career with one season playing for the Oakland Raiders.
Born on January 22, 1948 in Minneapolis was LB Bob Stein (left). He was selected in the fifth round of the 1969 AFL-NFL Draft out of the University of Minnesota. Stein played four seasons with the Chiefs (1969-72), appearing in 50 games, getting most of his playing time on special teams. He had one interception during his time with the Chiefs. Stein went on to play two years with the Rams and then he had stints with the Vikings and Chargers.