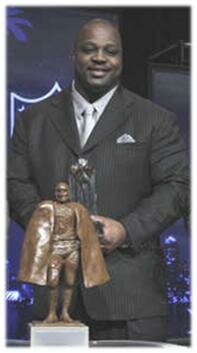 From Ft. Lauderdale, Florida

Last Sunday, the lone Kansas City representative on the field at Sun Financial Stadium for the Pro Bowl was K.C. Wolf.
Things will be different this Sunday for Super Bowl XLIV.
First of all, Kansas City's Sultan of Sod George Toma has worked the playing surface and it's ready to go for the championship game between the Indianapolis Colts and New Orleans Saints. In the post-game ceremonies, Chiefs Hall of Fame QB Len Dawson will deliver the Vince Lombardi Trophy to NFL Commissioner Roger Goodell to hand over to the winning team.
And in pre-game ceremonies, current Chiefs G Brian Waters will be presented with the Walter Payton NFL Man of the Year Award for the 2009 season.
"It's a great honor," Waters said Saturday in Miami, as word leaked that he was selected over two other finalists: Washington LB London Fletcher and Cleveland WR Mike Furrey. "It's very meaningful because of Walter Payton and his family and the history of this award and those who have received it before. It's a great group and humbling to be part of this award."
And it now includes five members of the Kansas City Chiefs – more than any other franchise in the NFL. Waters joins Len Dawson, Willie Lanier, Derrick Thomas and Will Shields as winners of the trophy that symbolizes on-field excellence and community service. (Complete Man of the Year List below.) 
"Brian is a deserving man with what he's done for his communities in both Texas and Kansas City," said Lanier, who attended a Friday press conference where the three finalists were introduced. "His credentials are very impressive."
And being part of that lineage was very important to Waters.
"We should not only be a part of the community, but lead in charitable giving from within the Kansas City community as well as around the country," Waters said on Friday. "All the great players … are guys who not only represent themselves well, but also represent the Chiefs organization well, on and off the field."
There are other remarkable names that Waters joins as the NFL Man of the Year, players like Johnny Unitas, George Blanda, Franco Harris, Roger Staubach, Joe Greene, Lynn Swann, Steve Largent, Dan Marino, Mike Singletary, Troy Aikman, Kurt Warner and both starting quarterbacks in Sunday's game: Peyton Manning and Drew Brees.
Waters is the 42nd recipient of the award that was started in 1970 (there were two years when two players were honored.) San Diego, Pittsburgh and Chicago have each had four winners of the award. Miami and Cincinnati have had three winners over the years. The New York Jets, Baltimore/Indianapolis Colts, Philadelphia, Dallas and Washington each had a pair of players honored. Arizona, New Orleans, Atlanta, Tampa Bay, Denver, Minnesota, Seattle, Oakland and Houston/Tennessee each had a player earn the distinction.
It puts the cap on what was a very different and sometimes difficult season for Waters. But a month after the season ended, he was only thinking positive thoughts, not the team's 10-38 record over the last three seasons.
"That's the great thing about the NFL, that you can have such disastrous moments and still have something great come out of it," Waters said. "Even with having the last three years the way they have been, to have the opportunity to play, and to have the opportunity to give and have a platform where you can help other people through the process of giving, it's really a good thing. It can be an exclamation mark on this year."
With the value of hindsight how does he view the situation with his team in year No. 2 of Pioli/Haley.
"We've got a long way to go but we knew that going in," Waters said. "Expectations would have to be low going into it. Whether we matched expectations or didn't meet them, the truth is we still have a long ways to go.
"Just like any team if you start putting the right pieces together – and I think they went out and got some really experienced coaches, who can lead the way – if guys fall in line, you have the opportunity to win."
The additions of Charlie Weis as offensive coordinator and Romeo Crennel as defensive coordinator caught the attention of Waters.
"It definitely gives you the idea that you will not be led astray, that you have the right type of people that you want to follow," he said.
SUPER BOWL SATURDAY UPDATE

PRACTICE: Both the Colts and Saints had their final sessions for Sunday's game. With the Saints, CB Randall Gay did not practice for the second day because of a cold. Head coach Sean Payton said he expects Gary to play. Also RB Lynell Hamilton did not practice and will be inactive. Over with the Colts, DE Dwight Freeney did not participate on the field, but supposedly will now test that ankle injury in the pre-game warm-ups.
WEATHER: The forecast for Sunday night at Sun Financial Field is clear skies, some wind from the west and temperatures in the high 60s at kickoff. There is no rain expected.
SAY HAPPY BIRTHDAY …

Born on February 7, 1966 in Dallas was QB Billy Joe Tolliver. He joined the Chiefs in 1997 after playing six seasons with the Chargers, Falcons and Oilers. Tolliver played in three games that season with the Chiefs as a backup quarterback, throwing and completing one pass, that went for minus-eight yards. He also ran twice for minus-one yard. After that '97 season, Tolliver finished out his career with two seasons playing for the Saints. In all, he played nine seasons, appearing in 80 games and threw for 10,760 yards, 59 TD passes and 64 interceptions.
Born on February 7, 1961 in Placentia, California was TE Chris Dressel. He joined the Chiefs during the 1989 season, after spending four seasons with the Houston Oilers and a season with San Francisco. He came into the league as a third-round selection of the Oilers in the 1983 NFL Draft out of Stanford University, where he was one of QB John Elway's favorite targets. Dressel played in seven games that season, catching nine passes for 136 yards and one 49-yard touchdown catch. After that stint with the Chiefs, he finished his career with two seasons with the New York Jets and one with San Francisco.
THE COMPLETE LIST OF NFL MAN OF THE YEAR AWARD WINNERS

Year

 

Player

 

Team

 
 
 
 
2009
G Brian Waters
Chiefs
2008

QB Kurt Warner

Cardinals

2007 

DE Jason Taylor

Dolphins

 
2006 
QB Drew Brees
RB LaDainian Tomlinson

Saints

Chargers

 
2005 

QB Peyton Manning

Colts

 
2004 

RB Warrick Dunn

Buccaneers

 
2003 
G Will Shields 
Chiefs 
2002 

DB Troy Vincent

 

Eagles

 
2001 

RB Jerome Bettis

 

Steelers

 
2000 

LB Derrick Brooks & 

DT Jim Flanigan

 

Buccaneers

Bears

 
1999 

WR Cris Carter

 

Vikings

 
1998 

QB Dan Marino

 

Dolphins

 
1997 

QB Troy Aikman

 

Cowboys

 
1996 

CB Darrell Green

Redskins

 
1995 

QB Boomer Esiason

 

Jets

 
1994 

LB Junior Seau

Chargers

 
1993 
LB Derrick Thomas 
Chiefs 
1992 

QB John Elway

 

Broncos

 
1991 

T Anthony Munoz

 

Bengals

 
1990 

LB Mike Singletary

 

Bears

 
1989 

QB Warren Moon

 

Oiler

 
1988 

WR Steve Largent

 

Seahawks

1987 

S Dave Duerson

 

Bears

 
1986 

LB Reggie Williams

 

Bengals

 
1985 

C Dwight Stephenson

 

Dolphins

 
1984 

T Marty Lyons

 

Jets

 
1983 

K Rolf Benirschke

 

Chargers

 
1982 

QB Joe Theismann

 

Redskins

 
1981 

WR Lynn Swann

 

Steelers

 
1980 

WR Harold Carmichael

 

Eagles

 
1979 

DL Joe Greene

 

Steelers

 
1978 

QB Roger Staubach

 

Cowboys

 
1977 

RB Walter Payton

 

Bears

 
1976 

RB Franco Harris

 

Steelers

 
1975 

QB Ken Anderson

 

Bengals

 
1974 

QB George Blanda

 

Raiders

 
1973 
QB Len Dawson 
Chiefs 
1972 
LB Willie Lanier 
Chiefs 
1971 

QB John Hadl

Chargers

 
1970 

QB Johnny Unitas

 

Colts