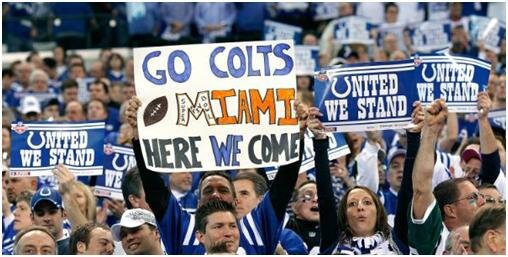 They were the two best teams in either conference of the National Football League during the 2009 regular season. Ordinarily, that does not mean those clubs are immediately passed through to the Super Bowl.
But the Indianapolis Colts and New Orleans Saints are headed for south Florida and Super Bowl 44 in 13 days. It's the first time that the top seed in each conference have both advanced since 1993 when Buffalo and Dallas got it done. In the recently completed decade of championship games, half of the winners were No. 1 seeds. There have been more in the NFC, with six out of 10. The AFC had four out of 10.
The game is rife with storylines and plot twists that will be inflamed and fleshed out over the next two weeks. There's the great story of the Saints and their survival in New Orleans after the destruction brought by Hurricane Katrina. Peyton Manning gets to play for another championship against the team he rooted for as a youth. There's Indy's rookie head coach Jim Caldwell, and with the Saints there's the Reggie Bush story to be told.
We will let all that play itself out in the coming days. Here on the day after, let's take a look at how these two football teams were built, and specifically how the Chiefs compare to what these teams have gotten done and experienced success. Is there a path to be learned by the Chiefs in how the Colts and Saints were built? Absolutely, although it's not a new method or game plan that these teams have uncovered to find success.
It's always the same: it's find good players and it's the process of developing good players. That's what these teams have done, although it has happened in different ways.
First, here are some numbers to consider about the Colts and Saints, with numbers in the same categories for the Chiefs roster that they finished the season with:
| | | | |
| --- | --- | --- | --- |
|   | Indianapolis | New Orleans | Chiefs |
| Draft Choices | 29 | 18 | 18 |
| 1st-Round Picks | 6 | 5 | 6 |
| College Free Agents | 10 | 3 | 7 |
| Street Free Agents | 10 | 14 | 14 |
| Unrestricted FA | 1 | 14 | 7 |
| Trade | 0 | 4 | 4 |
| Claimed on Waivers | 3 | 0 | 3 |
| Starters from Draft | 14 | 12 | 8 |
| Starters from CFA | 2 | 0 | 2 |
| Starters from UFA | 0 | 6 | 5 |
| Starters from Trade | 0 | 3 | 2 |
| Starters from FA | 4 | 1 | 3 |
| Starters from Waivers | 2 | 0 | 2 |
Today, we'll look at the Colts. Tomorrow we will checkout the Saints.
INDIANAPOLIS

He just might be the gruffest man in the NFL. Bill Polian has tangled verbally, sometimes physically, with his competition in the league. He's stubborn, generally unyielding and does not suffer fools gladly, and he thinks just about anybody outside his sphere of influence is a fool.
But Polian knows how to build a football team, and that was visible again on Sunday in the Colts victory over the New York Jets. Any team that has Peyton Manning running the offensive show is going to have a distinct advantage against any opponent. It was Polian that selected Manning with the first choice of the 1998 NFL Draft, so he gets all the credit there. He's also the man who was able to get Manning re-signed in 2004 and will likely be the guy who gets him signed to an extension sometime between now and the start of the 2010 season – right now, that's the last year of Manning's deal.
And Polian has surrounded Manning with the talent to win, even if some of those receivers and runners are not big-name players. Polian added WR Reggie Wayne with a first-round pick in 2001 and then TE Dallas Clark in the first round of the 2003 NFL Draft. RB Joseph Addai went in the first round of the 2006 Draft. All three contributed to the victory over the Jets.
But how about second-year WR Pierre Garcon and rookie WR Austin Collie, a fourth-round draft choice. Those two combined for 18 catches for 274 yards and two touchdowns and they did that against a tough New York defense that was among the league's best during the '09 season.
The Colts starting lineup on Sunday included Kyle Devan starting at right guard. Devan is a first-year player who entered the NFL as a college free agent last season in Baltimore. The starting LT was Charlie Johnson, a sixth-round choice in '06. The starting LG was SM Northwest's Ryan Lilja, who was claimed on waivers from the Chiefs five years ago; he began the '04 season as a college free agent. Garcon started as well, and he was a sixth-round choice in '08.
Over on defense, one of the starting cornerbacks was Jacob Lacey, a college free agent this season out of Oklahoma State. The starter at strong safety was Melvin Bullitt, undrafted three seasons ago out of Texas A&M. The leader of that defense is MLB Gary Brackett, who was signed as a college free agent seven seasons ago. The starting right DT was Dan Muir, claimed off the waiver wire last year, after he signed with Green Bay as a college free agent.
Indianapolis' roster is filled with these types of stories. For every Manning, Wayne, Clark, Addai and DE Dwight Freeney, there are others who came in to the league through the toughest road possible, as a college free agent. There are 10 players on the Colts current roster who signed with them after the draft.
But the NFL Draft is where Polian and his minions have built this team. More than half of the 53 roster spots belong to Indianapolis draft choices. A lot of those are players taken in 2007, 2008 and 2009; the Colts are continually churning their roster. There are nine sixth and seventh-round draft choices on their list and three are in the starting lineup. The others will be developed and given a chance to contribute. Those that do will stay employed with a horseshoe on their helmet; those that don't will be replaced by 2010 draft choices.
Right, now the Colts have only one player on their Super Bowl roster that was signed as an unrestricted free agent: K Adam Vinatieri, who isn't even playing these days because of an injury.
Polian's personnel system is fine-tuned after more than a decade with the franchise. They let others chase veteran free agents; they spend their time finding players that fit their style and systems. Players like Garcon (right), who came out of Mount Union College in Ohio, a Division III program. He's not very big (6-0, 210 pounds) and does not have blazing speed. As a rookie, he caught just four passes.
Veteran Marvin Harrison was not re-signed and going into the '09 season, Anthony Gonzalez was going to be in the starting lineup. But in September, Gonzalez injured his right knee and essentially his season was over. Veteran Hank Baskett was signed to help, but it was Garcon that grabbed the opportunity, catching 47 passes for 765 yards and four TDs.
What the Colts have going for them is this: they know what they are doing, they know the types of players they want to fill the roster and they stick to their plan: draft and develop.
That's why the Colts are back in the Super Bowl for the second time in four seasons.
CHAMPIONSHIP LEFTOVERS

Vegas sportsbooks have installed the Colts as a 3.5 favorite over the Saints … Indy K Matt Stover turns 42 on Wednesday and he will be the oldest person to play in the Super Bowl … Saints RB Reggie Bush has made a lot of money in four years in New Orleans and now he's making more; Bush has collected $800,000 in bonus money for the Saints two victories in the playoffs. If they win the Super Bowl, Bush gets another $500,000 … with the Saints reaching the Super Bowl, that now leaves just four NFL franchises that have not played in the big game: Cleveland, Detroit, Jacksonville and Houston. The last three franchises that made their first appearance in the game lost: Arizona, Seattle and Carolina.
So was Sunday's game it for the playing career of Brett Favre? He says he'll have a decision on his future pretty quickly. "I wouldn't say months, I know people are rolling their eyes or will roll their eyes," Favre said after the game.  "In a situation like this, I really don't want to make a decision right now based solely on what's happened.  Because I do know the year could have not gone any better aside from us not going to Miami. I really enjoyed the guys. I just wonder if I can hold up, especially after a day like today, physically and mentally.  That was pretty draining." … Jets coach Rex Ryan had plenty to say before the game about facing Manning and the Colts. There were not so many words after the game. "We tried everything," Ryan said. "We tried man-to-man, two-man, tried zone, you name it.  You gotta give him credit.  He's a heck of a quarterback."
FROM THE PAGES OF SUPER BOWL HISTORY

On January 25, 1981, the Oakland Raiders beat the Philadelphia Eagles 27-10 in Super Bowl XV at the Superdome in New Orleans. It was the second victory in the Super Bowl for the Raiders who previously won XI.
Much was made in the days leading up to this meeting about how the two teams handled themselves during their week within walking distance of Bourbon Street. The Raiders were everywhere and sometimes well after curfew. The Eagles of Dick Vermeil were locked up and had very little free time to enjoy the tastes of New Orleans. How much that had to play with the outcome, who knows but the Raiders jumped out first.
LB Rod Martin intercepted the first pass tried by Philly QB Ron Jaworski and that set up a few plays later a two-yard TD pass from QB Jim Plunkett to WR Cliff Branch. It was the first of three TD passes thrown in the game by Plunkett, who connected with RB Kenny King on an 80-yard score and later with Branch again for a 29-yard touchdown. For his performance, Plunkett was named the game's MVP. He completed 13 of 21 passes for 261 yards and those three TDs.
The head referee was Ben Dreith. The national anthem was sung by Helen O'Connell and the half-time show was called "Mardi Gras Festival." NBC had the telecast, with Dick Enberg, Merlin Olsen, John Brodie and Len Dawson handling the duties in the booth. A 30-second commercial cost $324,000.
SAY HAPPY BIRTHDAY …

Born on January 25, 1932 was LB Ted Greene. He was part of the 1960 Dallas Texans for that first season of American Football League. Greene went on to play three seasons with the Texans (1960-62), appearing in 32 games. He had four interceptions in those three seasons, his only chance to play professional football.
Born on January 25, 1957 in Charleston, Illinois was P Jeff Gossett. He joined the Chiefs in 1981 and he punted in 15 games with the team over two seasons (1981-82). Gossett punted 62 times for 2,507 yards, a 40.4-yard average. He went on to kick 13 more seasons in the league with the Browns, Oilers and then nine seasons with the Raiders, in Los Angeles and Oakland.