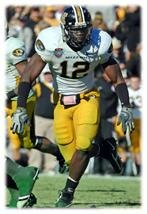 From Indianapolis, Indiana

He may have been the first player to walk into the media interview area at the 2010 NFL Combine and use the word loquacious.
But then just about anybody in Columbia, Missouri will tell you that linebacker Sean Weatherspoon seldom is quiet. Weatherspoon certainly was not at a loss for words when speaking to the media at Lucas Oil Stadium over the weekend.
Weatherspoon talked about his experiences at the Senior Bowl, why his defensive numbers were down in his senior season and where he fits in either the 4-3 or 3-4 defensive schemes.
Podcast: Play in new window | Download