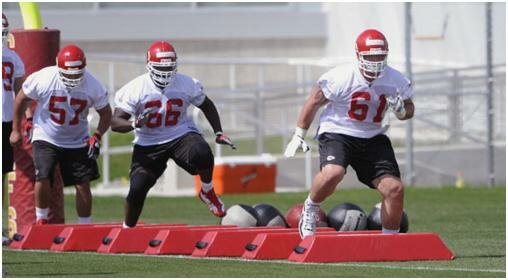 It's Article XXXV of the collective bargaining agreement between the NFL and its players.
Section 1 is very plain in its language:
Voluntary Workouts: No player shall be required to attend or participate in any off-season workout program or classroom instruction of a Club other than as provided in Article XXXVI (minicamps). Any other Club off-season workout programs and classroom instruction sessions shall be strictly voluntary …"

That's what the CBA says. But there's really nothing voluntary about off-season work for players that hope to have a long and fruitful career in the NFL. The reality is this: Article 35, Section 1 is meaningless to 95 percent of the roster.
That's why the NFL Players Association asked for addition language that appears at two different places in the CBA:
"No club official shall indicate to a player that the Club's off-season workout program or classroom instruction is not voluntary or that a player's failure to participate in a workout program or classroom instruction will result in the player's failure to make the Club.)

That's how it is written, but it's ignored by 95 percent of the roster; the fight for jobs and a career are too intense to stay away. Players can figure that out themselves, without any club official or coach telling them.
This weekend will be the last free time for most members of the Chiefs until they start their summer vacations in the middle of June.
They'll get a long four-day weekend over Memorial Day, but otherwise what happens in the next month is the most intense period of the 2010 off-season, with 17 days of on-field practice work. The OTAs start on Monday and there will be three next week. Then, there's three sessions the week after that and another week of three, along with a three-day mandatory mini-camp and then a pair of those voluntary OTAs.
Once June starts, they are scheduled for on-field work 11 of the first 15 days in the month and one stretch where they work eight out of nine days. Even with all the on-field work, the off-season strength and conditioning program does not shut down. No way; players just get in their sessions before practice or afterwards. This year, it seems the majority of Chiefs players are hitting conditioning sessions first thing in the morning (7:30 a.m.)
Right now, the Chiefs have 85 players in their program; remember that the roster limit is 80 players, but those without a signed contract for the '10 season do not count towards that total. For the Chiefs that's their seven draft choices and apparently FS Jarrad Page, who has not yet signed his tender offer as a restricted free agent. Whether Page will take part in the OTAs come Monday is something everyone will find out.
We know that veterans LG Brian Waters and OLB Mike Vrabel will not be there, dropping the number to 83. A handful of players recovering from injuries suffered last season will likely be on hand, but forced to watch – guys like TE Brad Cottam and CBs Brandon Flowers and Maurice Leggett. Figure the number on the field will be 79 or 80; anything less would be a surprise given that Haley has said there's been near perfect attendance at the strength and conditioning sessions since they started at the end of March.
It was during the on-field work last May and June when the problems that plagued the Chiefs offense all season first became very visible. QB Matt Cassel struggled to make the passing game work with the receivers and the ball was on the ground more often than it was caught. Receivers were showing even then their problem with catching the ball, as they would eventually lead the league in dropped passes.
Starting Monday, everyone gets to see if the receivers have overcome their problem with drops as the Chiefs roll out a new offense, one different than what Chan Gailey was installing last spring and one that's different than the scheme that Todd Haley was using after he canned Gailey.
(There will be more on the Chiefs offense coming on Monday.)

It was in those days of May and June last year that the Chiefs were implementing the 3-4 defensive scheme for the first time. Right from the start, it was obvious that what Clancy Pendergast was installing was not a classic 3-4, but a hybrid defense that often had just two players down in passing situations and various combinations of linebackers and defensive backs.
A year later, the Chiefs are installing yet another new 3-4 defense with Romeo Crennel at the controls. How different it will be from last year's scheme will not be something known immediately, certainly not in the months of May or June.
But it will be fun to watch how Crennel and the defensive staff use the talent they've inherited and some of the new faces that are on the roster. What kind of impact can Shaun Smith bring at the nose tackle? What is the plan for Derrick Johnson? Hopefully for D.J. and the defense it's something better than what Pendergast and Haley put together last year for the talented linebacker. How will rookies Eric Berry and Javier Arenas make their contributions known right off the bat?
There is only so much that players can get done on the field during these OTAs and mini-camp. Pads of any kind are not allowed. There is not supposed to be physical contact of any kind. Players are encouraged to dial down the intensity.
Fat chance of that, especially where the rookies are involved in the practices and the Chiefs will have at least 15 on the field come Monday. They will walk a tight rope between hearing Haley and the coaches exhorting them, and keeping their intensity and aggression under control. Even with the rules, injuries happen at this time of the year in the NFL. Some of those will start popping up in headlines around the league in the coming weeks.
Here's what the CBA says about what can go on in these sessions:
No pads except protective knee or elbow pads. Helmets are permitted.
No live contact; no live contact drills between offensive and defensive linemen.
7-on-7, 9-on-7 and 11-on-11 drills will be permitted providing no live contact takes place.
Maximum six (6) hours per day, with a maximum two (2) hours on field for any player.
Again, the agreement allows 14 days of what is termed organize team practice activity and mini-camps. Players may be at the facility no more than four hours per day, no more than four days per week and on the field for no more than 90 minutes per day.
And get this: over and above any workout bonuses a player may have in his individual contract, he receives $130 per day from the team if he takes part in the workouts.
YOU CAN'T FIRE THE PLAYERS, ESPECIALLY IF YOU DON'T HAVE ANY

The Chiefs neighbors across the parking lot at the Truman Sports Complex made a move with their manager, as the Royals fired Trey Hillman. In two-plus seasons, Hillman's record as manager was 152-207, a winning percentage of .423.
As bad as that percentage has been, it still beats the Chiefs winning percentage over the last three years: 10-38, or a winning percentage of .208.
Hillman has been replaced by Ned Yost who carries the title of interim manager for the rest of the '10 baseball season. Yost becomes the 19th manager in the 42 years that the Royals have been part of the American League.
Since that 1969 first season for the Royals, the Chiefs have had 11 head coaches, including the franchise's first leader in Hank Stram.
PERSONNEL FILE/THURSDAY, MAY 13

BENGALS – re-signed UFA TE Reggie Kelly; claimed RB Walter Mendenhall on waivers (Bills); signed CB Johnny Sears.
FALCONS – released TE Leroy Banks.
JETS – released OT Keith Buckman.
SAINTS – signed WR Larry Beavers; released DT Rodney Leisle.
SEAHAWKS – released WR Chris Duvalt.