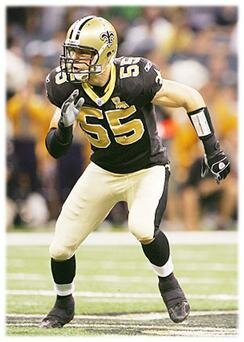 From Ft. Lauderdale, Florida

Two years ago it was Kawika Mitchell.
Last year it was Keyaron Fox.
This time for Super Bowl XLIV it's Scott Fujita.
All three are linebackers who played in the Super Bowl. All three were drafted by the same team – the Kansas City Chiefs. It was Fujita in the fifth round in 2002, Mitchell in the second round of 2003 and Fox in the third round of 2004.
"I think it tells you that some bad decisions have been made there," said Fujita, a starting linebacker on the New Orleans Saints defense. "Give them credit for drafting good players. It's keeping them that they screw up."
And Fujita isn't afraid to point the finger at the person he thinks is responsible for the decisions that ended up with Mitchell starting for the New York Giants, Fox leading the Pittsburgh Steelers special teams and his own move to Dallas and then New Orleans: former Chiefs defensive coordinator Gunther Cunningham.
"We weren't his kind of guys," Fujita said. "Well, he wasn't my kind of coach. What were the results with the Chiefs on defense? There was always this big love affair with Gunther. I couldn't see it."
What the sports world is finding out with his exposure here in the Super Bowl is that Scott Fujita always has something to say, and isn't afraid to say it. Whether publicly supporting a national gay-rights event, or speaking about the controversial Tim Tebow/Pro-Life television commercial that will run on Super Bowl Sunday, or whether it's talking about his feelings about a former defensive coordinator, Fujita is willing to state his case.
Fujita has always been that way, even from his start with the Chiefs in 2002 out of the University of California. He arrived with a political science degree and a Masters in education and generally always asked why? Sometimes those that control football teams don't really enjoy someone who stops and says "Why do you want me to run through that wall?" They just want players who run through the wall and ask questions later.
"I know there's a certain stigma that comes from being from Berkeley," Fujita said. "And I'm proud of that stigma, to tell you the truth. I never claim to have all of the answers. I don't know someone who does have all the answers. I just have opinions.
"It's not that courageous to have an opinion if you think it's the right thing and you believe it wholeheartedly."
Given a national stage, those opinions have flowed this week. Fujita was asked about the commercial by the group Focus on the Family that tells the story of how Tebow's mother was told during her pregnancy that she should consider abortion because of possible complications.
"The idea of focusing on the family: who wouldn't agree with that?" Fujita said this week. "But the means of doing so, he and I might not see eye-to-eye all the way."
The subject touches Fujita because of his story that's well known to Chiefs fans. Born of a teenage mother who felt she could not raise the child, she put him up for adoption where at six months he became a member of the Fujita family.
"I'm just so thankful she had the courage and support system to be able to carry out the pregnancy," Fujita said. "I wouldn't expect that of everybody."
CBS has refused to accept a Super Bowl commercial for a gay dating service. Last year Fujita publicly supported and allowed his name to be used in support of the National Equality March in Washington for gay rights. He thinks the television network should have accepted the advertising.
"Do they have the right? Absolutely," Fujita said of the forces trying to buy the advertising time. "Is it going to offend some people? Absolutely."
Fujita supports gay marriage and has spoken out against attempts by states like his native California to ban them.
"To me, the right to marry is a right that all men should have," Fujita said. "To me, it's more a human issue that just a gay-straight-political issue."
NFL locker rooms are not always a bastion of free thinking, but his teammates enjoy Fujita's propensity to start debates on all sorts of issues.
"We all like when he brings out his opinions," said fellow linebacker Scott Shanle. "Debates get started. You end up with two or three people in an argument, then you've got 10 to 30 people that are in an argument. It's good just to get everyone together."
Before the 2005 season, the Chiefs traded Fujita to the Dallas Cowboys for a sixth-round draft pick. Under Bill Parcells, Fujita was a role player on the Dallas defense. When he became a free agent for the 2006 season, he had visits lined up around the country, but he and his wife Jaclyn decided on New Orleans after making a visit and seeing the city in the post-Katrina days. He was the first free agent to sign with the team with Sean Payton as head coach. Fujita signed up a few days before the Saints signed QB Drew Brees.
This trip to the Super Bowl is just another step in this emotional journey for Fujita. Before every game, Jaclyn sends him a text message from her and their twin daughters Isabelle and Delilah (that's the whole family to the right.) The message she sent before the NFC Championship Game against Minnesota is one that Fujita has saved and he's shared it this week with the media.
"She says, 'We love you babe. You make us proud every single day. Today is no different. I hope you grab this championship and run with it. You deserve it as much as this city does. You are a huge part of something great. Thank you for bringing me somewhere that changed my heart forever. NOLA will always be our city, our home. It's where our life took off'," Fujita said. "I mean, she sends me that a couple hours before kickoff, and that just hit me so hard. I mean, that's what it means to me. And I said it on the podium after the game, and I meant it: this is where my kids were born; I really feel like this is where my career was reborn. And just that connection runs so deep."
FROM THE PAGES OF SUPER BOWL HISTORY

On February 4, 2007, the Indianapolis Colts beat the Chicago Bears 29-17 in Super Bowl XLI at Dolphin Stadium in south Florida. The game was played under a steady rain, the first time in Super Bowl history where weather was a constant factor. That didn't bother the Bears and their remarkable return man Devin Hester. Chicago won the coin toss, elected to receive and Hester caught the kickoff and ran it back 92 yards for a touchdown, giving the Bears the earliest lead in Super Bowl history.
Indianapolis put its first score on the board thanks to a 53-yard TD pass from QB Peyton Manning to WR Reggie Wayne. The PAT attempt was botched and that allowed the Bears to hold a 7-6 lead. They increased that when QB Rex Grossman and WR Muhsin Muhammad connected on a four-yard TD pass, and the first quarter ended with Chicago on top 14-6.
By half-time that lead went away, as the Colts ripped off 16 straight points thanks to three FGs from Adam Vinatieri and a one-yard scoring run by RB Dominic Rhodes. That gave the Colts a 22-14 lead. Bears kicker Robbie Gould added a 44-yard FG, and then in the fourth quarter the Indy defense contributed to the scoreboard as DB Kelvin Hayden returned an interception 56 yards for a touchdown.
Manning was named the game's MVP thanks to his 25 of 38 passing day, for 247 yards and a touchdown. The lead referee for the game was Tony Corrente. Billy Joel sang the national anthem and former Miami QB Dan Marino and Norma Hunt were part of the coin toss ceremonies. The half-time show featured Prince, as well as the Florida A&M marching band. CBS had the telecast, with Jim Nantz and Phil Simms providing commentary; an estimated 93.2 million watched the broadcast. Commercials of 30 seconds cost advertisers $2.6 million.
SAY HAPPY BIRTHDAY …

Born on February 4, 1970 in Washington, D.C. was K Todd Peterson (left). He joined the Chiefs in 2000, after spending five seasons with Seattle. Peterson kicked for two seasons (2000-01), appearing in 27 games. He made 42 of 55 field goal attempts, a 76.4 accuracy rate. He also made 42 o f 53 PAT kicks. Peterson finished his 12-season career with one year in Pittsburgh, two seasons with San Francisco and one season with Atlanta.
Born on February 4, 1950 in Geneseo, Illinois was WR Barry Pearson. He joined the Chiefs in 1974, after playing the previous season with Pittsburgh. Pearson spent three seasons with the Chiefs (1974-76), appearing in 36 games, with 19 starts. He caught 63 passes for 995 yards and four touchdowns.